By John Nyaradi
Sequestration spending cuts are scheduled to start at midnight Thursday, and, after having been ignored for most of the week by U.S. investors, moved to the front burner with a steep sell off into market close on Thursday, February 28th.
For the day, major U.S. stock indexes closed with small losses after having been higher through most of the day.
The Dow Jones Industrial Average (NYSEARCA:DIA) fell 0.15%, the S&P 500 (NYSEARCA:SPY) dropped 0.09%, the Nasdaq 100 (NASDAQ:QQQ) slid 0.10% and the Russell 2000 (NYSEARCA:IWM) was the lone winner with a gain of 0.13%.
In other major markets, gold (NYSEARCA:GLD) lost 1.0% and oil (NYSEARCA:USO) finished mostly flat with a decline of -0.01%.
So on the surface, it was a relatively quiet day, however, the real action came in the last few minutes of the trading day as major stock indexes took a waterfall descent as depicted on the one minute chart below: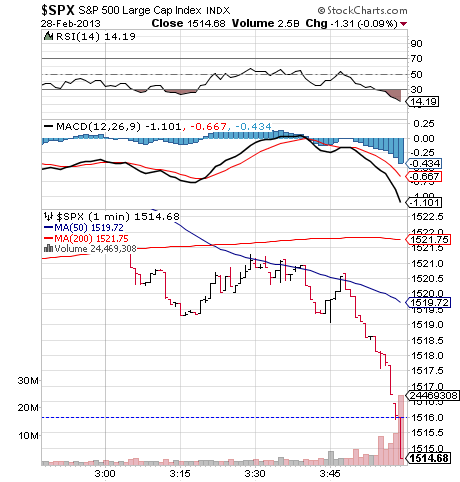 Chart courtesy of StockCharts.com
In this chart of the S&P 500, the steep sell off from approximately 1520 to the close at 1515 is clearly evident as it started just after 3:45 P.M. Eastern time. This roughly coincided with the failed Senate votes on two sequestration bills that opened the door to tonight's midnight deadline for mandatory spending cuts to go into effect.
Nevertheless, major U.S. stock indexes closed out February with monthly gains.
The Dow Jones Industrial Average came whisker close to reaching its all time high of 14, 164 which dates back to October, 2007, but fell short while closing up 1.4% for February. The S&P 500 also tried to breach its all time closing high from October, 2007, but missed, as well.
Economic reports were mixed as the Q4 GDP revision posted an anemic 0.1% gain compared to the first estimate of -0.1%, and initial jobless claims fell by 22,000 from last week which was better than expected. February's Chicago PMI rose today to 56.8, up from last month's 55.6.
Read "Real GDP Per Capita: Another Perspective"
Tomorrow brings a series of important economic reports including consumer income and spending, University of Michigan consumer sentiment, construction spending and the important February Institute of Supply Management report.
More importantly, House Speaker John Boehner, Senate Majority Leader Harry Reid, Senate Minority Leader Mitch McConnell and House Minority Leader Nancy Pelosi trek to the White House for a meeting with President Obama regarding the mandatory Federal spending cuts on the day they take effect, and it appears that both sides are locked into their positions with no compromise in sight.
Bottom line: After coming close to reaching new, all time highs, major U.S. stock indexes fell late on Thursday as sequestration fears grew. Investors have grown accustomed to 11th hour maneuvers by politicians to save the day, and while that might yet happen tomorrow, the sequestration cuts could, indeed, become reality on Friday.
Disclaimer: The content included herein is for educational and informational purposes only, and readers agree to Wall Street Sector Selector's Disclaimer, Terms of Service, and Privacy Policy before accessing or using this or any other publication by Wall Street Sector Selector or Ridgeline Media Group, LLC.