We are looking to buy our next name in the oil and natural gas sector and so we do not confuse readers we mean our first new name in some time. We have traded in and out of numerous names and simply recycled old ideas and made them new, but today in the article we discuss the name we are watching - it is at the top of our revised buy list, for those who may be wondering. There are many quality names out there these days, but we have always found that those who focus upon certain plays with all their attention and capital generally do better than those who spread themselves thin and across many plays. Some would argue against this, however this is what we have learned from our experience over the years in various commodity plays in numerous parts of the world...the industry and locale change, but the results rarely do.
Commodity prices this morning are as follows:
Gold: $1567.80/ounce, down by $10.30/ounce
Silver: $28.05/ounce, down by $0.382/ounce
Oil: $91.15/barrel, down by $0.90/barrel
RBOB Gas: $3.09/gallon, down by $0.0217/gallon
Natural Gas: $3.487/MMbtu, up by $0.001/MMbtu
Oil & Natural Gas
We may look to open a position in Diamondback Energy (NASDAQ:FANG) in the near-term as we like what we see. Some of the assets we are familiar with due to their previous owner having been Gulfport Energy so those were never an issue. The rest of the company is what we have been looking into and we along with others in the office like what we see. Yours truly is wearing some argyle patterned socks that are of brown color to show the inspiration for our next new name to buy in the sector (hey don't judge, it is Friday and casual at that in the office so no problem having a little fun!). We have been through the conference call and the past few presentations we could get our hands on and like the story. We will be looking for an entry point over the next few sessions as the shares had a strong day yesterday rising $1.75 (8.35%) to close at $22.71/share on volume of 198.8k, slightly above average.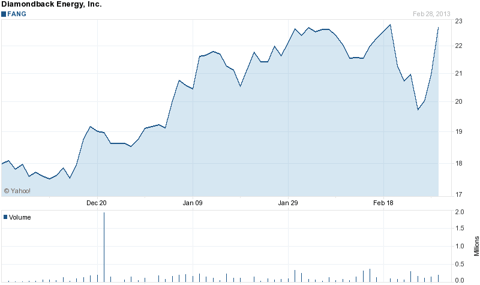 Chart courtesy of Yahoo Finance.
We promised an update on Gulfport (NASDAQ:GPOR) yesterday regarding the conference call and we are working up a detailed piece but we did want to bring to you a few highlights. First we are going to have to work with our price target once again as we had calculated delay times in the company's ability to get wells hooked up to the midstream infrastructure. The company did say in the conference call that they were actually tailoring their drill program to allow for them to hook wells in and begin production as soon as possible so we will have to adjust our delay times a bit for this and see what we come up with. Although this gets production to market quicker, we would like to point out that it may lead to some wells not being in the prime area as the company is forced to drill where they can produce and not necessarily where the elephant wells in the Utica may be located. Last thing for today on this is that the company is going to be conducting tests on spacing and they believe it is in fact below the 1,000 feet which is typical. They want to find out early so that they can implement it across their acreage as soon as possible and maximize returns on their CapEx and what they are able to derive from the acreage portfolio.
Rare Earths
Molycorp (MCP) will one day have to be a case study for college students. These days our professor friends tell us they use examples from the internet bubble, but with the poor management here and the actual real business one has to wonder how it is possible to have gotten it all so very wrong. We have seen other mining companies get it wrong on their grades and build plants and mining processes around those grades only to not be efficient and have serious issues but the impairment charges Molycorp is taking before even getting up and running is something we find mindboggling for lack of a better word. The company's shares hit a new 52-week low yesterday before rallying back after the company announced that they would be delaying their regulatory filing and taking an impairment charge. The story is not good here and it is definitely souring investors' taste in regards to investing in miners who are in the process of bringing a mine online. It is never an easy process, but it sure seems Molycorp management has done a great job of dropping the ball at almost every turn.
It has been a while since we last saw a chart this ugly for what was once a big name, but there it is.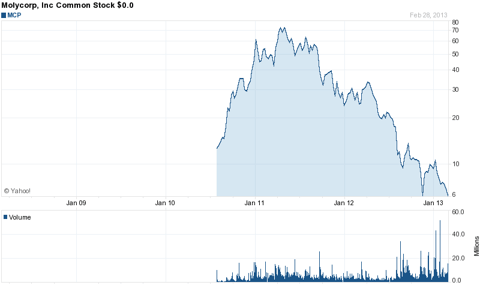 Chart courtesy of Yahoo Finance.
Precious Metals
The precious metals market has really become a scary place over the past few weeks as the price of gold has precipitously dropped. So too has silver and if you look at almost any of the names in the industry they are all at or near 52-week lows, with the exception of the streamers which have faired better due to their yields. Looking at the closes yesterday we noticed both Iamgold (NYSE:IAG) and Newmont Mining (NYSE:NEM) trading at 52-week lows and this coupled with general commodity pullback we have seen has us intrigued. Investors may be best suited to avoid the individual names, however it might be beneficial to look into the ETFs which hold a basket of the names to give your portfolios an inflation play for when the money which the central bankers have been printing as fast as possible finally begins to make its way through the economy. For those wanting a bit more risk then the individual names will suffice, however we recommend names which have liquidity and decent sized market caps such as the two mentioned along with our favorites which readers are familiar with. We are long-term bullish on the precious metals, but think that averaging into positions is the way to go rather than simply buying outright your exposure, even if it were just one name on your list among many.
It is ugly in the gold market, but one must keep recent events in perspective...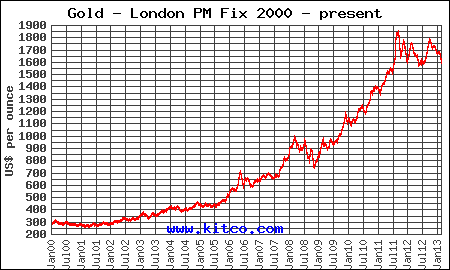 Chart courtesy of Kitco.com
Disclosure: I am long GPOR. I wrote this article myself, and it expresses my own opinions. I am not receiving compensation for it (other than from Seeking Alpha). I have no business relationship with any company whose stock is mentioned in this article.
Additional disclosure: Also looking to open a position in FANG.