"Value-oriented" investors are often frustrated by the decade-long over-valuation of the S&P 500 (NYSEARCA:SPY) as measured by cyclically adjusted methods such as Professor Shiller's CAPE (Cyclically Adjusted Price-to-Earnings) framework. Given the bull market since 2009, maybe it is time to shelve the CAPE permanently? I'm sure most value-oriented investors are also pragmatic!
This pragmatist says that now is not the time to shelve CAPE and the rest of the note explains the risks if you do. To quote George Santayana:
Those who cannot remember the past are condemned to repeat it
Where Are We Now
Based on the majority of S&P 500 constituents reporting Q4'12 earnings, the CAREPS (10-year Cyclically Adjusted Real Earnings per Share) is at $67 as defined by Professor Shiller. That makes a CAPE ratio of 22.6X based on recent S&P 500 pricing. Unfortunately since 1926, that is still above the average multiple of 17.6X.
Is that overpriced? Maybe, but that doesn't mean the price index has to decline moving forward. On a nominal basis - the S&P 500 is within striking distance of the all-time high set in 2007, and has easily eclipsed the high set in October of 2000, which marked the beginning of the current secular bear market. Therefore in my opinion - Shiller's CAPE indicates we are still in the secular bear market and that valuations will likely continue to compress at least to the long-term average.
CAPE Doesn't Hide from Inflation
In 2000, the S&P 500 index peaked in August of 2000 at 1,485 (using Professor Shiller's data). On an inflation adjusted basis, the index in today's dollars would be priced at 1,980 (ouch!). Based on recent S&P 500 prices, we are still 23.5% below the year 2000 high on an inflation adjusted basis. The good news is that earnings tell a different story. The inflation adjusted 10-year earnings average in August of 2000 was $46.04. (Nominal earnings were $53.11 at that time and in today's dollars, worth ~$70.98.) As of December 2012, the estimated CAREPS is $66.99 - which marks a 45.5% increase.
The result is that over this period when nominal prices are near all-time highs, Shiller's CAPE has declined from 43X in August 2000 to ~22X today - but still below the long-run average. Over the past 13 years, the multiple compression came from a combination of earnings growth and the impact of inflation on prices. Inflation is a powerful force that is ignored when only looking at nominal all-time highs.
Cyclical Earnings Grow (Within Reason)
CAPE is no more than a normalization process for the business cycle by smoothing the reported earnings over 10 years. Figure 1 highlights the trailing twelve month, inflation adjusted, as reported EPS (AREPS) against the CAREPS. The graph clearly indicates 1) a rising trend in CAREPS and 2) oscillating AREPS around its 10-year trend. Since 1926, CAREPS has a compounded annual growth rate of 1.8%, which is what one would expect based on GDP per capita growth rates.
Figure 1: S&P 500 Real Earnings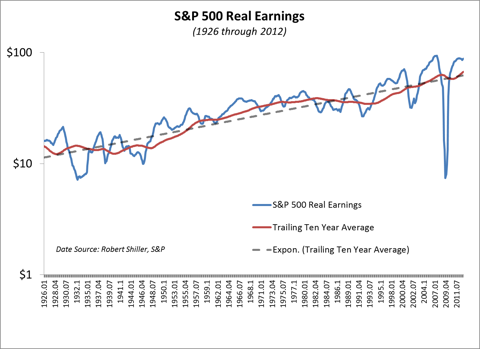 One disagreement between investors is likely not that earnings grow over time, but how to relate the AREPS to the CAREPS. Shiller's CAPE provides the context to base forward expectations relative to the long-term trends. Figure 2 plots the AREPS as a percentage of CAREPS. On average, AREPS has been 8% above the CAREPS.
Figure 2.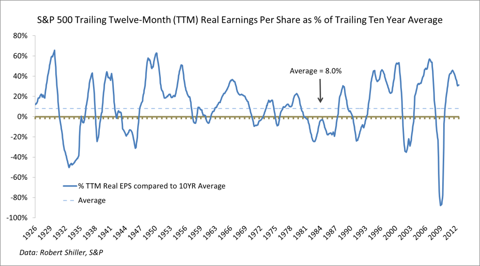 What investors should be worried about is that AREPS is currently 31% above the trend versus the long-run average of 8%. While the 10-year trend could move up - CAREPS is already at an all-time high and likely at or near its long-term trend over the past 86 years as shown in Figure 1. If there was an argument that the price index is too high relative to earnings - this would likely be the best place to make an argument. Consider a typical business cycle contraction, a reversion in corporate peak profitability, or reduced government deficit spending. Any one of these or some combination could spark a reversion in annual growth rates.
CAPE Heresy
It could be heresy to infuse forward estimates within the traditional CAPE framework - but it is worth the exercise for "what if" scenarios. Figure 3 details the conversion of current 2013 and 2014 operating EPS estimates to provide a forward looking CAPE model. Estimates are based as of 2/21/13 via Factset.
Figure 3: S&P 500 EPS Estimates (as of 2/21/13; Factset)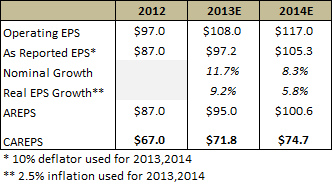 If the S&P 500 index stayed at recent prices then at the end of 2014, Shiller's CAPE would have compressed another 3 multiple points to ~19.3X assuming a 2.5% inflation deflator on the price index. Going back over what would be a 15-year period, the inflation adjusted index price would have declined by ~27% and real earnings would have increased by 62%. Again, the nominal price index just has to trade sideways.
What I don't like about this scenario is that it requires AREPS to remain above trend significantly when CAREPS is already at trend. One argument could be that this is the time it takes for the U.S. economy to regain its potential GDP and Europe to exit its recessionary troubles. However, there are too many competing and reasonable arguments such as peak corporate operating margins, Europe not getting its act together, U.S. deficit spending, debt deleveraging, interest rate increases, capital versus labor, and demographics to not consider reversion to the mean a more realistic scenario. Therefore I would assign a lower probability to the current consensus estimates versus a more muted growth scenario.
To Recap:
Shiller's CAPE is currently at 22.6X based on Q4'12 S&P 500 Earnings.
Shiller's CAPE has compressed from 43X to 22.6X over the past 13 years.
CAPE has averaged 17.6X over the past 86 years.
Above average CAPE does not imply overvaluation; value compression also comes from earnings growth and inflation.
Nominal index prices do not reflect the impact of inflation; inflation adjusted peak in 2000 was 1980 versus nominal peak of 1485.
Trailing annual earnings are currently 31% above the 10-year trend; long-term average is 8%.
CAPE earnings are at an all-time high at $67; 2014E CAPE earnings are $74.7.
S&P 500 consensus estimates over the next

two years would keep CAPE earnings above trend.

Believe this is an optimistic scenario that should be assigned a lower probability.
Disclosure: I have no positions in any stocks mentioned, and no plans to initiate any positions within the next 72 hours. I wrote this article myself, and it expresses my own opinions. I am not receiving compensation for it (other than from Seeking Alpha). I have no business relationship with any company whose stock is mentioned in this article.