Armour Residential's (NYSE:ARR) recent performance has not been up to the mark as its bottom line remained behind estimate. In this article, we will look into the reasons for such a defeat and whether they are worrisome for its shareholders. Additionally, we provide a detailed analysis of the company's financials as reported at the end of the fourth quarter of 2012.
Company Description
Armour Residential REIT is operating in the US mortgage REITs sector as an Agency mortgage REIT since 2008. The company has an objective of investing in residential mortgage backed securities with fixed rate, adjustable rate and hybrid adjustable coupons. The company is externally managed and structured to provide its shareholders with at least 90% of its REIT taxable income, largely in the form of elevated dividends. The charter of the company allows it to include assets other than Agency MBS (non-Agency MBS).
Reasons For Earnings Miss
Armour Residential's recent performance disappointed analysts. It's fourth quarter earnings per share of $0.22 fell $0.05 short of the consensus estimate. The following table summarizes the fourth quarter results.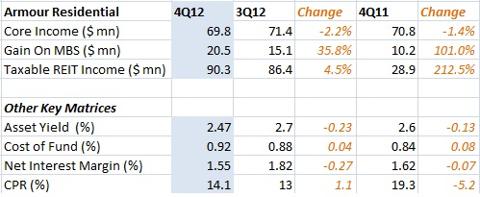 Taxable income, on which the company has to payout, came out as $90.3 million, up 4.5% from the linked quarter. This is a clear indication that Armour Residential was able to generate higher cash for distribution. However, it is worth investigating whether the increase in taxable REIT income was due to one-time items or continued operations.
It is evident from the table above, core income of $69.8 million, fell 2.2% sequentially while it was down 1.4% from a year ago. Core income represents income earned through interest received on its MBS holdings after deducting the cost of financing or income from continued operations in other words. Asset yields during the fourth quarter came down 23 basis points sequentially from to 2.47%. Yields were down 13 basis points from a year ago. On the other hand, the cost of financing of 0.92% edged up 4 basis points over the prior quarter, forcing the net interest spread of 1.55% to compress 27 basis points. The net interest spread was 7 basis points below the levels of the same quarter of the prior year. There were the direct results of the Fed's QE3 and the resultant flattening of the yield curve during the fourth quarter.
Therefore, it is clear that the fourth quarter taxable REIT income was up 4.5% on one-time items. A closer look reveals gain on sale of Agency MBS of $20.5 million, up a significant 36% over the linked quarter. During times of decreasing interest rates, mortgage backed securities appreciate in price. Armour used this appreciation to support its results of during the current challenging times.
Investment Portfolio
At the end of the recent quarter, Armour Residential's investment portfolio was valued at $19.1 billion. This is compared to a portfolio of $22.1 billion at the end of the third quarter of the prior year. So during the recent quarter, the results were negatively affected by both, a decrease in interest yielding assets and a decrease in the average yield on assets.
A closer look at the company's investment portfolio reveals, it has a large concentration of fixed rate Agency MBS, which are 89% of this entire fourth quarter end investment portfolio. The rest is adjustable-rate and hybrid ARMs.
Other Key Matrices
Armour Residential qualifies as a mortgage REIT that employs higher leverage than most of its closest peers. Quarter end debt to equity (leverage) came out at 8 times, compared to 6.6 times and 7 times for Annaly Capital Management (NYSE:NLY) and American Capital Agency (NASDAQ:AGNC). This is despite a decrease in ARR's leverage since the prior quarter's leverage of 8.12 times.
Armour Residential has hedged 44% of its repurchase agreements while American Capital Agency reported 63% of its repurchase agreements hedged.
Armour's prepayment speed represented by its CPR of 14.1% climbed from the prior quarter's CPR of 13%. This is compared to 10% CPR for American Capital Agency's fourth quarter end investment portfolio. ARR's CPR is still below Annaly Capital's CPR of 19%.
Dividends
The stock is currently offering a dividend yield of 14.6%. According to our calculations, 77% of Armour Residential's taxable REIT income contains income from continuing operations while the rest consists of one-time item. Eliminating the one-time item, Armour Residential will be left with earnings of $0.22 per common share. 90% of EPS comes out to be $0.066 per share of monthly dividend. This is compared to the company's announcement of $0.08 as the dividend rate for the first quarter's monthly dividend. Further analysis on the sustainability of the company's dividends can be carried out once Armour makes public its fourth quarter SEC filing.
Is It Worrisome?
In the wake of Fed's reassurance of continuing its bond buying program, theoretically Armour Residential and other Agency mREITs have a future where investors should expect further spread compressions. However, practically the same is not the case. Driven by a shortage of mortgage lenders, the markets are rejecting the Fed's efforts to speed up the US housing recovery. The shortage of lending (supply) and a high demand is causing the mortgage rates to rise. This has in turn caused mortgage refinancing to slow down. The refinancing fell to its lowest level of 4105 since the last spring while the purchase index fell 5% over the week. As mortgage rates are linked to the MBS yields, a rise in rate will cause higher assets yields. Further, a decline in refinancing would mean lower prepayments and the resultant lower amortization costs. Since Armour Residential has the higher leverage compared to NLY and AGNC, it will be able to magnify the results and benefit the most from the prevailing situation.
The aforementioned developments are a breath of relief for mREITs, particularly Agency mREITs like Armour Residential. Therefore, in the coming quarter, investors can expect some expansion in Armour's net interest spreads and the resultant increase in its dividend distributions.
Valuations
Armour Residential is trading at 22% discount to its fourth quarter book value of $7.29 per share. American Capital Agency and Annaly Capital Management are trading at 4% premium and 5% discount to their respective book values. Therefore, from a valuations perspective, Armour appears to be attractive.
Conclusion
I am bullish on Armour Residential REIT as I believe it is best positioned among Agency mREITs. Besides being attractively valued compared to its peers, the stock offers a handsome dividend yield for yield hungry investors. While the current dividends were supported by a one-time item, there is hope for future as the situation is beginning to reverse. The rising mortgage rates and the plunging refinancing activity should cause Armour Residential to report higher net interest rate spread during the coming quarters.
Disclosure: I have no positions in any stocks mentioned, and no plans to initiate any positions within the next 72 hours. I wrote this article myself, and it expresses my own opinions. I am not receiving compensation for it (other than from Seeking Alpha). I have no business relationship with any company whose stock is mentioned in this article.
Additional disclosure: The article has been written by Equity Whisper's Financials Analyst. Equity Whisper is not receiving compensation for it (other than from Seeking Alpha). Equity Whisper has no business relationship with any company whose stock is mentioned in this article.