I decided to screen for some of the lower volume traded stocks that may be flying under the radar of the average investor. I looked for companies with solid balance sheets, cheap valuation, sustainable growth, and positive profitability ratios.
My screen returned eight names, but I will filter out the three that traded more than an average daily volume of 500,000 shares, those being Volcom (NASDAQ:VLCM), National Instruments (NASDAQ:NATI), and Ceradyne (CRDN). Interestingly enough, four of the five names were in the Technology sector which made me feel like I was on to something, because Tech will be the sector to lead us out of this recession. All of these stocks are more than 60% owned by institutions. These are stocks that can stabilize during the economic downturn, and will be some of the first to gain 30 to 50% on a move higher in the markets.
I will briefly describe each of the companies, but here is a quick snapshot of some of the fundamentals (click to enlarge image):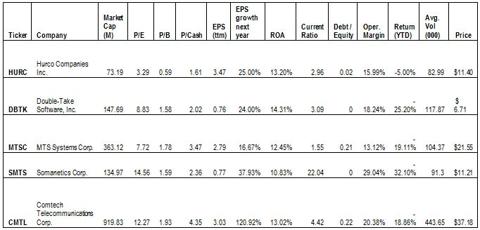 1 – Hurco Companies (NASDAQ:HURC) designs and sells computer control systems for the metal working industry. Recent earnings sent the shares lower, but now shares are at a bit of a support level and it is hard to deny the valuation. Despite new orders falling and margins contracting, Hurco has $7.09 in cash per share, and I can not see shares going for less than $10.
2 – Double-Take Software (DBTK) offers software for disaster recovery and centralized backup. DBTK is a market leader and has a strong growth strategy going forward. It has strategic relationships with many of the leaders in the computing industry that promotes a stable revenue model. On February 5th, the Company cut its guidance for 2009, which we are seeing across the industry, but numbers were not too bad, and that has been more than priced in at this point. Shares look to have solid support around $6.50. DBTK currently has $3.32 per share in cash, and has no debt obligations, giving the company room to make moves.
3 - Somanetics Corp (SMTS-OLD) develops and manufactures non-invasive blood oxygen saturation medical devices. Medical device spending has taken a hit, but SMTS is in a niche space, and could be a great takeover candidate with $4.75 per share in cash on the books, and no debt. SMTS also has a fairly large percentage of the float short, at 9% or 11.7 days to cover. With earnings coming on March 18, the downside looks limited here.
4 – MTS Systems (NASDAQ:MTSC) supplies mechanical testing systems for automotive, agricultural, and construction equipment. The company's sensors are also used in testing aircraft, steel mills, and various other types of industrial equipment. Shares fell nearly 9% Monday, and the move looks to be overdone. MTSC has $6.22 per share in cash on the books and already yields a 2.78% dividend, while having no long term debt commitments. The company has shown resilience during economic downturns, and could be one of the first stocks to recover with the economy.
5 – Comtech Telecommunications (NASDAQ:CMTL) designs advanced communication systems for satellites, broadcast, and secure defense applications. As a supplier to the military and defense contractors the company has sufficient backlog and recurring orders to withstand an economic slowdown. CMTL has $8.55 in cash, is under-leveraged, and has exceptional growth rates. Although CMTL does not currently pay dividends, it could come under pressure from shareholders to make moves that add value to the company.
Disclosure: no positions