Commodity chart of the day
Daily Copper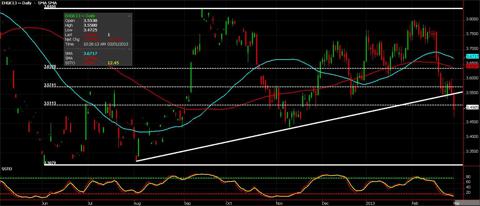 In the last four weeks copper prices have declined over 30 cents dragging prices to their lowest level in 3 ½ months. Prices rose steadily after bottoming in mid-November but in just over four weeks those gains were erased. As of this post we are completing 61.8% Fibonacci retracement and penetrating a trend line that has held since August 2012.
I bring this up not so much as a trading opportunity but for traders to recognize that this is a grim development. The name given to this commodity by a number of traders is "Dr Copper" as it is viewed as an overall barometer of the global economy. With prices shedding 8% in such a short time frame it should serve as a red flag and force investors to question the validity of global growth.
If we see $3.40 penetrated in the coming weeks on this contract this should lead to a further 5%-7% decline in my opinion. I find it difficult to imagine much more upside in securities in an environment that copper would decline at this pace. As for a trade I typically do not trade copper for clients because the extreme volatility. Currently I think prices could move 15-20 cents in either direction so I prefer to use copper as a gauge on how I should be positioning clients in other markets.
Disclosure: I have no positions in any stocks mentioned, and no plans to initiate any positions within the next 72 hours. I wrote this article myself, and it expresses my own opinions. I am not receiving compensation for it. I have no business relationship with any company whose stock is mentioned in this article.
Risk Disclaimer: The opinions contained herein are for general information only and not tailored to any specific investor's needs or investment goals. Any opinions expressed in this article are as of the date indicated. Trading futures, options, and Forex involves substantial risk of loss and is not suitable for all investors. Past performance is not necessarily indicative of future results.