Today I will take a look at the 2012 reserve replacement ratios (RRRs) for some of the major Bakken oil producers, including Continental Resources (NYSE:CLR), Whiting Petroleum (NYSE:WLL), and EOG Resources (NYSE:EOG).
As I explained in my article "2012 Oil Reserve Replacement Ratios: And The Winner Is...," which examined the RRRs for the "Big 3" American oil companies, the RRR is defined as the amount of proved reserves added to a company's proven reserve base in a given year relative to the amount of oil and gas produced during the year. Long term, a company's reserve replacement ratio must be at least 100% for the company to stay in business. Otherwise, it will eventually run out of oil. Obviously, the higher the RRR the more bullish the company's future. For U.S.-based producers, there is a preference for oil reserves over low-priced natural gas.
The following chart summarizes announced RRR's for the "Big 3" Bakken producers. I added smaller upstart Halcon Resources (NYSE:HK) as well:
(Click to enlarge images.)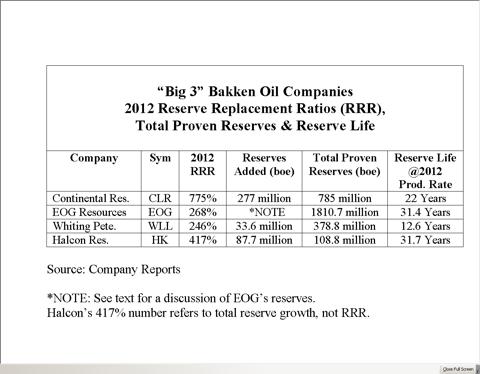 In CLR's 2013 proved reserves press release, the company announced year-end 2012 proved reserves of 785 million boe and total 2012 production of 35.7 million Boe. This is compared with 2011 year-end total proved reserves of 508 million boe and production of 22.6 million boe. The company clearly had an outstanding 2012 and earnings proved it: $4.07/share vs. the prior year's $2.41.
In EOG's announcement of Q4 and 2012 full-year results, the company reported 2012 year-end total net proved reserves of 1.811 billion boe. The company also reported its 2012 RRR was 268%. However, when I looked at the company's 2011 year-end press release. It reported year-end 2011 total net proved reserves were 2.054 billion boe. How can the 2012 RRR be 268% if the net total proved reserves declined? I wrote to EOG investor relations to help me understand the disconnect, but never received a reply. There must have been some asset sales or reserve revisions that explain the math. If I receive a response from EOG, I will mention it in the comment section of this article. Regardless, EOG is a leader in the shale oil revolution, and has a 31.4 year supply of proven reserves at its 2012 full-year average production rate.
Whiting Petroleum announced its 2012 RRR in its Q4 and full-year 2012 earnings report. There is a detailed discussion of proved, probable, and possible reserves in this earnings release. According to the December 2012 Oil and Gas Production Report published by the North Dakota State Industrial Commission, Department of Minerals, Oil and Gas Division, Whiting was the No. 1 oil producer in North Dakota at 66,155.7 barrels per day.
Halcon Resources grew its total proven reserve by 417% primarily through acquisitions. It will be much more interesting to see the company's RRR for 2013. Barring any additional acquisitions, HK's 2013 RRR will certainly be more representative of organic reserve replacement.
It's interesting to look at the relative market cap of these companies vs. total proven reserves: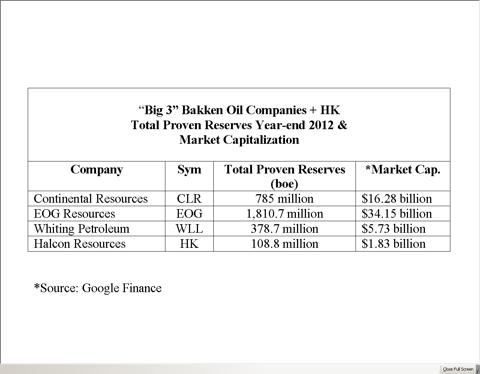 We can get a "finger in the breeze" valuation metric by simply dividing the total proven reserves by the company's market cap (ignoring the million/billions suffixes):
CLR: 48.2
EOG: 53.0
WLL: 66.0
HK: 59.4
On this account, which obviously does not take into account debt or the percentage reserves that are oil or gas, or many other factors, CLR appears to be a touch undervalued as compared to its Bakken peer group. At the same time, you have to wonder if CLR hasn't taken a good look at buying WLL. What a powerhouse either combination would be!
Long Live the Bakken
One thing is certain: These RRRs and total proven reserve numbers prove the Bakken shale play has many years of running room. The oil is light sweet crude and is prized by every refiner in the country. Industry well design and fracking technologies continues to improve, leading to higher recoverables and lower costs. The outlook for all these companies seems very bright indeed.
Disclosure: I am long WLL, HK. I wrote this article myself, and it expresses my own opinions. I am not receiving compensation for it (other than from Seeking Alpha). I have no business relationship with any company whose stock is mentioned in this article.
Disclaimer: I am an engineer, not a CFA. Please do your own research and contact your investment adviser. I am not responsible for investment decisions you make.