We believe the REIT conversion of Correction Corporation of America (NYSE:CXW) should increase shareholder value by increasing tax savings that drive increases in earnings and dividend payments.
Background News
On Feb. 14, 2013, the company announced that it will be added as a constituent of the MSCI U.S. REIT Index (RMZ) as of the market close Feb. 28, 2013. The MSCI U.S. REIT Index represents approximately 85% of the U.S. REIT universe. In addition, on Feb. 7, 2013, management highlighted the benefits of REIT conversion:
John Ferguson , Chairman of the Board, stated, "Based on a thorough analysis, our Board and management team believe that electing REIT status will maximize value for our shareholders through increases in free cash flow and dividends while continuing to provide significant earnings growth capacity.'

Damon Hininger , President and CEO, stated, 'The REIT structure will create additional opportunities for shareholder value creation. Additionally, our customers will experience no change in the people, procedures or high quality of service they have come to expect from CCA, nor will the conversion affect our employees.'
Analysis
We are meaningfully increasing our FY 2013 estimate to reflect CXW's REIT status and guidance reflecting tax efficiencies. Our return expectations reflects what we believe will likely be the yield for the company over the longer term, based on the dividend guidance (4.8% expected yield on a midpoint dividend of $2.10).
For the fourth quarter, adjusted EPS of $0.44 was up 7.3% year over year, AFFO per share of $0.61 was up 13.0% year over year, and revenue of $436.9 million was essentially flat year over year and reflected mostly stable man days and a slight increase in revenue per man-day. We believe the stock will benefit in the coming months from incremental demand as new investors look at the name and better understand the earnings growth opportunity, stability of revenues, and attractive free cash flow growth dynamics.
Valuation
Using forward 12-month consensus EPS data, the company's P/E ratio has historically traded in a range between 8 times and 24 times since January 2008. Currently, the stock trades at 17.9 times F12 P/E.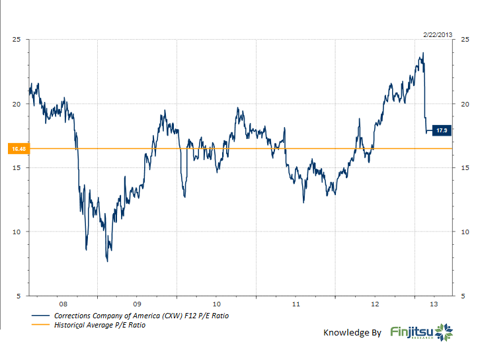 Disclosure: I have no positions in any stocks mentioned, and no plans to initiate any positions within the next 72 hours.
Business relationship disclosure: The article has been written by Finjitsu Research, Senior Editor. Finjitsu Research is not receiving compensation for it. Finjitsu Research has no business relationship with any company whose stock is mentioned in this article.
Disclaimer: This abstract was prepared by Finjitsu Research for convenience only and does not claim to be a complete analysis, nor should it be relied upon. This abstract is intended to be a general sample and is qualified in its entirety by the full report, which is not available on this website. This report contains opinions that are inherently biased. In addition, this report was prepared for general circulation and does not provide investment recommendations specific to individual investors. As such, the financial instruments discussed in this report may not be suitable for all investors and investors must make their own investment decisions based upon their specific investment objectives and financial situation utilizing their own financial advisors as they deem necessary. To review additional important disclosures please visit finjitsu.com/legalThe article has been written by the team at Finjitsu Research, who publish articles under the title Finjitsu Associated Analysts. Finjitsu Research is not receiving compensation for this article. Finjitsu Research has no business relationship with any company whose stock is mentioned in this article.