There seems to be a race to the bottom on national currencies occurring worldwide as central banks continue their stimulative actions. Something that certainly was discussed at the recent G-20 meeting but was played down. While gold and silver are the most popular precious metals, one of the world's top precious metals is platinum, which is rarer than gold and silver in a confirmed deficit now due to the recent South African mining strikes. Platinum will likely be under-produced in 2013. Platinum is a high-demand metal as it has many industrial applications in addition to being precious. Therefore, this deficit should be a tailwind for the price as supply will be limited to meet a higher demand. As such I consider it an excellent long-term buy in addition to the other reasons I recently laid out in a case for platinum. Since then, platinum has traded up and back down to be flat, but is likely just getting started for a large run in the years ahead.
While gold and silver have been crushed in the last two months (figures 1 and 2) for various reasons, platinum has held its own, now trading slightly up in the past two months (figure 3). Platinum has of course pulled back from the February highs, but still has a better two-month chart than gold and silver. Further, platinum has been flirting with trading at a premium price to gold, a bullish sign, as for the last decade platinum was predominately trading lower than gold. Still, relative to the historical ratio, the current platinum-to-gold price ratio is still far from historical norms. Since the1990s platinum has often cost 1.5 to 2 times as much as gold. Platinum currently trades at $1575 an ounce, whereas gold is now trading at $1578 an ounce.
Figure 1. Gold Prices For The Last 60 Days, New York and London Exchanges.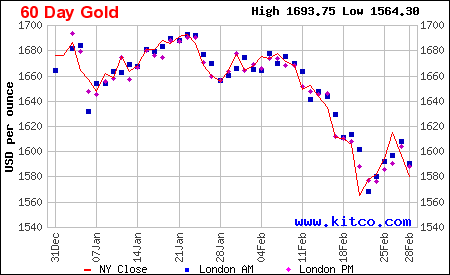 Figure 2. Silver Prices For The Last 60 Days, New York and London Exchanges.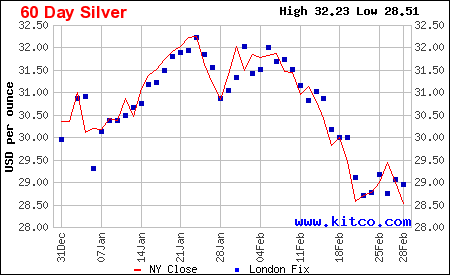 Figure 3. Platinum Prices For The Last 60 Days, New York and London Exchanges.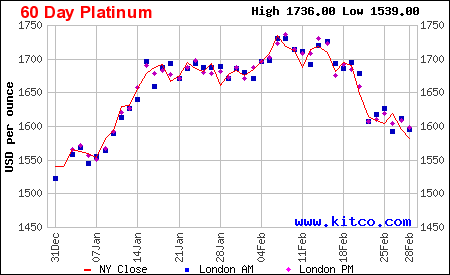 Due to the race to debase currencies by central banks around the world, I think precious metals such as gold, silver and platinum stand to gain significantly over the long term. With platinum in higher demand and in a deficit, it could possibly see $2,000 by 2015. Thus I recommend investors consider adding it to portfolio holdings reserved for precious metals, in addition to gold and silver. As I have outlined previously with gold and silver, there are a variety of ways to invest in platinum including physical bullion and coins, ETFs that track the price of platinum, or individual mining companies.
My top choice is Physical Assets: Bullion and Coins.
I lay out how to buy physical platinum here.
My Second Choice for Platinum Exposure: Platinum ETFs
There are three ETFs that I am currently recommending. The first is the recently launched Sprott Physical Platinum and Palladium Trust (NYSEARCA:SPPP). Technically speaking this fund is not an ETF but rather a CEF, which means that the fund can trade at premiums or discounts to its net asset values because the number of outstanding shares is constant, compared with an ETF, which can create new shares in real time to keep the price at or right around its net asset value. SPPP has an annual fee of 0.5%, which is less that PPLT's 0.6% expense ratio. Like other Sprott physical funds, SPPP has a unique redemption feature that allows owners of shares to redeem units for physical delivery of platinum and palladium. An example of how this works is given in the prospectus. Assuming the price of platinum to be $1,400 per ounce and the price of palladium to be $640 per ounce, and using current expense estimates, a Unitholder redeeming a block of 25,000 Units for physical platinum and palladium bullion will be responsible for approximately $1,045 in expenses incurred by the Trust in connection with such redemption, representing 0.42% of the value of the bullion represented by the 25,000 Units so redeemed. Shares of SPPP are currently trading at $9.68 on average volume of 700,000 shares. It has traded in a range of $9.26-$10.75 since it has been on the market.
The second recommendation is the ETFs Physical Platinum Shares (NYSEARCA:PPLT). The investment attempts to reflect the performance of the price of physical platinum, less the expenses of the ETF's operations. The fund is designed for investors who want a cost effective and convenient way to invest in platinum without committing a ton of capital. Advantages of investing in the PPLT ETF include ease, flexibility of investment and relatively low expenses. The expense ratio of PPLT is 0.60%. Each PPLT share is backed by approximately 1/10th an ounce of physical platinum, which is stored in London and Zurich banks. As outlined in the prospectus each platinum bar is numbered, catalogued and is then reported daily on the ETF's web site. Average daily trading volume is around 64,000 shares, making it the most liquid of the platinum ETFs and ETNs. PPLT currently trades at $155.51 a share. It has a 52-week trading range of $135.80 to $170.78.
The third and final ETF I am recommending in this space is the First Trust ISE Global Platinum Index (NASDAQ:PLTM). This fund attempts to garner investment results that correspond in general to the price and yield of an equity index called the ISE Global Platinum Index. This is before any fees and expenses. The fund normally invests at minimum 90% of assets in common stocks that comprise this underlying index or in depository receipts representing securities in the index. The index is designed to provide a benchmark for investors interested in tracking the price and performance of publicly traded companies that are active in platinum and platinum group metals mining. The fund has an annual expense ratio of 0.7%. In general, PLTM is very thinly traded with about 16,000 shares exchanging hands daily. PLTM trades at $14.90 a share with a 52-week range of $12.80 to $21.33.
Platinum Stocks
My top pick in the platinum mining space is Stillwater Mining Company (SWC). In operation since 1992, SWC engages in "developing, extracting, processing, smelting, refining, and marketing palladium, platinum and platinum group metals." The company conducts its mining operations at the Stillwater mine located near Nye, Montana, and at the East Boulder mine located near Big Timber, Montana. It is also involved in developing Marathon, a platinum group metal and copper property located in Ontario, Canada. It is also exploring the Altar site, a copper and gold property located in San Juan, Argentina. In addition the company operates a smelter and base metal refinery located in Columbus, Montana. Further, it recycles spent catalyst material to recover palladium, platinum, and rhodium at its smelter and base metal refinery. As of December 31, 2011, the company had proven and probable ore reserves of approximately 42.5 million tons at its Montana operations, and approximately 91.4 million tons at the Marathon development project. The stock currently trades at $13.04 on average daily volume of 2.6 million shares exchanging hands daily. It trades at a p/e ratio of 25.9 with a PEG ratio of 1.9. The 52-week range of the company is $7.47 to $14.87.
Other Stocks Worth Looking Further Into
North American Palladium (PAL): PAL engages in the exploration, mining and production of precious metal properties in Canada. The company explores for palladium, platinum, gold, nickel, copper and other metals. Its principal property includes Lac des Iles palladium mine located northwest of Thunder Bay, Ontario. PAL operates in a mining friendly jurisdiction with lower political risk, stable government policies, moderate cost inflation and available labor. The company has moderate debt levels and maintains an ability to finance working capital to support funding exploration and development investment activities. The stock currently trades at $1.48 on average daily volume of 1.6 million shares. The stock has a 52-week range of $1.15-$3.06.
Platinum Group Metals Limited (NYSEMKT:PLG): PLG is a relatively speculative company in the platinum and platinum group metals space. The company explores for copper, nickel, cobalt, platinum group metals and gold deposits. PLG is engaged in the acquisition, exploration and development of platinum properties with interests in the western and northern limbs of the Bushveld Complex in South Africa and in Ontario, Canada. Currently the stock trades at $1.41 per share. The stock trades on average daily volume of 118,000 shares a day and has a 52-week trading range of $0.75-$1.72. As platinum rises over the next few years I expect PLG's stock price should rise in tandem over the long term. The stock was recently upgraded, by RBC Capita, which upgraded it to outperform from sector perform with a $1.75 price target. This is likely because the company's Waterberg deposit could result in a significant resource expansion and it views the company as a potential takeover target.
Prophecy Platinum (PNIKF.PK): Prophecy is a young company founded in 2011. It is an exploration stage company that identifies, acquires, explores, and develops mineral resource properties in Canada, Argentina, and Uruguay. The company primarily explores for nickel, copper, and platinum group metals. It primarily has interests in the Wellgreen property, a nickel-copper and platinum group metals project located in the Yukon Territories. It also has interests in the Lynn Lake property, a nickel project located in northern Manitoba as well as the Las Aguilas property, a nickel-copper and platinum group metals project located in San Luis Province, Argentina. Finally the company has five prospecting licenses in Uruguay. The stock trades at $0.94 per share on average volume of 13,000 shares exchanging hands daily. It has a 52-week range of $0.91-$4.60. Given the low volume, the stock is subject to large moves in short periods of time, especially if a large institutional buyer gets involved. While this is rare for stocks under $5 in general, it is important to consider. However, the stock while trading on its own underlying company success, will also trade in tandem with platinum. Thus, platinum bulls could consider this play as a way to gain potentially leveraged exposure to platinum and platinum group metals.
Impala Platinum Holdings (OTCQX:IMPUY): Impala is slightly risky not only because it is thinly traded, but due to its exposure to South Africa, where the strikes in the labor force have really had an impact. That said, with its exposure to platinum it has the potential for great returns once the labor issues in South Africa cease. Impala is not only exposed to platinum, but engages in mining, refining, processing, and marketing platinum group metals as well as associated base metals. The company primarily produces platinum, palladium, rhodium, ruthenium, iridium, nickel, copper and cobalt, as well as gold. It has operations in the Bushveld Complex in South Africa and the Great Dyke in Zimbabwe. The company is also involved in the purchase of chrome in tailings, and processing and sale of the product, as well as provides third-party refining services. The stock currently trades at $15.25 on average volume of 50,000 shares exchanging hands daily. The stock has a 52-week range of $14.53-$22.04.
Conclusion
Platinum is overlooked in favor of gold and silver. Gold and silver are both down significantly on the month, while platinum is about flat. While I highly recommend gold and silver for the long-term investor, I also believe that platinum and platinum mining companies should be considered. With prices of precious metals set to rise long term stemming from increasing demand, geopolitical tension, risk of inflation and central bank balance sheet expansion, investors should strongly consider platinum exposure, in addition to gold and silver.
Disclosure: I am long SPPP. I wrote this article myself, and it expresses my own opinions. I am not receiving compensation for it (other than from Seeking Alpha). I have no business relationship with any company whose stock is mentioned in this article.