If you don't open your eyes to the bigger picture, you open your portfolio to unnecessary losses.
CNBC's countdown clock will tell you that the Dow is only X points away from its 2007 all-time high. That's true, but it's also deceptive.
The Dow Jones Industrial Average (NYSEARCA:DIA) is a price-weighted average of only 30 large-cap stocks. IBM alone accounts for over 11% of the Dow's movements.
The S&P 500 is a market capitalization weighted index of 500 large-cap stocks that emphasizes the performance of the largest of large caps.
Mega Cap - 'Mini' Performance
The fact is that the bluest of the large-cap stocks are lagging compared with the rest of the market. IBM is 5% from its all-time high as is Exxon Mobil. Oh yes, there's also Apple, MVP of the S&P 500, trading 36% below its high watermark.
A simple chart illustrates the 'weakness' of mega-cap stocks compared with their large-cap cousins. Figure 1 provides a visual comparison of the S&P 500 SPDR (NYSEARCA:SPY) and the Guggenheim S&P 500 Equal Weight ETF (NYSEARCA:RSP).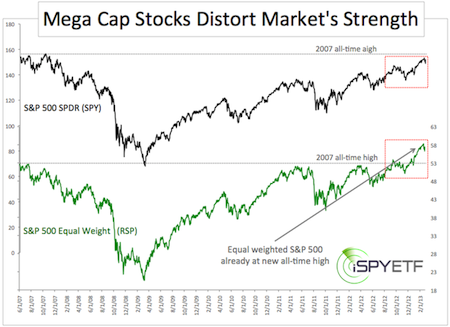 SPY trades about 3% below its 2007 high, equal weighted RSP trades more than 7% above its 2007 high. Why?
The top-five S&P 500 components (Apple, Exxon Mobil, GE, Chevron, IBM) account for 11% of the index. Four of the top five holdings are more than 5% from their all-time highs.
The top five equal weight S&P 500 components account for 1% of the equal weight index and allow 'smaller larger' caps to pick up the slack of mega caps.
'Smaller is Bigger'
Smaller is better in this QE bull market (more below). Mega caps underperform large caps, and large caps underperform small and mid-cap stocks.
Figure 2 plots the S&P 500 SPDR against the MidCap 400 SPDR ETF (NYSEARCA:MDY) and SmallCap 600 SPDR ETF (NYSEARCA:SLY). The message is the same. MDY and SLY are at new highs, SPY is not.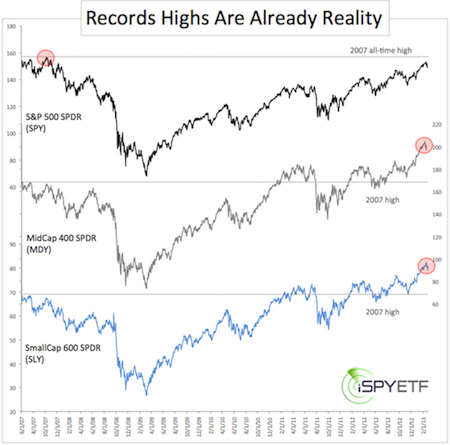 What's the Big Deal?
Stocks are up, portfolios are up, Wall Street is happy and the media is ecstatic. So what difference does it make who or what performs best?
Market tops are liquidity events. When investors stop buying, stocks start falling. Small- and mid-cap stocks are more sensitive to liquidity squeezes than large-cap stocks.
That's why small- and mid-cap stocks tend to underperform somewhat, going into larger scale highs. Thanks to the Fed's artificial liquidity environment that hasn't been the case.
What's the moral of the story? Small-cap stocks - the so-called canary in the mine - are still 'chirpy.' Although further weakness is possible, small-cap strength suggests that the QE bull market will live to see another day, week or month(s).
Disclosure: I have no positions in any stocks mentioned, and no plans to initiate any positions within the next 72 hours. I wrote this article myself, and it expresses my own opinions. I am not receiving compensation for it. I have no business relationship with any company whose stock is mentioned in this article.