Our recent articles have covered some blue chip dividend stocks and high dividend stocks, but we hadn't yet found a dividend stock with a combination of both of these attributes... until now.
Netherlands-based LyondellBasell Industries, (LYB) is one of the world's largest plastics, chemical, and refining companies. LYB is the largest producer of polypropylene and polypropylene compounds; a leading producer of propylene oxide, polyethylene, ethylene and propylene; a global leader in polyolefins technology; and a producer of refined products, including biofuels. Additionally, LyondellBasell is a leading provider of technology licenses and a supplier of catalysts for polyolefin production. (Source: LyondellBasell website)
We just added LYB to our High Dividend Stocks By Sector Tables due to its past history of paying large special dividends in the 4th quarter:
A Hidden High Dividend Yield: There's a huge jump in LYB's dividend yield, when you add in the special dividend it paid in 2012. Suddenly, it has a 7%-plus yield that's comparable to many energy MLP's. Most of the online dividend screening programs don't account for special dividends, which is why a stock like LYB doesn't pop up in those screens: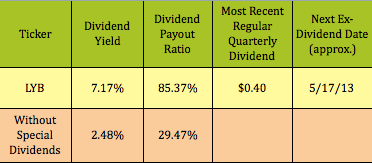 Will LYB keep paying big special dividends? Nobody knows, but based upon the current growth estimates for 2013 and 2014, it looks like a reasonable bet that they will. LYB is undervalued on a PEG basis, (P/E divided by Growth), for both 2013 and 2014:

But what if LYB doesn't pay a big special dividend in 2013?
You can actually capture a similar payout from LYB right now, by selling Covered Calls. This September trade pays $4.20, over 50% more than LYB's $2.75 2012 special dividend. You also have potential price gains of $1.43, ($60.00 strike less $58.57 share price), and up to $.80 for the next 2 quarterly dividends.
The range of income on this trade is $5.00, (unassigned and collecting both $.40 dividends), to $5.63, (assigned before collecting any dividends), to $6.43, (assigned after collecting both dividends).
You can find more details on this and over 30 other high yield trades in our free Covered Calls Table.

Performance: Although LYB has trailed the market so far in 2013, it's still up over 75% from its 52-week low:

We've added these 2 trades from our Cash Secured Puts Table. They both achieve lower breakevens, and offer high put premiums. The idea is to sell puts at a strike price below the current share price, but still receive an attractive put premium. (Put sellers don't receive dividends.)
For comparison, we've listed $3.95 as the dividend amount for the January 2014 trade's period (three $.40 quarterly dividends, plus the same $2.75 special dividend amount LYB paid in 2012). On that prospective basis, the January 2014 $57.25 put premium is 67% higher than the projected dividends.

Of course, LYB could end up paying a bigger special dividend, and even increase its quarterly dividends, but the Jan. 2014 trade offers the attraction of getting paid a high premium now, vs. waiting for future dividend payments, in addition to giving you a breakeven cost that's 13.5% below LYB's share price. The Sept. trade's breakeven of $51.10 is 12.8% below LYB's share price.
Financials: Although it has slightly more debt, LYB's other metrics outshine its industry's averages:

Disclosure: The author held no LYB shares at the time of this writing.
Disclaimer: This article was written for informational purposes only and isn't intended as investment advice.
Disclosure: I have no positions in any stocks mentioned, but may initiate a long position in LYB over the next 72 hours. I wrote this article myself, and it expresses my own opinions. I am not receiving compensation for it (other than from Seeking Alpha). I have no business relationship with any company whose stock is mentioned in this article.