I have recently become aware of China Petroleum & Chemical Corp.'s (NYSE:SNP) exposure to price-controlled refining while under a simultaneous requirement to significantly reduce pollution. Analysts agree that the company does not make enough money to internally pay for the needed improvements. While wagering on the corporation's decline is worth considering, an argument to do so does not clearly prevail at this time.
Here are some important issues to Sinopec:
Smog is a problem in China. A presentation shows troubling images. The gas giant must bring the sulfur content of its diesel and gas products down, from as high as 150ppm, to meet a standard of 10ppm by 2017. Upgrading facilities is estimated to cost ¥35 bln/year.
The financial situation is problematic and its debt situation is worsening. At least $3.2 bln has been recently spent on acreage in the USA; and another $8 bln on other international property owned by its parent, during calendar 2013. Sinopec has already diluted via a $3 billion private placement offering announced on February 4th, and the proceeds are specified for "General corporate purposes" amidst the acquisitions for Exploration and Production ("E&P"). Borrowing rates may not be formidably high though, as the company can obtain loans at 4%. A debt to equity ratio of 54% is forecast for 2012.
The government of the People's Republic has recently increased the amount that can be charged for refined products 3.1%, resulting in a $4.60 per gallon pump price, which should help pressured margins. However, China is concerned about any inflationary effects upon its core Consumer Price Index, so further relief might not be as readily approved. Meanwhile, according to a Q3 Investor Presentation (pg. 12 of 13), refining comprises 20.17% of capital expenditures, and a source says its costs are to rise 3%.
Just because one questions a corporation's prospects does not mean that it is advisable to seek profit through its difficulties. Sinopec's international dealings are significant, and perhaps a counterweight to its domestic activities. The company has recently developed partnerships, investing $2.2 bln in Devon Energy's (NYSE:DVN) American properties, and consummating a deal with Chesapeake Energy Corporation (NYSE:CHK) for 50% of Oklahoma acreage where production recently jumped 208%.
Many observers opine that Sinopec got a remarkable deal in the latter acquisition; however, CEO Chip Johnson of Carrizo Oil & Gas (NASDAQ:CRZO) says the price paid is entirely reasonable:
The Mississippi Lime assets are not as valuable as hype that was in the market. Nearly everybody has been looking at those assets for a long time and [they] have very high operating costs…but with enough scale you can make a lot of money…We stayed away from [them]…It was probably a very accurate price.
The selling price is just over $1 bln. The market cap for CRZO rounds up to $942 mln, and its balance sheet shows $14 mln in cash against $992 mln in long term debt, so a purchase at similar "scale" would have been difficult. While future revenues and earnings probably can be expected for Sinopec due to the transaction, it just does not sound like the bargain that many journalists have described. In all fairness, Carrizo's financial statements meet western requirements, an issue that is repeatedly cited as a danger for any would-be investor in China.
James Chanos, a billionaire short seller, is generally intriguing to follow and outspoken on relevant matters. For those familiar with the Brazilian gas company Petroleo Brasileiro S.A. (NYSE:PBR), there are probably parallels with SNP. Chanos has gotten richer shorting PBR. He also consistently takes issue with China, saying its accounting standards are deficient and that they have an awful bubble there. His June, 2012 slide presentation (#'s 9 and 25) on quasi-public oil companies and national challenges specifically discusses PBR, and troubling signs in comparable Chinese "Value traps." A chart shows one gas company's changing stock price since: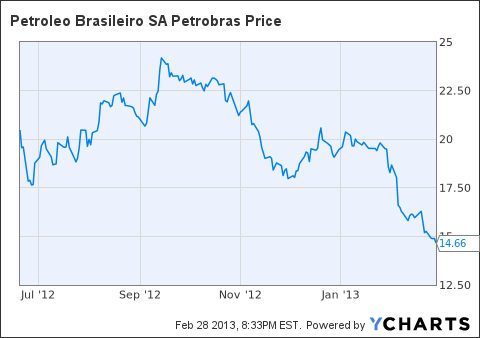 Sinopec's processing (including gasoline, diesel, kerosene, and chemical feedstock) merits scrutiny. A corporation's 10-K, or annual report, is a key resource for evaluating the business's financial condition, operations, and risks; though in this instance skepticism toward such reference material may be appropriate because it is published by a Chinese company. Per the available document, in 2011 Sinopec imported 171.21 out of 218.50 mln tonnes of crude oil that it refined (pg 14), resulting in a ¥34,785 mln operating loss (pg 24), and a -1.4% gross margin (pg 31). Refining as a percentage of 2011 operating revenues is listed at 48.36% (excluding inter-segment sales: ¥1,212 of ¥2,506 mln, pg 23). For 2012, its specified plan, prior to several acquisitions, is to process 225 mln tonnes (pg 18), and costs are now going higher according to several external opinions.
If only there were a way to bet that Chanos is short Sinopec rather than taking on a dangerous position! SNP's dividend yield is approximately 2.5%, and those who borrow and sell its equity are liable for the money. However, the Chinese gas giant has not declared its next payout to shareholders. For Q2 2012, records show that it went ex-dividend on June 8th; and for Q2 2011, on May 16th. If other information becomes available--regarding controlled prices for refined products, further environmental deterioration, or bad news involving overseas E&P activities--a deep in the money put might be sensible for when the stock next trades without the right to such a payment and after. The options have liquidity issues though, so an outright short is probably fitting for those with high conviction.
Sinopec is in a difficult situation. The amount it can charge for products is determined by its wider government, which is ordering compliance with heightened environmental regulations. Further dilution or debt can be anticipated. If weakness manifests in other segments, or through a growing international footprint, it may quickly be reflected in a dropping stock price.
Disclosure: I have no positions in any stocks mentioned, and no plans to initiate any positions within the next 72 hours. I wrote this article myself, and it expresses my own opinions. I am not receiving compensation for it (other than from Seeking Alpha). I have no business relationship with any company whose stock is mentioned in this article.