Duke Energy (NYSE:DUK) provided its long-term earnings growth target and EPS guidance for 2013, on 28th February at analyst day. Also, the company reached an agreement with North Carolina Public Staff regarding a rate base increase of 5.7%. In the article below I will discuss the takeaways from the recent analyst conference.
DUK stock is up approximately 7% year to date and in the near future I do not expect noticeable price appreciation. Also, DUK is expected to enjoy modest growth rate of approximately 3.7% per annum for the next 5 years, therefore I reaffirm my "hold" rating for the stock.
DUK provided earnings guidance of $4.20 to $4.45 per share for 2013, and EPS growth target of 4% to 6% from 2013 through 2015. Normalized weather conditions, retail load growth, growth in wholesale segment and lower O&M costs due to merger synergies are expected to have a positive impact on the earnings for the current year. Analysts are anticipating 2013 EPS of $4.34 and a growth rate of 3.7% per annum for next five years. Following are the important long term earnings growth drivers for DUK:
-Continued investment in regulated operations
-load growth of 1%
-wholesale and energy efficiency growth
-and expected merger synergies.
DUK completed its merger with Progress Energy in 2012, last year. Completion of the merger made DUK the largest electric utility of the U.S. DUK is expected to save 5% to 7% of its non fuel expenses and save another ~$650 million related to transmission and fuel cost through 2016 as a result of merger synergies.
DUK is expected to have a target payout ratio of 65% to 70% going forward. Currently DUK offers an attractive dividend yield of 4.4%. Since 2009, DUK has increased its dividends at an average of 2% per year. The following graph shows historical annualized dividend rate and expected dividend of $3.12 for 2013.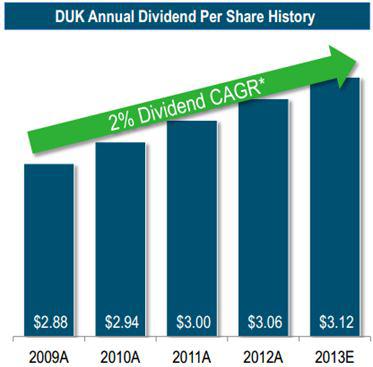 Source: Investors Presentation
DUK forecasted capital spending (MUTF:CAPEX) in a range of $17.1 billion to $18.7 billion from 2013 through 2015. For the current year, 2013, the company has CAPEX estimates of $5.9 billion to $6.3 billion. Approximately 85% to 90% of the company's forecasted capital spending from 2013 through 2015 is expected to be done on regulated operations, which in return will lead to a rate base increase. Following is the forecasted CAPEX profile for DUK from 2013 to 2015.



Source: Investors Presentation
DUK is seeking a rate case increase of 5.1% in Ohio and another 9.7% rate case increase in North Carolinas. Positive outcomes of these rate cases will help the company to grow its top and bottom lines.
On March 1st, an agreement between North Carolina Public Staff and Progress Energy (subsidiary of DUK) was reached regarding an increase in the rate base. The company is expected to increase the rate base by an average of 5.7% in the next couple of years. Progress Energy earlier requested an increase of $359 million or 11% percent in retail revenues.
DUK has also made some changes in management recently. Dhiaa Jamil was named as president of Duke Energy Nuclear and Bill Pitesa was named as chief nuclear officer. According to DUK, these changes were made to strengthen the company's operations.
Conclusion
The earnings and long term growth guidance provided by DUK was in line with the analysts' consensus. I believe the outcome of the pending rate cases will have a material impact on the company's financial performance and favorable outcomes of these cases will drive earnings growth for DUK. However, due to modest analysts' growth expectations of 3.7% and considerable price appreciation, 7% year to date, I remain neutral on the stock.
Disclosure: I have no positions in any stocks mentioned, and no plans to initiate any positions within the next 72 hours. I wrote this article myself, and it expresses my own opinions. I am not receiving compensation for it (other than from Seeking Alpha). I have no business relationship with any company whose stock is mentioned in this article.