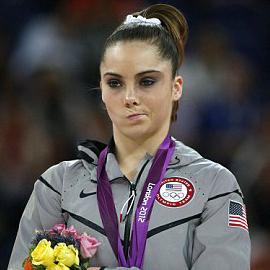 As the third biggest carbonated soft drink company in the United States, Dr Pepper Snapple Group (NYSE:DPS) has to get creative with its marketing and new product launches. One of the company's newest products Dr Pepper TEN had an interesting marketing campaign. The brand was aimed at men and even used "not for women" as part of its campaign. The TEN brand has now been extended to several other Dr Pepper Snapple Group brands and it is bringing along a famous face to advertise the products.
McKayla Maroney, a United States Olympic gymnast who won a gold medal at the 2012 Summer Olympics, signed an endorsement deal with the company. It was Maroney's silver medal in vault that launched the picture seen around the world. Maroney's facial expressions turned into the "not impressed" face that launched a MEME craze. Yesterday, Maroney retired her not impressed face after finding the new products from Dr Pepper.
In the official statement from Dr Pepper, Maroney said, "Obviously, I'm not easily impressed, other brands have approached me to try their products and talk about them, but 7UP TEN stopped me in my tracks. It's the first brand that has really impressed me because the soda is just so good! It's got all of the flavor I want without all the calories of regular soda. It's a 'Perfect TEN' in my book."
The endorsement deal is brilliant by Dr Pepper Snapple Group. Maroney appeared on CNBC to discuss the deal and has already been seen in several pictures smiling away with a can of 7UP TEN in her hand. Maroney's star status has faded a little since the Olympics, but she remains one of the most famous athletes from the 2012 games and also has that recognizable face. Maroney is currently training to compete in the 2016 Summer Olympics in Brazil.
Dr Pepper has a much smaller market capitalization than larger rivals Pepsi (NYSE:PEP) and Coca-Cola (NYSE:KO). In 2011, Nielsen reported Dr Pepper having a market share of 21.1% of the US CSD market. These new products could actually put a dent in the larger rivals. Coke has dominated the low calorie carbonated drink market with Coke Zero. The success of Coke Zero shows that customers are increasingly worrying about the calorie contents in sodas.
The move by Dr Pepper to introduce these drinks comes at a significant time in the beverage industry. Lawmakers are working on making it mandatory for restaurants, vending machines, and stores to post calorie counts for beverages.
Dr Pepper has also worked on expanding its fountain beverage with its strong brands. Coke and Pepsi dominate the restaurant industry. In April, I wrote about Dr Pepper winning the Soldier Field contract to be the official drink carried in the Chicago Bears home stadium. The company announced in its 2011 annual report that it gained 43,000 fountain valves.
Dr Pepper will not see a huge earnings boost in 2013 due to investments in marketing and production of the new brands. However, revenue could see a boost and could beat the modest 2.8% revenue increase that analysts on Yahoo Finance are predicting. Analysts also see revenue increasing 2.8% in 2014, which I think will be a huge opportunity for the company to beat predictions and power shares higher. With the company's stock trading at $43.78, shares trade at 14.2x 2013 earnings estimates ($3.07) and 13.2x 2014 estimates ($3.32). The opportunity to invest in this third wheel is now.
Disclosure: I have no positions in any stocks mentioned, but may initiate a long position in DPS over the next 72 hours. I wrote this article myself, and it expresses my own opinions. I am not receiving compensation for it (other than from Seeking Alpha). I have no business relationship with any company whose stock is mentioned in this article.