After sharing overly bullish outlooks for the S&P 500 (NYSEARCA:SPY) in 2011 (1500 target) and 2012 (1600 target) but at least getting it directionally correct, I decided I ought to be a bit more quiet this year when I shared my 2013 projection of 1664 (based on 14.5X PE on projected 2014 earnings) as I described my "post-fiscal cliff" strategy early in the year. After a great start, we are now less than 10% from my level and just 4% from the all-time high of 1576. Some parts of the market, like Small-Caps and Mid-Caps have already posted new highs, but nay-sayers rightly point out that they don't really count. One big milestone, though, which is just a whisper away, is the potential all-time high for the Dow Jones Industrial Average (NYSEARCA:DIA):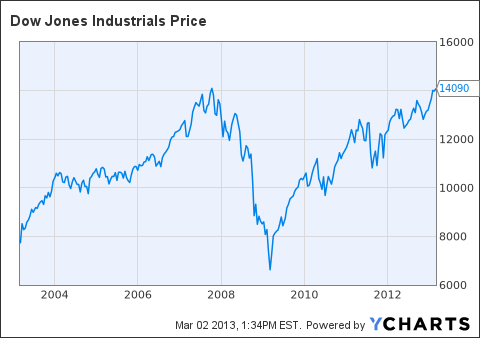 As you can see, the close of 14090 on Friday is very close to the all-time high of 14198 set in late 2007. Let me say that I am not a huge fan of the DJIA, as it's not representative of the market in my view. It's not so much that it's just 30 stocks. Rather, it's the way the index is constructed. Instead of market-cap weighting, like the S&P 500, which also suffers from some methodology challenges, the Dow is price-weighted. This means a stock like Bank America (NYSE:BAC) can double and it's a rounding error, while International Business Machines (NYSE:IBM), as the highest-priced component, has a huge impact. In case you aren't familiar, Dow-Jones, which maintains the index, employs a "divisor" (currently 0.13 roughly), which means that each stock is multiplied by the inverse (7.68) and then summed to get the total of 14,090. With IBM currently at 202 or so and BAC at 11.34, IBM has almost 18X the impact on the index than BAC though its market cap is less than 2X.
Two years ago, I shared what has remained one of my most-read articles since SA began sharing data: Mega-Cheap Mega-Caps Could Fuel Mega-Gains in 2011. Rather than looking at the Dow Jones Industrials, I analyzed the 28 stocks in the S&P 500 that at the time had more than $100 billion market cap. My main point at that time:
I think that we can get a sense of the tremendous upside to the market by focusing just on these largest of the large-caps. With a decent 10-year corporate bond yielding less than 4.5%, the 8% earnings yield for the mega-caps (the inverse of the 12.4PE) jumps out as excessive. The valuation of these stocks appears to price in substantially higher interest rates or earnings declines, while the most likely scenario is modestly higher rates and earnings growth.
As you will see below, most of the components of the DJIA are mega-caps. The reasoning I shared two years ago drives the same conclusions today, as I will now demonstrate.
DIA: Nothing Rough About This Diamond
For a listing of the current components and a complete history of the index, you can click here (registration may be required). The table below, produced with Baseline, ranks the index components by price: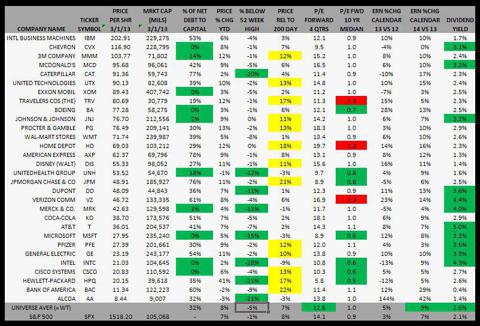 My review of the stocks leads me to conclude that the rally can continue. I have included a lot of data that helps me get there. First, note that the average down below (2nd line from the bottom) is based on 1 share of each stock, conforming to the construction of the index.
I included net-debt-to-capital, which highlights 10 of the stocks as having below 20%, with several below 0 despite showing 0. Even a "high" one, like IBM, is somewhat overstated, as the $25 billion in net debt there is less than 11% of market-cap and less than 1X EBITDA. Companies have strong balance sheets these days.
The DJIA is beating the S&P 500 marginally so far in 2013. Note that 8 of the names, mainly smaller contributors, are more than 10% below the 52-week high. The overall index closed at its high, but the weighted average is actually 5% below the 52-week high.
One thing that concerns me technically is when a stock trades more than 10% above the 200dma. For these stocks, 13 fall into that camp, but 17 don't. Overall, the index is just 7% higher, suggesting some room in the near-term. Only one of the top 5 names is more than 10% above the 200dma.
Valuation of less than 13X isn't too much of an issue. I didn't highlight them, but it's fairly easy to see that 5 of the stocks trade below 10 PE. Not a single stock trades as high as 20X. More importantly, valuations have been low for a while yet the typical stock in the index trades near its 10-year median. I highlighted three that trade at more than a 20% premium and 7 that trade at more than a 20% discount.
I included columns highlighting analyst expectations for 2013 and 2014 for each of the stocks. 9% overall growth for 2014 suggests to me that the index could get that 7% rise to 15K. Finally, the overall dividend yield is a generous 2.6%, but notice how many of the stocks offer more than 3%.
Coke Adds Life (To Its Low Long-Term Borrowing Costs)
One of the things that I have been discussing for quite some time is that the biggest, best companies have awesome access to dirt-cheap debt. I remember being quite excited about high-quality dividend-payers, like Johnson & Johnson (NYSE:JNJ), when it issued what was then seemingly rock-bottom 10-year notes at 2.95% in August 2010. It also issued 4.5% 30-year bonds at the same time. It struck me then that the 3.5% dividend yield was likely to lead to a better total return for the stock than those rock-bottom bond yields.
Of course, these levels now look expensive! The 10-year note, now with 7 1/2 years until maturity, yields about 2%. Still, I was right, as the JNJ 10-year has appreciated in price by less than 7%, while the stock has rallied about 25%.
This past week Coca Cola (NYSE:KO) issued what could represent one of the richest absolute debt offerings ever, selling $4.5 billion total across four tranches, including $1 billion of 10-year notes yielding approximately 2.5%. The deal lowers the company's overall borrowing costs, as it refinanced older debt.
To the extent companies lock in low, long-term debt, they will be able to lower borrowing costs and boost earnings or use proceeds to repurchase stock accretively or make acquisitions.
Conclusion
While we are barely past 14K on the DJIA, this is no time to give up on the rally. I have taken a look under the hood, and it looks to me like the engine is loaded with lots of horse-power to get us to the next round number, 15K, by the end of the year. It sounds big, but it's less than 6.5% away. I don't think that these conservative stocks will lead the way, but it gives me confidence in the rest of the market when these big stocks seem to be enjoying a sustainable rally.
Nothing is a straight march, though, and speaking of March, we are nearing what I expect will be an interim peak followed by a shallow correction. Surely a bullish headline like this can only serve as a signal, right?
Disclosure: I have no positions in any stocks mentioned, and no plans to initiate any positions within the next 72 hours. I wrote this article myself, and it expresses my own opinions. I am not receiving compensation for it (other than from Seeking Alpha). I have no business relationship with any company whose stock is mentioned in this article.