Looking over my charts Wednesday, I noticed some potentially bullish developments. The first chart below is of Copper. Market strategists like to say that copper has a PhD in economics, in that it is a good leading indicator.
As such, it is constructive to notice that the steep downtrend from 2008 has ended, and a new sideways base-building pattern has been underway since late December. More recently, copper looks like it is attempting to break above the highs of its recent trading range.
This would have positive implications for the global economy, and the notion of reflation vs. deflation. I would expect stocks like
Freeport

(

FCX

)
to do well if this trend continues, as well as emerging market stocks.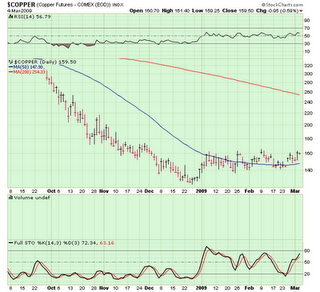 The next chart is of the
Yen
ETF
. I talked about this one a lot last year, highlighting that a rising yen made for a difficult backdrop for equities. In January, I highlighted the potential for a double-top in the chart, and that a break lower by the yen would be positive for stocks. I think we are starting to see that move lower in the yen .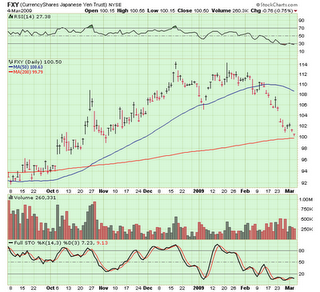 The last chart is of the
Baltic

dry index
. This index is used as a proxy for the global shipping economy, which fell of the proverbial cliff late last year. But you can see that since the start of 2009, it has been rebounding. Moreover, instead of rolling over after that spike higher, it appears to be consolidating in a sideways fashion. Again, a resolution of this trading range to the upside would have bullish implications for the global economy.
I don't have any positions in this area, but on Wednesday stocks like
DryShips

(DRYS)
surged +40%.