The biopharmaceutical sector has been buzzing with activity lately. Over the past several months I have had my eye on four companies in particular. Dynavax Technologies (NASDAQ:DVAX) has been working with the FDA to iron out safety issues surrounding its hepatitis B vaccine Heplisav. Affymetrix (NASDAQ:AFFY) recently signed an agreement with DNA Link in which DNA Link will get a license to develop and commercialize a global forensic test for human identification and other diagnostic tests. GlaxoSmithKline (NYSE:GSK) has been trying to overcome its patent cliff problems and could seek as many as six new product approvals during 2013. The company's two chronic obstructive pulmonary disorder (COPD) drugs, Breo/Relvar and Zephyr, are both seeking approval this year. Cynapsus Therapeutics (CYNAF.PK), which was on the brink of bankrupcy in the past, has successfully raised capital which has funded the company well going forward. Cynapsus Therapeutics was recently awarded a grant from The Michael J. Fox Foundation for Parkinson's Research (MJFF) to support clinical studies for the development of APL-130277, a sublingual (oral) thin film strip reformulation of apomorphine. Below, I will discuss how these new developments could impact the stock of each company, and whether any new investment opportunities have surfaced.
Dynavax Technologies
Dynavax Technologies develops products to prevent and treat infectious and inflammatory diseases. The company's lead product candidate is Heplisav, a Phase 3 investigational adult hepatitis B vaccine. Dynavax Technologies may have to settle for a smaller market for its hepatitis B vaccine Heplisav after U.S. health regulators refused approval of the vaccine for adults, a market that is estimated at around $700 million globally. The FDA said in a complete response letter, which is tantamount to a rejection, that the safety data provided was not enough to support an approval of Heplisav, which is Dynavax's most advanced clinical candidate. The company has said that the FDA agreed to discuss a more restricted use of the vaccine and that it plans to meet with the FDA within six weeks to pursue the approval. The delay in the introduction of the vaccine, which acts faster and requires less frequent dosages, sent the price of the share down by almost 40% on receipt of the news. However, the company said that it may not need to conduct more tests to establish the safety of its vaccine and that it could reassemble the existing data to meet FDA requirements-- which means that the delay could be months instead of years.
According to a Datamonitor report entitled Commercial and Pipeline Insight: Hepatitis B - Improved antivirals drive rapid market growth, "The hepatitis B drugs market, valued at $431 million in 2006 across the seven major markets, will nearly triple in size to reach around $1.25 billion by 2016. However, between 2011 and 2016, further market growth will be hampered by patent expiries and the subsequent launch of cheap generics, as well as by the impact of vaccination." Market growth will come from disease awareness, the use of more expensive drugs, and combination therapy.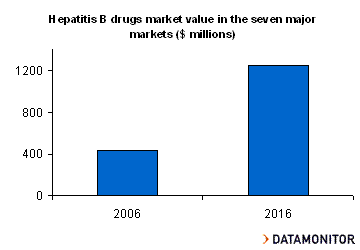 Between 3.5 million and 5.3 million people in the U.S. are estimated to be affected by viral hepatitis, and vaccination is the only treatment to stop progression of the infection, which is the principal cause of liver cancer. Dynavax had requested approval for Heplisav in the U.S. to treat patients between 18 and 70 years of age, and clinical studies showed that the vaccine was effective after only two doses compared to three of four doses for adults, compared to three of four doses of Engerix B produced by GlaxoSmithKline Engerix B which is the most used hepatitis vaccine globally.
Phil Nadeau, an analyst at Cowen & Co, is of the opinion that approval for a limited population for the use of Heplisav may still happen later this year or early next year. MLV & Co. analyst Megan McCloskey Dow feels that the application to European health regulators for the use of the vaccine for adults with chronic kidney disease could be approved in the first quarter of next year. She cut her rating on the stock from "Buy" to "Hold."
The markets appear to have overreacted because there was sufficient notice of the probable rejection when Heplisav was referred to the FDA's panel in November and, though it received unanimous support from standpoint of efficacy, eight of the 13 voting members recommended against approval because of inadequate safety data. If all that the company had to do was to conduct additional trials for safety, the problem would not be that serious. However, the FDA noted that the novel adjuvants in Heplisav may cause rare autoimmune events. Adjuvants are combined with vaccines to improve the ability to activate immune responses but also carry the risk of causing potentially fatal adverse reactions. The FDA's concern about the adjuvants in Heplisav is a serious concern that could restrict the use and thereby drastically shrink the target market. Investors should be concerned that the restrictions on the potential patient population could mean that the drug will not be a blockbuster. The other concerns raised by the FDA regarding manufacturing controls and facilities relating to quality assurance should be a relatively straightforward matter for the company to address.
There are several factors in favor of the company. For one thing, there is the confidence that the FDA problem can be fixed in a matter of months. For another, the company has a promising pipeline and is currently testing other clinical candidates in collaboration with British drug giants GlaxoSmithKline and AstraZeneca (NYSE:AZN) which includes potential treatments for asthma and anti-inflammatory disorders like rheumatoid arthritis and lupus. However, the problems with the U.S. regulators will probably influence European regulators and, though these approvals would be the next price catalyst, much would depend on the restrictions placed on the potential patient population. I believe that you should not buy the stock at this stage but wait to see how the regulatory approval process unfolds.
Affymetrix
Affymetrix and DNA Link, a genomics-based biotechnology company based in Korea, announced that it has signed a Powered by Affymetrix (PBA) Program agreement under the terms of which DNA Link gets a license to develop and commercialize a global forensic test for human identification and other diagnostic tests. The test will utilize Affymetrix' microarray technology and the GeneChip System 3000Dx v2. The GCS 3000Dx v.2 from Affymetrix is a second-generation solution for DNA and RNA analysis and has received U.S. FDA approval as well as the European CE Mark for use in vitro diagnostics. The system has also been approved by the Korean FDA.
AccuID Chip is an innovative SNP marker based array for personal identification which can be used for a range of forensic samples, including degraded DNA samples. The array uses DNA Link's approach of combining Affymetrix' target resequencing array technology and multiplexing PCR technology with genotype hundreds of SNP markers so that a single experiment can produce high quality data and a variety of information with high throughput and cost effectiveness.DNA Link will combine Affymetrix's GeneChip technology and its state-of-the-art forensic test, AccuID Chip, to work on innovative molecular diagnostic tests in the field of genomics.
Affymetrix is a player in microarray-based products and services to the research community. It is one of the two major providers of microarray technologies providing services to the area of genetic research. This latest agreement is in consonance with its strategy of growing its customer base through strategic alliances among a number of strategies (including acquisitions and expansion into new markets) aimed at expansion. The 'Powered by Affymetrix' Program is an initiative which permits other companies to obtain access to its GeneChip technology for developing new microarray products and solutions and the collaboration with DNA Link is its first partnership venture in Korea. The agreement also provides access to Affymetrix's other PbA partners to enter Korea's personalized genomics market. Earlier, in August of last year, Affymetrix had signed an agreement with Singapore-based molecular diagnostics company, PathGEN Dx Pte. Ltd. Apart from this, the company shares its technology with Roche Diagnostics, a business unit of Roche Holdings (OTCQX:RHHBY), and Pathwork Diagnostics.
Affymetrix reported total revenue of $84.4 million for the fourth quarter of 2012, which, excluding eBioscience of $18.1 million, marked a 2% jump from the fourth quarter of 2011. GAAP net loss was $12.3 million, or $0.17 per diluted share, compared to a net loss of $14.7 million, or $0.21 per diluted share year on year. Non-GAAP net loss was $1.3 million, or $0.02 per diluted share compared to a net loss of $8.3 million, or $0.12 per diluted share, for the same quarter of the previous year. Positive cash flow generated from operations was $2 million and cash, cash equivalents and available-for-sale securities at the end of the quarter was $35.7 million after debt repayments of $9.6 million during the quarter. Total revenue for the year 2012 was $295.6 million, and excluding eBioscience of $37.0 million, showed a 3% decrease from the previous year. GAAP net loss was $10.7 million, or $0.15 per diluted share compared to a net loss of $28.2 million, or $0.40 per diluted share in the previous year. Non-GAAP net loss was $6.8 million, or $0.10 per diluted share compared to a net loss of $13.0 million, or $0.18 per diluted share, for the previous year.
In December of 2012, the company prepaid $9.6 million of its senior-secured debt which was due for repayment in 2013.The company also implemented a restructuring to help in improving profitability and this is expected to result in annualized savings of approximately $25 million of which $5 million will accrue from cost-of-goods sold. It expects to incur a total charge of approximately $7 million-- the bulk of which will be incurred during the first quarter of 2013 except for $1.8 million which has already been recognized in 2012.
It should be noted that research and development expenditure by the company's customers have shrunk substantially because of the poor macroeconomic environment combined with stringent government tightening and budget cuts. Until I see more positive signs of growth and profitability, I will recommend holding this stock, but not taking any new positions.
GlaxoSmithKline
GlaxoSmithKline reported earnings for the fourth quarter of 57 cents per ADS, short of the Zacks Consensus Estimate of 96 cents and well below the earnings of 90 cents per ADS in the same quarter of the previous year. Revenues were flat at $11 billion year-over-year at constant exchange rates (CER) but slightly above the Zacks Consensus Estimate of $10.9 billion. Earnings for the year 2012 were $2.91 per ADS compared with $3.62 in the previous year and much below the Zacks Consensus Estimate of $3.56. Revenues for the year fell by 1% year over year (at CER) to $42.0 billion against the Zacks Consensus Estimate of $42.6 billion. The company expects to record revenue growth of approximately 1% (at CER) with core earnings growth of 3%-4% for 2013 over 2012. The pipeline is expected to contribute significantly with six candidates (Relvar/Breo, Anoro, albiglutide, dabrafenib, dolutegravir and trametinib) undergoing regulatory review and GlaxoSmithKline expects to launch 15 new products over the next three years.
GlaxoSmithKline has been extremely busy trying to overcome its patent cliff problems and could seek as many as six product approvals during the remainder of 2013. The company's two COPD drugs, Breo/Relvar and Zephyr, are both seeking approval this year, with an FDA panel meeting scheduled for Breo. Experts expect that both drugs will eventually get approved, but will first get rejections or extended reviews from the FDA. Approvals are more likely for dolutegravir (HIV), albiglutide (diabetes), trametinib (melanoma), and dabrafenib (also for melanoma) and dolutegravir, shared with Pfizer (PFE), has the potential to be a blockbuster but the potential for the two melanoma drugs is less clear in the crowded melanoma space. Albiglutide has not shown any particular efficacy in clinical trials to date but, with Bristol-Myers Squibb (BMY) and AstraZeneca trying to cut into the share of Novo Nordisk (NYSE:NVO), this drug has a small advantage that it does not need refrigeration.
GlaxoSmithKline also has a few high-profile Phase 3 results due this year. GlaxoSmithKline has been developing darapladib for atherosclerosis, and though many analysts give it a 10% to 30% chance of approval), strong trials could be an advantage because of the multibillion dollar market potential. MAGE-3 is a cancer vaccine in development for the treatment of melanoma and non-small cell lung cancer is a long shot but could be a winner if the clinical data is good post up. Finally there is drisapersen for Duchenne muscular dystrophy which is a serious and largely untreatable rare disease.
COPD has been an important part of GlaxoSmithKline's pharmaceutical business, and Advair alone contributes around 20% of the company's revenue. GlaxoSmithKline also has drugs or clinical programs in every known COPD treatment pathway. Naturally this does not guarantee its dominant market position or an ongoing stream of revenue and profits. Competitors like Forest Labs (FRX) and Novartis (NVS) are seeking a share of the pie and several effective treatments are going off-patent. This is a problem for GlaxoSmithKline, because its newer compounds have not really shown themselves as being markedly more effective than the existing treatments. With the FDA insisting on better efficacy over existing drugs with regard to safety, the inability to differentiate its COPD portfolio from the competition could create problems in generating revenues.
As with all pharmaceutical companies, there is a lot that can go wrong at GlaxoSmithKline. Safety and regulatory risks with COPD could become serious, new drugs could fail as could the high-profile Phase 3 programs. However it has to be said that the company has a decent track record of delivering on its Phase 3 programs as well as the ability to quickly weed out unsatisfactory candidates in its pipeline. However, because of its disappointing financials, I would have to rate the stock as a Hold.
Cynapsus Therapeutics
This has also been an eventful year for Cynapsus Therapeutics. First, the company announced that it has been awarded a grant of $947,925 from The Michael J. Fox Foundation for Parkinson's Research (MJFF) to support clinical studies for the development of APL-130277, a sublingual (oral) thin film strip reformulation of apomorphine. Apomorphine is an approved drug in the U.S., Europe and several other countries as an injection or infusion for Parkinson's patients experiencing daily "OFF" or motor fluctuation episodes. APL-130277 is the only oral formulation of Apomorphine, which will provide patients with a convenient alternative to multiple daily injections. This was the largest grant ever made by the Michael J. Fox Foundation.
Cynapsus is developing an improved dosing formulation of an approved drug that is used to treat Parkinson's disease. Over one million people in the U.S. and an estimated 5 million people all over the world suffer from Parkinson's disease. Parkinson's disease is a chronic, degenerative neurological disorder that is the result of the loss of dopamine-producing nerve cells in the brain. Apomorphine is a highly under-utilized medication in Parkinson's disease because, despite its strong efficacy and rapid action, patients find the injections painful and delay use of the drug until the very last stages of the disease. The targeted segment of patients with Parkinson's disease could potentially double for original estimates, as fear of needles and complications with self-injection have eroded a significant amount the market potential in the past. The new oral formulation makes it much easier for patients to administer the medication. Subsequently, the company has announced that its APL-130277 for Parkinson's was recognized as one of the Top Ten Neurology Projects to Watch in 2012 by a joint selection committee of experts.
Disclosure: I have no positions in any stocks mentioned, and no plans to initiate any positions within the next 72 hours. I wrote this article myself, and it expresses my own opinions. I am not receiving compensation for it (other than from Seeking Alpha). I have no business relationship with any company whose stock is mentioned in this article.