The overall US equities market is overbought. It has been trying to push past overhead resistance, but it keeps failing. This usually means there will be a pullback soon. The S&P 500 makes regular trips down to its 200-day SMA (or below) every few months. It has now been above its 200-day SMA since Nov. 15, 2012 (3.5 months ago). This means it is overdue for another trip down to that level ($141.35 as of the close on Thursday, February 28, 2013). Further the SPY is up 12% since November 15, 2012; 18.7% since June 4, 2012, and 38.3% since October 3, 2011.
After 429 of the S&P 500 companies had reported, the blended EPS growth rate for Q4 2012 was 4.2% year-over-year. This number is far lower than the 12%, 18.7%, and 38.3% figures for rises in the S&P 500 cited above. In other words, there has been a disconnect between EPS growth and stock valuations. Such disconnects usually do not persist for long. Some might argue that inflation justifies these increased valuations. However, gold on the Nymex was $1571/oz on January 2, 2012; and it closed at $1574.7/oz on March 1, 2013. Oil on the Nymex opened at $99.7/barrel on January 2, 2011; and it closed March 1, 2013 at $90.95/barrel. There has hardly been any inflation by these measures. Inflation cannot be the justification.
Further, the US economic numbers have been looking very weak lately. The Q4 GDP growth was only +0.1% after a much more robust Q3 GDP growth of +3.1%. This was abrupt slowing. After Q4 2012, taxes were raised in January 2013. The payroll tax raise alone cost the average taxpayer -2.9% of his or her take home pay. The extra taxes on the "rich" were far greater, although the "rich" were probably not as affected by the payroll tax reinstatement. These new taxes left virtually everyone in the US with less money to spend.
On March 1, 2013, the sequester cuts were allowed to go into effect. These amount to a cut of 5% of the domestic spending programs and 8% of defense programs (or $85B in 2013). The Congressional Budget Office estimates that these cuts alone could slow GDP growth by -0.6% in 2013 and result in the loss of 750,000 jobs. That will definitely cut into consumer spending. In fact these two actions - the tax increases and the sequester cuts, after a 0.1% GDP growth in Q4 2013, make a recession in the US in 2013 a virtual certainty. Against this backdrop, it is hard to see the S&P 500 continuing to climb upward. In fact, market gurus such as Doug Kass have said we have already seen the highs for the year. A pullback is a virtual certainty.
A US recession in 2013 means that commodity prices will fall. We are already seeing that with oil. Since February 15, 2013 when WTI oil on the Nymex hit a near-term high of $98.06/barrel, oil has fallen to close at $91.02/barrel on March 1, 2013. Oil may fall even more in the months ahead, especially if the sequester cuts remain in place. This means that high flying oil stocks, with questionable valuations and high debt burdens, will get hit hard. The Bakken (and other prolific fields such as the Eagle Ford) because of its reputation as a prolific field has some of the most highly valued oil stocks in the industry. Some of these companies may see their stock prices plunge in the weeks and months ahead. A few of the companies that may see significant pullbacks in stock price are listed below with a short justification for each.
1) Halcon Resources (NYSE:HK) is a small independent oil and gas E&P company. It has three core leaseholdings:
130,000 net acres in the Bakken in Montana and North Dakota. As of Q4 2012, this had net daily production of 12,710 Boepd. It had proven reserves of 48,619 Mboe. These were 91% oil and NGLS.
235,000 net acres in the Woodbine. As of Q4 2012, it had net daily production of 3,301 Boepd. It had proved reserves of 26,988 Mboe. These were 94% oil and NGLs.
125,000 net acres in Ohio and Pennsylvania that HK believes are prospective for the Utica and Point Pleasant formation. The first production is expected in Q2 2013.
Non-core total net production of 9,329 Boepd, net leasehold acres of more than 464,000, proved reserves of 33,149 Mboe.
The above amounts to total Core and Non-Core proven reserves of 108,756 Mboe, which is heavily liquids weighted. To acquire these, HK has acquired $2.11B in debt. It has an enterprise value of $3.82B. HK had about $1.2B in liquidity at the end of Q4 2012 (mostly credit). However, it has a 2013 capital program of $1.2B, which will spend a lot of its credit. This means the investors' PV-10 cost per Boe of proved reserves is approximately $35/barrel. This is expensive.
HK has a total debt/total capital (MRQ) ratio of 51.34% versus an industry average of 21.98%. It has a return on equity of -25.90%. It has a net profit margin of -42.77%. It has short interest of 9.10% of its float. It has a Quick Ratio of 0.69x. Its Interest Coverage is zero. These latter two mean HK cannot pay its bills through operating profits or current assets in an economic downturn, which is what the US is now facing. This means it may have to sell its best assets to do so; or it will have to cut back its development program significantly. For a "growth" stock, this would be disastrous for the stock price. If oil prices fall demonstrably, HK will be in serious trouble. Further, HK has significant Bakken assets in Montana. Except for the Elm Coulee field (abutting North Dakota), the Montana Bakken has been disappointing for most developers. HK will almost certainly fall into this category.
2) Goodrich Petroleum Corp. (NYSEMKT:GDP) is an independent oil and natural gas company. It engages in exploration, development, and production of oil and natural gas. It has 39,000 net acres in the oil window of the Eagle Ford Shale - the southern Bakken. It has 135,000 net acres in the Tuscaloosa Marine Shale. It has 83,000 net acres in the Haynesville Shale. The company believes it has 3P resource potential of 6.7 Tcfe (about 1.16 billion Boe). However, it is heavily in debt with a Total Debt/Total Capital (MRQ) ratio of 80.74%. While its current operating profits are enough to cover its interest payments, the company still is not profitable. A fall in oil prices due to a US recession would exacerbate this situation. Further GDP has a Quick Ratio (MRQ) of 0.45x.
In other words, GDP does not have enough money available to cover any shortfalls. This is probably why it has a 2013 budget of only $200 million. It has a return on equity (TTM) of -24.75%. It still has negative EPS and revenue growth rates. It has a -16.75% net profit margin . Plus it is no bargain with a Price/Book ratio of 3.62. GDP has an analysts' average EPS estimate for 2013 of -$1.66 per share and for 2014 of -$0.67 per share. These estimates have worsened considerably in the last three months. The FY2013 estimate has moved from -$0.89 to -$1.66 in the last three months. During that time the stock price has risen in the Overall market Fed QE induced rally. In a recession, the above estimates could worsen much more as oil prices will likely fall.
While GDP has great potential as mentioned above, it has only 333 Bcfe (57.4 million Boe) in proved reserves. With an enterprise value of $1.06B, this translates into $18.47 per Boe. This doesn't make one salivate with the term bargain. Plus the Tuscaloosa Marine Shale has not yet proved itself to be a consistently economically viable. Tuscaloosa wells range from 11,000 to 15,000 feet in depth. This makes them very expensive to drill. A profitable well almost has to be guaranteed before many companies will even want to drill there, especially in a recession. This is even more true if oil prices fall significantly in a recession. As recently as November 14, 2012, GDP's stock price was $7.95. It could easily return to that level in a recession. If you own GDP, you probably don't want to enjoy that trip (or any significant part of it). GDP's stock closed Friday March 1, 2013 at $13.30 per share. GDP is a sell in the current US economic environment. If you are an aggressive shorter, you may wish to short the stock.
The two-year charts of HK and GDP provide some technical direction for this trade.
The two-year chart of HK is below: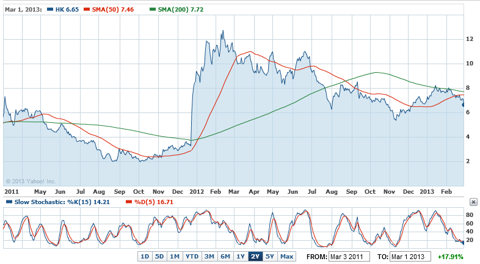 The slow stochastic sub chart shows that HK is oversold. The main chart shows that HK is in a long-term downtrend. The 50-day SMA has been below the 200-day SMA since late August 2012. The price has been trending downward since February 2012. HK is in trouble both fundamentally and technically. It deserves to be in its downtrend. It was downgraded from accumulate to neutral by Global Hunter Securities on March 1, 2013. It has an average analysts' recommendation of 2.0. Given the fundamentals and technicals that I cited above, HK should continue its downtrend, if you believe a US recession and lower oil prices are likely. The evidence certainly suggests that.
The two-year chart of GDP is below: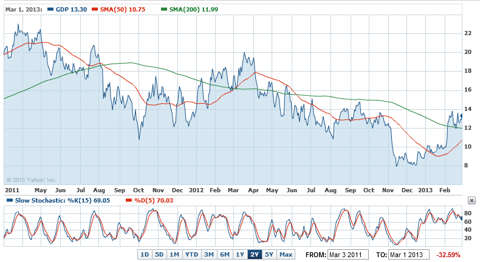 The slow stochastic sub chart shows that GDP is near overbought levels. The main chart shows that it is in a long-term downtrend. The 50-day SMA has been below the 200-day SMA since June 2012. The price line has rallied recently, but this is probably due to the overall market rally induced by the Fed's big QE programs. With a recession likely coming soon, GDP is extremely unlikely to continue to rally. It seems destined to continue to fall, especially since it has missed EPS estimates badly for at least the last four quarters in a row. Further, GDP has pinned significant hopes for growth on the Tuscaloosa Shale, which may be very expensive to develop. This high expense is almost like another nail in GDP's coffin. This is a sell in the current economic circumstances. It has some promise; but that promise is better pursued in better economic times, when the price of oil is more likely to rise than to fall. Since GDP is nearer overbought levels currently, it is a good prospect for a short with its weak fundamentals and overall weak technicals.
NOTE: Some of the above fundamental financial data came from Yahoo Finance and TD ameritrade.
Good Luck Trading.
Disclosure: I have no positions in any stocks mentioned, but may initiate a short position in GDP, HK, SPY over the next 72 hours. I wrote this article myself, and it expresses my own opinions. I am not receiving compensation for it (other than from Seeking Alpha). I have no business relationship with any company whose stock is mentioned in this article.