In the question-and-answer session following his company's release of fourth quarter results, Netflix (NASDAQ:NFLX) CEO Reed Hastings repeatedly compared his company to Time Warner (NYSE:TWX) property HBO, echoing comments he's made for years. Hastings continued to argue that the two companies are somewhat "like baseball and football," marketing to similar demographics but offering slightly different propositions.
With Netlflix' increasing focus on original content -- such as the well-reviewed House of Cards and a new season of cult favorite Arrested Development -- and HBO's introduction of streaming service HBO Go, the two companies are clearly competing on one another's turf. Yet there remains one stark difference between the two: price. An HBO subscription -- which includes access to the company's premium channels through cable or satellite, along with HBO Go -- costs roughly $16 per month, compared with just $8 per month for Netflix. (HBO plans are often available at discounted promotional rates, and the company itself receives a monthly amount roughly equivalent to that of Netflix once cable companies take their share off the top.)
As I noted in 2011, Netflix' $7.99 price point would seem to give it a severe competitive disadvantage against HBO. HBO needs only to program eleven channels, while adding its original content to the online service. HBO Go offers 246 movies as of this writing; Netflix streaming offers thousands, along with full runs of dozens of television shows. And yet, complaints about the lack of selection in its streaming library continue unabated.
At some point, Netflix -- and its customers -- will have to choose between price and quality. Of course, any mention of a price hike at Netflix brings back memories of the badly botched plan to spin of the DVD business in July 2011. Then, Hastings abruptly and rather brusquely split streaming and DVD-by-mail subscriptions, resulting in a 60 percent price hike for customers who wanted to maintain access to both streaming and hard-copy content. Hastings himself would later apologize for the way the decision was handled, and cancel plans to re-brand the DVD-by-mail service as "Qwikster."
In the wake of that incident, the company and Hastings moved to control the damage, writing in an e-mail to customers that "we are now done with price changes." More recently, in the Q4 Q&A, Hastings was asked if there was a likelihood of a price increase; he responded, "We are happy with $7.99 and not speculating on the future."
It's an important question. Because if Netflix can raise prices, even moderately, its financial profile would change markedly: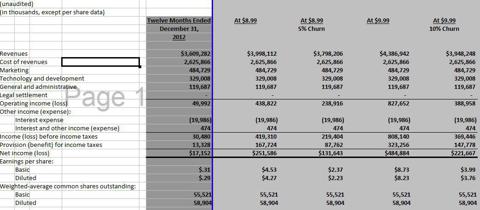 (A few notes: tax rate is estimated at 40%. In the columns that assume consumer losses, I did not adjust expenses. Netflix' largest expense, by far, is its content licensing costs. In its 10-K, the company notes that licensing deals are "not tied to subscriber usage or the size of our subscriber base," meaning subscriber reduction would have no effect on a majority of its expenses. Similarly, a modest decline in subscribers would likely create an immaterial reduction in technology and G&A expense.)
At $8.99 per customer, instead of $7.99, assuming no customer loss, Netflix' 2012 EPS would jump from 31 cents per share to $4.53 per share. At $9.99 -- again assuming no loss -- diluted EPS would rise to $8.23 per share. Of note, US income would be in the range of $14-$16 per share, with contribution loss from the international segment coming in at $389 million for the year.
Even assuming modest subscriber losses in the wake of a price increase, there would still be a substantial marginal gain in Netflix' net income; should 10% of customers defect in the wake of an increase to $9.99, earnings would still increase by a factor of thirteen. It's worth noting that in Q3 2011 -- the quarter in which the Qwikster debacle took place -- subscriptions fell by 1.6 million, representing a less than 6 percent decline.
Of course, another key question is: can Netflix raise its prices? Competition comes not just from HBO, but from Hulu, Amazon (NASDAQ:AMZN)'s Amazon Prime, Redbox Instant (a joint venture between Coinstar (NASDAQ:CSTR) and Verizon (NYSE:VZ)), not to mention traditional cable operators. With Amazon Prime priced at just $79 annually (and including other perks such as free shipping on Amazon products), Netflix may be hemmed in at $7.99, even given its superior content offering.
Any price hike would surely have to be conducted with communication and customer care that was sorely lacking in 2011. Reading comments on Netflix articles, it's clear that many customers simply don't understand the economics of the streaming model, and the additional costs required versus DVD-by-mail. A careful, managed price hike, which communicates Netflix' value proposition, emphasizes the superiority of its content relative to its competitors, points out the additional content licensing costs required by streaming, and is framed as a necessary investment to improve the Netflix library could have a reasonable chance of success. It's also worth noting that when asked what they would pay for HBO Go as a stand-alone service, customers surveyed suggested an average of over $12 per month. That figure is likely somewhat inflated by the nature of the survey -- through a website aimed at customers who were seeking such access -- and the fact that it's easier to offer money to a business that doesn't actually exist. Yet it would seem to show that a price increase to a level below $10 would not, on its face, necessarily cause severe sticker shock.
With the memories of the 2011 price increase likely still somewhat fresh, a move from $7.99 in the near term would be surprising. But it is a weapon in the Netflix arsenal, and a look at the bottom-line changes such a move would create is worthwhile for other reasons. Netflix' fixed-cost business model is one reason the stock is trading at its elevated level, because even revenue growth that comes in modestly above expectations can create a very large bottom-line beat.
This explains, in part, why Netflix stock has been so volatile, going from $300 pre-Qwikster to a low of $53 in the summer of 2012 to Friday's close of $189.37. Modest changes in future revenue expectations dramatically change future income expectations. This also why analyst estimates for Netflix earnings show so much variance, ranging from $0.15 to $2.17 per share for 2013 and $0.88 to $4.72 for fiscal 2014.
That model also creates a great deal of risk to the knee-jerk short thesis that the stock is simply overvalued, and has flown too far, too fast. Like in shares of competitor Amazon, the triple-digit price-to-earnings ratio of Netflix stock can be supported if investors, and in particular Wall Street analysts, believe the company's future earnings potential remains in play. With the possibility of a price hike, streaming subscriber growth, or both, creating a bull case of $12-$16 per share in earnings from the US operations alone, probability-weighted analyst models will continue to value Netflix highly. Those analysts may come to find out that they were wrong; but, by then, NFLX shorts may be broke.
Disclosure: I have no positions in any stocks mentioned, and no plans to initiate any positions within the next 72 hours. I wrote this article myself, and it expresses my own opinions. I am not receiving compensation for it (other than from Seeking Alpha). I have no business relationship with any company whose stock is mentioned in this article.