Overview
Lumber Liquidators (NYSE:LL) reported earnings on February 20th, with net sales of $210.7 million and EPS of $0.50 for the fourth quarter. Results were driven by a robust 13.2% increase in comparable sales and an operating margin of 11.6%. For the year, LL reported $813.3 million in net sales and $1.68 in EPS. In addition, management offered 2013 guidance of net sales in the range of $885 to $920 million and full-year EPS of $1.90 to $2.15. With the stock trading at nearly $61, the question for investors is whether or not all of this information is priced into shares.
Thesis
LL has been on fire for the past two years, rising from its post-crisis low of $13 to trade at $61 today. These gains have come on the back of extraordinary net income growth but as we will see, the gains have come too quickly. I believe mean reversion will set in, and once the market realizes LL isn't going to grow at 50% forever, the share price will reflect that reality. We'll take a look at some operating metrics as well as management's decisions in order to conduct a "mature state" valuation exercise for LL shares.
Operating Metrics
In order to assign a value to LL shares, we'll first take a look at some operating metrics that show us where LL has been and offer up some clues as to where the company will go. Please note all graphs were created by me for the sole purpose of this article and data points were pulled from the company's Qs and Ks.
Our first revenue and profit metric, as shown below, is TTM revenue and net income per store in the LL system.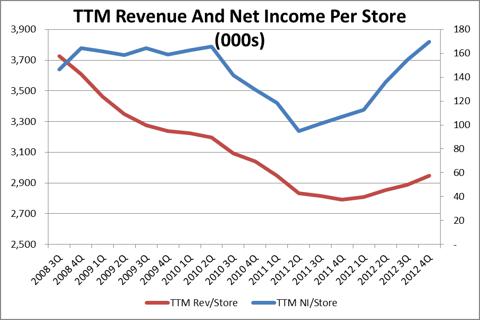 What we see here is that as LL was growing the consolidated top line, per-store productivity has suffered immensely since the company's early days as a publicly-traded entity. Annual revenue per store crested $3.7 million in 2008 but has since fallen to just under $3 million. While this is troubling, the fact that the trend has bottomed and apparently turned should be quite encouraging to shareholders.
Even more encouraging is the net income per store depiction. We can see that net income per store hovered around $160K from 2008 to 2010 but subsequently declined to just under $100K in 2011. We then see a violent reversion back to the $170K level, where it sits as of the end of 2012. Again, this is very encouraging because per-store profitability has nearly doubled since the summer of 2011.
Since only management knows where the top bound of store profitability is, we can only speculate. However, the slope is showing no signs of slowing its ramp and even in the face of declining revenues, we have seen per-store profitability stand resilient and even grow. LL has clearly been refining its store model and it is firing on all cylinders right now.
How has LL achieved this phenomenal feat? There are several reasons but chief among them is gross margins. This depiction of quarterly gross margin percentage shows LL has realized the gains it was hoping for in its very public line reviews conducted over the last couple of years.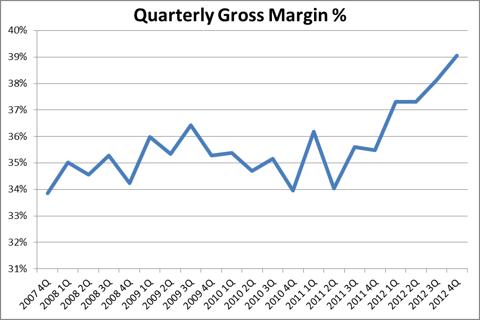 We see a full 300 bps of gross margin improvement over the top bound of the prior range of 34% to 36% that had historically existed for LL. Management's commentary on the last two quarterly earnings calls wasn't exactly encouraging on the GM% front as CFO Dan Terrell waffled and basically avoided the questions from analysts. I don't think anyone is surprised by his evasive "answer" to questions regarding GM% as the easy money has very clearly been made here. There may be some GM% left in the tank for LL; I just don't think that is the case.
Given that line reviews for all major products, at management's admission, have been completed and GM% improvements have been flowing into new inventory, I don't know where additional, substantial GM% improvement will come from. Marginal improvements are certainly possible but another 300 bps sounds outrageous to me right now. I think 40% is where GM% tops out in the near to medium term. Transportation is typically an area where LL can affect its GM% but with gasoline and diesel prices cresting $4 per gallon in many parts of the country, fuel surcharges will begin to eat away at LL's GM%, potentially cancelling out any incremental improvements the company can make in other areas like, for instance, reducing SG&A.
Speaking of SG&A, this graph shows the TTM amount of fixed expenses versus contribution margin per store.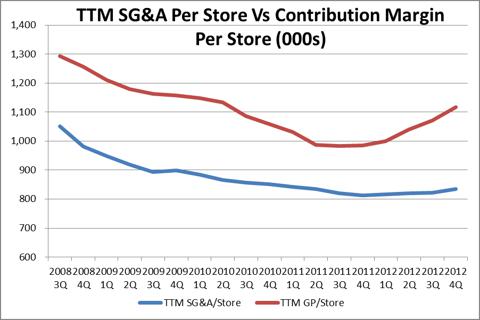 What we see is that, quite consistently, LL's stores have been able to produce much more in gross margin dollars than it costs to run them. After a gap of about $250K in 2008, contribution margin minus SG&A narrowed to only $152K in 2011, only to rebound to $282K at the end of last year. Again, we are seeing that LL has broken the upper bounds of per-store profitability and no one knows where the top may be. The risk, of course, is that the top is being seen, but given the sales momentum LL has, I would not be willing to make that call.
Management did caution on the 4th quarter call that 2013 is a "year of investment" with regard to SG&A costs, particularly with respect to advertising. As a result, SG&A per store may increase and pressure on return on sales in 2013.
There are three basic ways that LL can increase revenue: 1) increase the amount of sales transactions it processes, 2) increase the value of each of those transactions or 3) increase the number of stores. In the charts below, we will see that LL is really only doing one of these things.
The first chart shows the estimated number of invoices per store on a TTM basis. It is important to note that I derived this data from the average sales ticket value, reported total revenue and the store base that existed for each time period. Since the company does not report this metric, it is an estimate. However, the number should be close enough for us to be able to use the trend, even if the number isn't exactly correct, which I'm sure it isn't.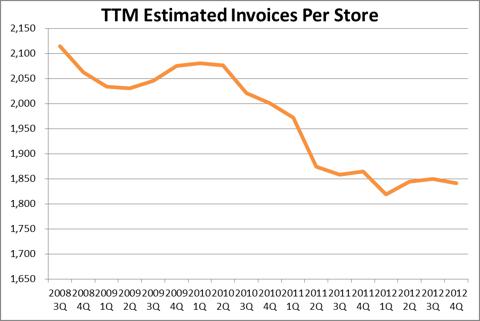 What we see from estimated invoices per store is exactly what we should have expected from the revenue graph; invoices per store have been declining since 2008. The good news is transactions seem to have bottomed in the 1,850 area, but they are not moving higher yet. This is an important metric to measure traffic and as such, it should be watched carefully for any signs of improvement or deterioration.
The next metric, average invoice value, is reported by the company and I have pulled the annual values from the company's 10-Ks.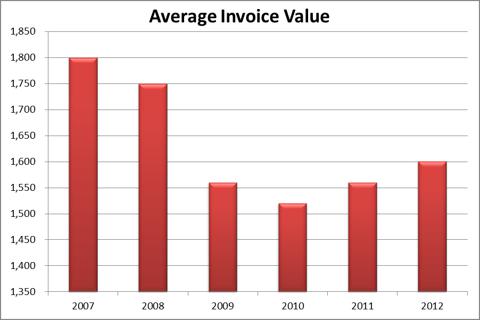 We see that this, too, has been declining since 2007 but bottomed in 2010 and has rebounded slightly to settle at $1600 in 2012. Again, this is a primary way for LL to increase revenue in the future so it should be watched carefully. A note of caution, CEO Rob Lynch said during the third quarter conference call that an average ticket of $1,800, such as what occurred in 2008, is very unlikely in the future. His reasoning is that consumer demand has shifted fundamentally towards lower-priced flooring, such as laminate. As these floors carry lower average selling prices, it means less revenue per square foot of flooring sold for LL and as a result, less total revenue.
The shift Lynch was referring to can be seen below: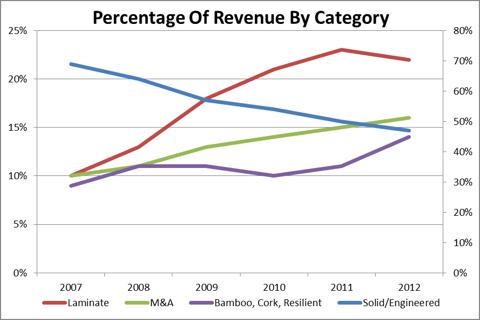 This graph shows the percentage of total revenue attributable to each merchandise category. The Solid/Engineered category, which carries the highest ASPs (blue line, right scale), has been in constant decline since 2007. Once accounting for 70% of total revenue, it is below 50% for the first time ever as laminate has soared from 10% of revenue to over 20%. In addition, bamboo as well as moldings and accessories have made solid gains in revenue share over the same time period.
The obvious implication for this is exactly what Lynch said, which is that total revenue will suffer as each unit of flooring carries a progressively lower ASP. However, since the lower-priced categories of flooring and accessories typically carry higher GM%, it means that GM% for the total company should rise as well. In fact, as we saw earlier, this is exactly what is happening.
This is good and bad in that rising GM% means more of each sales dollar goes to net income but it also means top line revenue growth is more and more difficult to achieve. This can be masked greatly by simply opening new stores that can contribute to top line growth and indeed, LL is forecasting opening 25 to 35 new stores in 2013, based on the 4th quarter earnings press release linked above. Since LL currently operates 288 stores, management is planning on expanding the store base by 9% to 12% this year. Store growth like that can mask a lot of declining per-store revenue.
LL does have one truly outstanding sales metric from 2012, that of comparable store sales.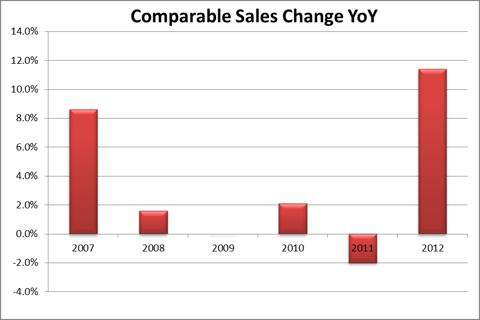 After four consecutive years of hideous same store sales numbers, LL knocked it out of the park last year, posting nearly 12% growth. This is an incredible achievement and LL should be very proud of what the company accomplished. However, I would note some caution as the comparables for last year were absolutely abysmal based on 2011 on the back of a greater than 2% decline in that year. While the 12% growth for 2012 is phenomenal, I would submit that the number isn't as good as it looks due to the lay-up comparables the company was facing based on a horrendous 2011.
The obvious extension of this is that 2013 will have an extremely robust comparable sales base and LL certainly has its work cut out for it in terms of posting positive comparables this year. I honestly wouldn't be surprised to see flat or slightly negative comparables this year from LL, given the very high bar set last year. Management clearly doesn't agree, as comparable sales growth of "mid-single digits" is forecast, but I wouldn't expect to hear anything different. The point is, don't expect double-digit same store sales again from LL any time soon since the easy money has been made here.
In fact, longer term, we can see from this table out of the 10-K that the company's older stores are actually a drag on comparable sales.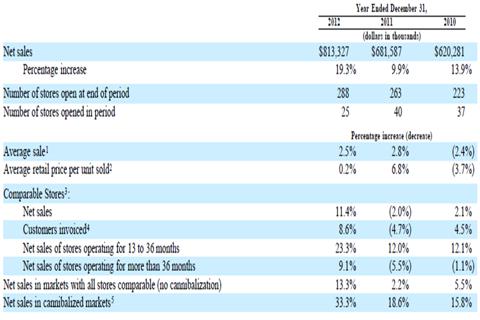 With stores open 13 to 36 months posting an incredible 23.3% gain in 2012, older stores posted 9.1%. This isn't just a 2012 event either; we can see the oldest stores acting as a drag on comparable sales every year for LL. The implication is that LL needs to figure out a way to keep momentum in a mature market or comparable sales will tank in the coming years. I believe LL has a particular risk in this area as profitable locations begin to become an issue for the rapidly expanding store base. As the best locations are gradually taken, LL will not be able to cover up its lackluster mature store comparable sales with hot growth stores anymore. While this issue is potentially a few years away, it is a long term risk to the company's comparable sales numbers and should be monitored.
Next, we will take a quick look at the company's inventory history.
This graph shows the average amount of inventory per store on the company's balance sheet at quarter end since LL went public. We see an enormous range of roughly $600K to $800K per store in company inventory. Keep in mind this is not the metric management reports to shareholders as "inventory per store." Rather, the company reports only the inventory that has actually been received, as we can see below. LL doesn't include in-transit inventory in "available" inventory because it can't be sold if it's in transit. However, inventory at the warehouse can't be sold either but that is included in "available" inventory.

I don't agree with this practice as it is deceiving because the company already owns the inventory that is being shipped to it; the fact that it hasn't arrived yet doesn't mean anything. I'm not sure if the company is intentionally trying to mislead investors by making the number seem lower than it really is but in-transit inventory is inventory all the same and to report it any other way is deceitful. As long as we are making up numbers, why not only report the inventory that is physically in store locations? Or maybe exclude obsolete inventory as though it doesn't exist? Inventory is a real cost and should be reported correctly, which it isn't on a per-store basis, in my opinion.
Using the actual inventory per store number shows that LL is moving back towards the upper end of its historical range, with inventory per store at about $725K at the end of 2012. Inventory is not yet to the point where one should be alarmed but if it creeps back towards $800K per store again, that could be a warning sign of waning sales demand and poor planning on LL's part. Like I said, we are not there yet, but this figure is a huge metric for LL (and any other retailer) and any signs of weakness could portend diminishing demand.
Conversely, if inventory per store begins to creep back down towards the $650K level, it means LL is having a hard time keeping up with demand, which means its torrid sales momentum is continuing.
Finally, we'll take a look at one more set of per-store metrics that I think are quite telling.
This graph shows TTM revenue and estimated breakeven revenue per store.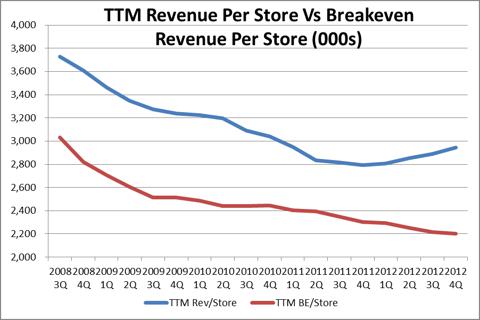 The results here are astounding and there are a few inferences we can make from this data. First, we already know from earlier that per-store SG&A has been declining in recent years and as such, the amount of revenue that is needed to cover fixed costs (red line) has dropped. In addition, we already saw that gross margin percentage has risen 300 bps in the last two years, making profitability much easier on a lower amount of necessary revenue. As a result, we see the estimated breakeven line decline steadily from over $3 million in 2008 to only $2.2 million last year. This has largely covered up the fact that revenue per store has been declining (blue line) because profitability has remained largely intact during the downturn and has exploded during LL's recent revenue growth.
The most important thing about this graph is to notice the respective trends in the two lines. First, breakeven revenue per store has tanked since 2008 and is showing no signs of slowing down. This means the bar for profitability is lower and lower each year and LL's shareholders will benefit from this in the coming years. In fact, it is low enough now that LL doesn't even need to keep improving in this area; any improvement here would be a bonus.
Next, the aggressive ramping of actual revenue per store has caused a significant divergence in the two lines. Prior to 2012, the two lines moved virtually in tandem as a result of largely stagnate gross margin percentages. However, as we saw earlier, GM% has ramped to 39% and as a result, breakeven revenue is lower even as actual revenue is higher, creating the incredible EPS growth LL experienced in 2012.
More than anything else we've seen here, LL shareholders should be excited about what we see in this graph. If both of these trends continue, immense profitability awaits.
Management
In my last piece about LL, which you can read here, I discussed my opinions of LL's management at length. I won't rehash the same points but I do have some additional thoughts I would like to share.
First, I am a bit concerned with the growth in LL's deferred tax liability. While it currently is small enough that it won't have an enormous effect on LL's financial strength, it does represent over 15% of LL's net income for 2012. LL is doing this, of course, to increase cash flow by avoiding taxes as long as possible. This is a great move that I am in favor of except that at some point, this is going to have to be paid and it will reduce earnings in the process. As a result, if you merely apply LL's (nosebleed) forward earnings multiple of 30 to this certain earnings reduction, you could make a case that $240 million of market cap will be reduced in the future simply by virtue of LL expensing taxes that it owes.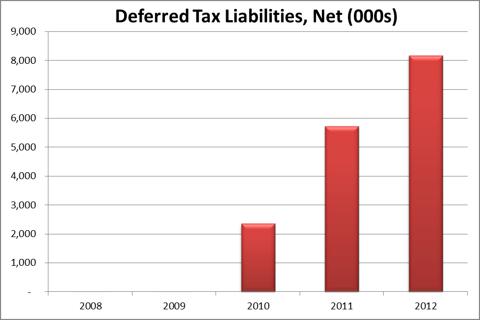 While I'm not suggesting that LL's market cap should come down $240 million immediately, we do know for certain that this $8 million will reduce earnings in the future and ignoring it is irresponsible.
Next, LL has always struggled with cash conversion and recent times are no exception. I have pulled relevant data out of LL's financials and computed the company's cash conversion cycle for each quarter going back to the beginning of 2008.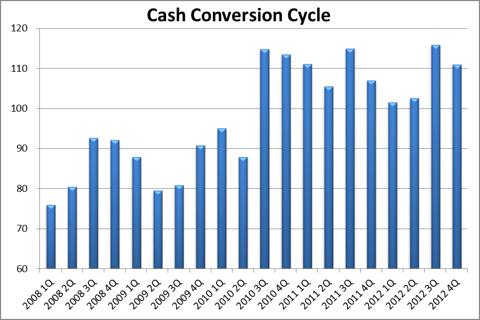 As a side note, LL doesn't report Accounts Receivable as the business is conducted in cash or credit/debit card purchases. As such, there is no AR component to the CCC calculation for Lumber Liquidators.
What we see here is striking given the fact that no accounts receivable component exists but the CCC numbers are still approaching four months. In 2008, LL's CCC was 75 days; in 2012, it was 112. Needless to say, this would be problematic for any retailer as the CCC is the lifeblood of the business. However, LL's struggle to convert inventory into cash is exacerbated by the fact that management has decided that a $50 million share repurchase program is prudent after shares have almost quadrupled off of their lows. The fact that LL is struggling to produce cash and having to carry its inventory an additional 37 days, on average, more than it was five years ago is certainly a net negative for the company.
This brings us to our next point, that of the share buyback. The first share buyback announced last year was a success on the surface, as $49.1 million worth of shares were purchased for an average price of about $28.66, according to the table below.

Since shares trade currently for more than double that amount, a case can be made that the buyback was a good use of shareholder money. However, considering how much LL is struggling just to convert its inventory into cash and the fact that a company with $900 million in annual sales has $64 million to finance its operations, I think management is acting impudently in stating that another $50 million will be spent on buying back stock that is near all-time highs and trading for 30 times forward earnings. Call me crazy, but that just doesn't sound like a great idea. If management literally cannot find another use for that cash, then perhaps LL's growth prospects aren't as great as we are led to believe. In short, there is a disconnect here between what LL management is telling us and reality.
Furthermore, you would expect that a buyback would reduce the share count. However, in LL's case, you would be wrong. There are currently more shares outstanding in LL right now than there were in 2008. Even if you think for some reason that buying back stock at all-time highs is a good idea, LL is reissuing shares so quickly that the buyback cannot hope to absorb them all. In fact, LL is holding these repurchased shares on the balance sheet as Treasury Stock instead of retiring the shares. There is only one reason why a company would hold repurchased shares as treasury stock and that purpose is to reissue the shares at some point.
I think there is almost a zero percent chance the company will conduct a secondary offering at some point in the near future as that would be unnecessary, however, LL has shown a propensity to pay its management and employees with stock and I wager that is exactly what the plan is for these shares. If you are a current shareholder and you approve of management's ill-timed share repurchases, perhaps the knowledge that you will be certainly be re-diluted at some point in the future is enough to make you think the buybacks are simply a way for management to pay itself stock bonuses under the guise of taking care of shareholders. Just because the company isn't going to file a secondary offering with the SEC doesn't mean you aren't being silently diluted by management paying itself with stock it bought back at all-time highs.
As a final note, the company's Canadian stores have performed terribly since the experiment began, with the unit racking up $5.45 million in operating losses so far. While LL can handle a loss this size, management has plans to grow the Canadian store count from the current nine stores to 40 eventually. If LL can't figure out how to make money in Canada, it could mean substantial losses in the future. This hasn't come close to materializing, but Canada is something to watch as the company has invested enormously in its future. If things get even worse north of the border, LL could be on the hook for massive losses and asset write downs in the future.
Valuation
Given what we have seen and using some commentary from management, it is possible to assign a value to LL shares once the growth phase is over. Lynch said in the fourth quarter earnings call that the ultimate goal for LL in America is 600 stores. This is roughly double the current 288 stores that were operating at the end of the year. We also know that management estimates LL has 10.5% market share versus Lowe's and Home Depot's combined 37%. From this we know that there is still plenty of room to grow for LL without dominating its industry and as such, 600 stores seems completely reasonable.
What would LL look like with 600 stores? First, management has stated that about 30 stores per year will be opened, all things equal. From this we can extrapolate that LL will reach its self-described saturation point in roughly 10 years. If we use the current per-store net income of $175K, we can assume that the system would produce something like $105 million in net income at its 600 store capacity. Of course, a number of factors could increase or decrease this number but it should be pretty close for our valuation exercise.
Since this is a bit more than double current net income levels, we can expect the stock price to double too, right? Not exactly. Since LL has a current valuation of 30 times forward earnings, I believe it is overpriced, given LL's growth prospects. Put simply, LL is priced for perfection from here on out. Besides that, when the company reaches its mature stage where it isn't opening stores anymore, it won't deserve anything near a 30 multiple. It would probably be something more like 12-15, to be generous. Given this assumption of mine, we could expect a market cap of roughly $1.3 to $1.6 billion when LL reaches its saturation point. It just so happens that this is where LL is trading today.
The point is that LL shares have gone way too far, way too fast and I think a long position here is foolhardy. Of course, everything I just laid out could be proven very wrong and LL may continue to rise into the stratosphere. In addition, between now and its saturation point, the market may assign LL an earnings multiple of 40 or 50 or 60; stranger things have happened. Perhaps the market will assign Amazon's (NASDAQ:AMZN) PE multiple and LL will become worth more than Coca-Cola (NYSE:KO). Of course that is absurd, but I fully realize LL shares may continue to high new highs and trade up before finally crashing back down to earth once the market realizes the valuation isn't sustainable.
In my previous piece, I advocated a long position if LL dropped into the $40s; I still think this could work given what I've laid out here but I am wondering if we will ever see those prices. The market is downright euphoric over LL's prospects for the future and I don't want to step in front of the train with a short position. LL is a great story but it is way too expensive and showing no signs that a reality check is in the cards in the near future.
Indeed, LL's earnings are expected to grow at roughly 20% this year over last; why does that warrant a forward multiple of 30? It doesn't for me, so I am steering clear but there are plenty of investors who disagree or the stock wouldn't be able to support its lofty valuation. When LL crashes back to reality, however, don't say you weren't warned.
Disclosure: I have no positions in any stocks mentioned, and no plans to initiate any positions within the next 72 hours. I wrote this article myself, and it expresses my own opinions. I am not receiving compensation for it (other than from Seeking Alpha). I have no business relationship with any company whose stock is mentioned in this article.