Ten days have passed since I wrote my article on why I jumped into News Corp. (NASDAQ:NWSA) to begin with and right now I'll take the time to explain why I'm adding more to my position. Aside from the split being the major reason why I'm getting into the stock, I believe the company is fairly valued and I will take advantage of any dips in the stock. As seen in the chart below from when I wrote the last article until March 1, 2013, the S&P 500 went nowhere and NWSA is up 0.83%,. However, I purchased my shares of NWSA at the opening of February 26, 2013 and have realized what I consider to be a nice three day gain.

Valuation
When looking at the trailing twelve month P/E ratio (17.24) the company is just a tad expensive, but relative to its 1 year forward looking earnings estimates, NWSA is still inexpensive with a forward P/E ratio of 14.72. When purchasing stocks, I always buy on the prospects of where the stock is going in the future and don't worry about the past that much, but I still do my homework about what happened in the past (remember that those who don't study the past are doomed to repeat it). At the present time I'm waiting for any dips in the stock so that I can buy some more shares taking the strategy of small purchases for now and doing some possible heavy buying if it gets to around $25.35, where I think it would be really inexpensive at that time (but I'll always evaluate before I buy).
Technicals
On a purely technical basis the current trajectory is running along the 20 day simple moving average and this is what makes me skeptical purchasing big chunks for the stock for now. If I see it break the 20 day SMA, I would look for support at the 50 day SMA and see how it behaves at that point. Currently the 50 day SMA is at $27.24 which is still above where I believe the stock can be called inexpensive relative to the valuation comments I made above, but I'd still be biting into the company as I mentioned previously, smaller bites turning into bigger bites.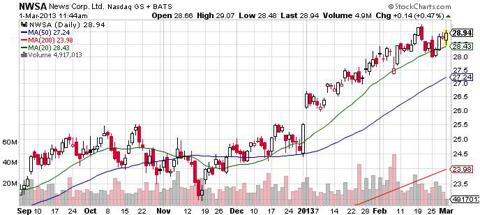 Recent News
In the month of February both UBS reiterated its "neutral" rating on the stock but increased the price target from $25 to $29 while Needham also reiterated its "buy" rating while increasing the price target from $27 to $34. More recently, News Corp.s Fox, which was responsible for "Life of Pi" won quite a few Oscars, garnering awards for Original Score, Visual Effects, Cinematography, and Directing.
Conclusion
News Corp. continues to be a solid investment based on my split up thesis and I will continue to buy on dips. One dip that may be looming is if the company decides to get involved in the auctioning of The Tribune newspapers, I can't imagine why News Corp. would get involved when it currently has the split of its newspaper business itself coming up soon.
Disclosure: I am long NWSA. I wrote this article myself, and it expresses my own opinions. I am not receiving compensation for it (other than from Seeking Alpha). I have no business relationship with any company whose stock is mentioned in this article.
Disclaimer: As usual, these are only my opinions and do with it what you please. You are responsible for your own actions.