It's almost like Alanis Morissette's "Ironic" that US markets can muster more of a rally on a much hyped and leaked Chinese stimulus package than an American one, despite another dog day for financials yesterday. While the package will boost growth in the 2nd half of 2009, pinning hopes for a recovery in the world economy on a domestic stimulus package in an export-based economy has obvious drawbacks, especially when the global economy is suffering from acute demand weakness in the major importing nations.
This package, in short, is no panacea, just a reprieve for China. It will help slow the CRD index's (commodities) decline and prop up the share price of machinery manufacturers, slowing the equity death spiral - but it won't make American consumers spend more money. Likewise, the US mortgage relief plan and other such measures to make it easier to borrow money may not help much just yet, given the core problem is that no one wants to borrow any more.
Indeed, early European trading is seeing yesterday's big winners handing back most of their gains, i.e. oil producers, miners and commodity stocks are back down in the red.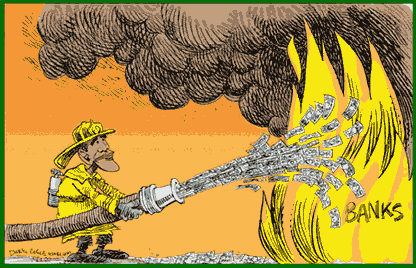 Today's Market Moving Stories
The fundamental picture remains depressing. General Electric's (NYSE:GE) stock price reached fresh lows on the expectation it will need more capital (a "ticking time bomb" as the WSJ put it), the Fed's Lockhart warning of more disasters in CRE (commercial real estate) and the number of US householders with negative equity reaching 25%. The Fed's own Beige book deserves special mention, as it acknowledged the fact that the economy had "deteriorated further over the last 2 months" and we face the prospect of a –700k number on Non Farm Payrolls tomorrow.
And all the while, those pesky CDS swap spreads widen even on companies once as Teflon as Berkshire Hathaway (NYSE:BRK.A). The rise of the CDS market is the horrible unintended consequence of the short sighted ban on short selling. Short selling was a car bomb, CDS swaps are weapons of mass destruction.
Crude oil popped above $45 a barrel Wednesday on a triple whammy of the cunning Chinese plan, a fire in a Russian pipeline and an unexpected drop in US stocks boosting the share prices of producers.
And staying in Russia, some real pessimism porn. A case of physician heel thyself, methinks.
Another great article going round this morning - according to the ever reliable, and fair and balanced Telegraph, "EU banks face a $2 trillion shortage".
The new sponsors of the theatre of dreams that is Landsdowne Road (home of Irish rugby), Aviva (OTCPK:AIVAF), reported this morning and the results were, well…not great (a $10.9 bn loss). The company will point to embedded value operating profit which was up 10% to GBP3.36bn but the net result was heavily in the red no matter which basis you choose. The main driver is obviously investment weakness, but there were also hefty charges for restructuring, reserves strengthening for asbestos and some mis-selling type charges. These numbers should keep the whole sector under pressure.
ECB and BoE. Passive versus Active Central Banking
Eurozone data has been universally weak and financial markets under severe pressure since the last ECB rendezvous, which was a non-event. The bank's own growth projections from December are now completely untenable so a substantial downward revision is likely today, albeit not as substantial as it should be. The inflation profile will also have to be pushed down, leading to the unavoidable conclusion that a rate cut must be delivered today at 12.45 GMT.
Economic data justifies more aggressive action than the expected 50bp cut. But 1.00% is seen as the floor, and plan B (QE) is still under discussion. The "safety first" ECB will no doubt adopt the usual misguided option of playing for time until a plan is in place for what to do next. The problem now is with deflation upon us that real interest rates remain FAR TOO HIGH. So they will continue to fiddle and faff about while Rome, Madrid, Dublin and Berlin burn.
Today's Bank of England MPC decision at noon GMT could be yet another landmark in the policy response to this crisis. Most economists expect a 50 basis points cut. But the main event could well be the start of policies aimed directly at increasing the quantity of money in the economy. The Treasury has confirmed that the exchange of letters between the Governor and Chancellor will be published tomorrow, giving (I assume!) permission to the Bank of England to start quantitative easing. And Mervyn King has recently given strong hints that the MPC will vote on QE at the forthcoming meeting.
What form the quantitative easing will initially take is still unclear – in a recent speech, Mervyn King suggested that it could take the form of purchases both of government bonds ("conventional unconventional" measures) and of corporate bonds ("unconventional unconventional" measures).
Meanwhile, the required amount of QE depends on the uncertain and variable links between banks' reserves, the money supply and economic activity. Our best guess is that it is likely to end up closer to £100bn than £10bn, but it seems likely that the MPC will build up to that level only gradually. As such, I remain doubtful that the adoption of QE will transform the near-term outlook for growth or inflation.
Data Today
The usual Thursday slew of US weekly jobless (650k) and continuing claims (5155k) which should again make for grim reading at 13.30 GMT and US factory orders (-3.3%) at 15.00 GMT.
And finally…