Investment Candidate:
The stem cell sector is still in its early stages of development in many regards, but it is continually providing news indicating that it is growing and maturing. Although largely comprised of developmental stage companies, some of the sector's companies are showing signs of investment potential for 2013 and beyond. I wish to present what I perceive to be one of the more promising investment candidates for solid gains moving forward. Athersys (NASDAQ:ATHX) shares have been trading with a bullish trend, closing Friday's session at $1.51, up 51% from the $1.00 it was trading at last on December 20th. With the biotech sector's recent downturn, Athersys shares have had some short-term weakness and are now trading at the lower Bollinger band in an "oversold" condition. I believe there is still solid upside ahead for this $80.1 million market cap stem cell company due to upcoming events.
Technology:
Athersys's pipeline is based on its MultiStem® platform, which is being developed in trials for a wide range of applications. Athersys believes MultiStem® has great potential due to clinical data indicating that the produced cells are of an autologous nature; they can be used in all patients without the need for drugs to prevent the rejection of the cells by the patients' own immune systems or without having to "tissue match" patients before treatment. This "off the shelf" type of treatment is highly desirable as the cells could be ready for the treatment procedure almost immediately, rather than the more laborious and expensive sampling of the patient's own cells and then developing/growing the stem cells while the patient awaits treatment.
Clinical Development:
Athersys has two ongoing phase 2 trials developing MultiStem® for the treatment of ischemic stroke and ulcerative colitis. The last significant update on the ischemic stroke trial came from an October 2012 update. The independent safety committee for the trial determined that both dose levels from the first cohort were safe and well tolerated and recommended that the trial continue with the higher (and likely more efficous) dosage. The double-blind, placebo-controlled trial involves therapeutic treatment of ischemic stroke patients with MultiStem® cells 1-2 days after a stroke versus a placebo group, representing cohorts 1 and 2. The third cohort is a randomized trial of up to 136 patients, with a 1:1 randomization of placebo versus the higher dosage recipients of MultiStem® cells. The primary efficacy endpoint for the trial will be measured 90 days after the treatment, evaluating patients with a modified Rankin Scale of 0 to 2 (which represents patients capable of independent living) versus the placebo group. Depending on enrollment rate, I anticipate topline data in late 2013 or early 2014.
The phase 2 ulcerative colitis trial is a collaborative study with Pfizer (NYSE:PFE), and is enrolling patients in Europe and the U.S. The trial is expected to have results reported out sometime in late 2013. Primary endpoints for the trial for the safety profile are incidence and severity of adverse events. Primary efficacy endpoints are measured at weeks 4 and 8 after the treatment evaluating "change from baseline of Mayo rectal bleeding sub-score" with an additional "change from baseline of endoscopic score at Week 8 as measured by modified Baron score." Already receiving a $6 million upfront payment from Pfizer in late 2009, Athersys could receive up to $105 million more in development, regulatory and commercial milestone payments.
Targeted Market:
Approximately 800,000 Americans suffer a stroke annually in the U.S. Ischemic strokes, having blockages to the brain, represent about 85% of those (about 680,000). At the time of this article's composition, there is only one FDA-approved therapy for treating ischemic strokes, thrombolytic tPA. Although effective at dissolving the blood clots impeding the blood flow to the brain, this therapy must be administered within 3-4 hours after the stroke in order to be effective. MultiStem®'s regimen consists of administration of the therapy within 1-2 days of the stroke. If phase 2 data for ischemic stroke are promising, the superiority of MultiStem® over the only FDA-approved therapy could likely be significant and really garner investor and Big Pharma attention. Athersys believes that an effective treatment, administered within a "clinically reasonable time frame" could represent annual revenue of $15-$20 billion, many multiples over Athersys's current market capitalization.
Ulcerative colitis (UC) is an inflammatory bowel disease usually affecting the large intestines and colon. Typically a lifelong disease, symptoms can be debilitating and include diarrhea, frequent discharge, rectal bleeding, lower abdominal pain, dehydration, fever, abdominal distention and a host of other symptoms greatly affecting the patient's quality of life. Currently about 1 million patients in the U.S. have UC, with an annual incidence of 10.4-12 cases per 100,000 people. The phase 2 MultiStem® trial for UC is evaluating the therapy to treat patients with moderate to severe UC, typically treated by mesalazine (topical treatment usually given by suppository), sulfasalazine given orally, IV corticosteroids such as hydrocortisone or methylprednisolone, or glucocorticosteroids. Additional therapies have been evaluated, but like the aforementioned ones only treat the symptoms and may not be effective for long-term treatments. If MultiStem® performs well in the placebo-controlled phase 2 currently underway, the company would certainly garner much additional investor and large pharmaceutical company interest. If the treatment goes beyond simply improving lifestyle and treating symptoms by showing signs of a long-term cure, the level of interest would be greatly elevated with much more upside possible.
Technical Analysis:
Athersys chart is currently teetering on its $1.50 support with short term weakness now being evident after peaking at $1.89 on February 1st and then again at $1.88 on February 12th. On February 28th the company announced the results of its shareholder meeting convened to vote on changing the exercise price of 4,347,827 warrants issued in a March 2012 private placement from $2.07 per share to $1.01 per share. The vote to lower the exercisable price narrowly won, 13,946,568 to 12,466,616, but only affected Friday's trading marginally with a close of $1.51, down 1.31% on low volume. Investors considering an opening long position in Athersys should watch the charts closely and attempt to ascertain if the $1.50 levels will hold after last Thursday's news or if weakness allows a better position at the 50 day moving average (MA) of $1.37 or the 200 day MA of $1.35. Stop limits to help protect against the downside are advised, as lower entries are possible with major catalysts still some time away. However, the possibility of other clinical trials initiating to evaluate MultiStem® for other indications is certainly real, giving the company more chances at success but also increasing its cash burn rate.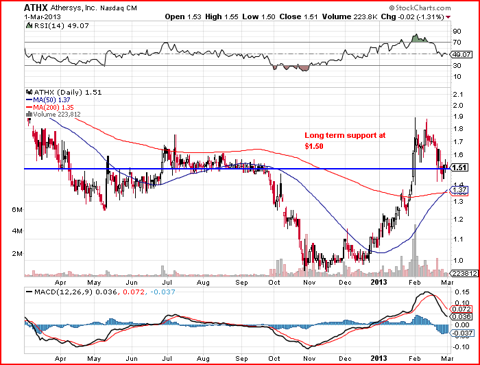 Investment Potential:
According to the company's Q3 2012 filing, Athersys had cash and equivalents of $7.9 million as of September 30th, with cash burn in that quarter of about $3.6 million. On January 11th the company announced it was filing a shelf registration to renew an older filing, giving the company the flexibility to have a stock offering of up to 20 million shares. Although cash need is not immediate, I do foresee a possible stock offering in the near future, depending on how the company is managing its financials. Trading in oversold territory currently, shares have been trading with a bit more volatility in the last week and are now trading at short-term support of $1.50. Investors desiring an entry may be wise to watch the shares trade closely and ascertain entry and stop limit levels. Adding a bit of speculative nature to Athersys, investors should certainly consider takeover potential of the company. Pfizer might do well to consider the company's current $80.1 million as it makes its long-term plans. With about $100 million additional money due to Athersys if it continues to meet milestones per the agreement with Pfizer, the budding stem cell company could seem to be a tempting offer at a 20% discount to what Pfizer could potentially end up shelling out to Athersys if clinical trials continue to meet goals. There is a delicate balancing act between the progression of MultiStem® in trials, Athersys market capitalization and milestone payments Pfizer could continue paying out in the interim.
The MultiStem® platform appears to be promising with a solid and economical approach via the "off the shelf" type of production being desirable due to costs and speed because the therapy is already prepared and ready to administer on demand. The phase 2 clinicals' data will be key here with much upside or downside possible with the first data set presented. Interested investors should consider the risks before taking positions in Athersys common shares. Adding to the upside potential and downside risks, investors should be aware that MultiStem®'s first phase 2 data could potentially validate or invalidate its other clinicals underway as some investors assume failure in one indication could mean failure in the others, or likewise success. Though this investment is not for the risk averse, it certainly does tempt with it large upside potential if clinical data are promising.
Disclosure: I have no positions in any stocks mentioned, but may initiate a long position in ATHX over the next 72 hours. I wrote this article myself, and it expresses my own opinions. I am not receiving compensation for it (other than from Seeking Alpha). I have no business relationship with any company whose stock is mentioned in this article.