When it comes to Rambus (RMBS), a lawyer might be better qualified than a financial analyst to determine the direction of its shares. Wednesday was another fine example of this stock's volatile responsiveness to legal and regulatory developments. Rambus shares rose 8.8% after a US District court in San Francisco ruled in their favor on Tuesday afternoon. RMBS is, after all, a high beta (~2.2) stock and large moves are to be expected. The stock has posted double digit percentage gains on 123 trading days since its IPO on May 14th, 1997. However, even when including the years before the tech bubble burst, most of these big moves have come from legal, not product or real earnings related developments.

Nine out of the ten biggest daily percentage price movements in this stock have been due to legal decisions or speculation of a forthcoming ruling. It's not likely to end soon either. Ever since Samsung, Hynix and Infineon settled after a price fixing suit by the Department of Justice, Rambus has been fully committed to pursuing legal action to gain compensation for the utter failure of RDRAM in the PC market. RDRAM failed because the minimal performance benefits that it provided were not worth the cost to consumers. This was the core reason for the mass adoption of cheaper chipsets supporting SDRAM and the marginalization of Rambus's technology.
That didn't stop them. The company used its memory intellectual property portfolio to levy royalties on DDR (double-data rate) SDRAM and is still fighting the FTC to keep royalty levels high. Rambus also has legal proceedings in process against graphics giant Nvidia (NVDA) and Micron Technology (MU). They would probably sue everyone who has ever put random access memory in a chassis if juicy settlements would come out of it.
In the tech world (or geek speak), a company like this is called a patent troll. The claim is that a company that behaves this way stifles innovation by preventing or inhibiting the creation of open standards that result in cheaper, royalty free (or low royalty) technologies. I personally agree with this claim, but it's certainly open for debate and viewed differently by those companies who possess valuable intellectual property and those who profit from the proliferation of open standards. With a business model that focuses on the design of memory systems and enforcement of a substantial IP portfolio, Rambus is the former of those two.
That business, however, has been struggling. Rambus has posted a net loss in 9 out its 10 last quarters. Revenues have declined steadily while costs have remained high. Litigation expense is on pace to overtake research and development for the first time in three years. That's hardly a commitment to innovation. Market factors aren't working in the company's favor either. Gartner's dire forecast for the PC sales is not going to help. Increasing video game console life cycles won't present design opportunities for Rambus like it did for the Playstation 3.
So, the business of Rambus is in decline. In this economic environment, particularly with memory components and specialty semiconductors, what technology company isn't struggling? Shares of RMBS are not reflecting this fact. It trades at nearly 4x tangible book value while shares of SanDisk (SNDK) and Micron trade at fractions of theirs. Sure, big manufacturers like those have different cost structures and that should be reflected in valuation, but Rambus even trades at a significant premium to profitable fabless semiconductor companies like Sigma Designs (SIGM – 1.3x tangible book value) and Actions (ACTS – 0.4x). $345M of cash on Rambus's balance sheet is a positive thing, but using it to fund an army of lawyers and buy back stock on the way down isn't. This cash came via a zero coupon convertible bond offering (currently yielding 6.86%) that is due on February 1st, 2010. The tangible assets of Rambus are minimal. If the company's cash burn rate continues (or accelerates) and the credit markets remain tight, then the bond holders may be in just as much trouble.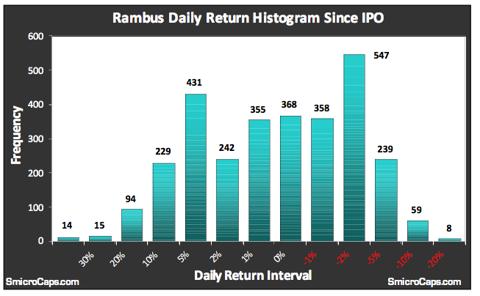 The potential litigation rewards for Rambus could present ephemeral trouble for anyone who is short this stock. A "not-so-normal" return distribution above demonstrates this. Price movements in RMBS shares are extreme – take a look at the jagged cliffs of any multi-year chart to see for yourself. Given valuation, there is probably a large, nine-figure litigation reward already priced into the company's shares. I am not a lawyer, but I have followed this company for a long time and believe that I am providing a reasonable estimate. Even if that massive settlement actually happens, where is Rambus headed? It would be a monumental task to get Rambus back to profitability and build its client base after dragging so many technology companies through their legal meat grinder.
Disclosure: The author holds a long position in SIGM at the time of this writing.