We have previously published seven reports analyzing and evaluating Altria Group (NYSE:MO) since June. Three of those reports were 100% focused on Altria Group's operations and the other four were analyzing Altria in comparison to its peers. We were able to determine that Altria Group has regained its mojo relative to its peers in 2012. Altria generated stronger revenue and operating income growth versus Reynolds American (NYSE:RAI) and Lorillard (NYSE:LO) and maintained its superior EPS growth and operating margins in FY 2012. Altria's dividend yield of 5% is relatively comparable to the dividend yields that RAI and LO sport and Altria's adjusted EPS growth was driven primarily by operating income growth. This compares favorably versus RAI and LO because the adjusted EPS growth for those firms was primarily due to an aggressive share repurchase program. As such, we can see why Altria has generated a total return of 25.5% since the beginning of 2012, versus less than 14% for RAI and LO.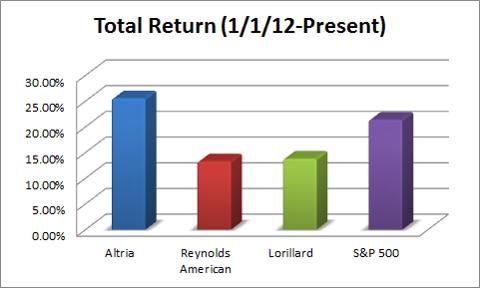 Source: Morningstar Direct
In our most recent report comparing Altria versus Reynolds American and Lorillard, we could see that Altria's ability to limit its volume losses in 2012 enabled it to add incremental market share at the expense of its two largest competitors. This enabled it to grow its operating income much faster than its two largest peers and it was able to rely less on manufactured EPS growth in the form of mammoth share repurchases. We were also pleased that Altria's adjusted dividend payout ratio was comparable to that of RAI and LO. In this report, we will be analyzing and evaluating Altria versus RAI and LO based on the following metrics.
Dividend Growth
Working Capital
Debt/Leverage Position
Adjusted PE Ratio
Dividend Growth: Altria Group's cumulative dividend growth over the last five years was just under 51.75% (8.7% compounded annual growth rate). This was better than RAI's cumulative growth rate of 38.8% (6.8% CAGR) but less than Lorillard's 79.35% (12.4% CAGR). However, Altria's dividend growth of 7.3% during the last twelve months was higher than RAI (5.4%) and LO (6.45%). Altria has been able to increase its dividends (adjusted for spin-offs) 45 times in the last 43 years. Lorillard has increased its dividend in all five years it has been a publicly traded company. We're surprised that Reynolds American has only increased its dividend 11 times in its 14 years of trading as a publicly traded company since the split-off of R.J. Reynolds and Nabisco. Another interesting factoid is that Altria Group had purchased RJR's former affiliate Nabisco in 2000, merged it with its Kraft Foods subsidiary and spun-off Kraft in 2007.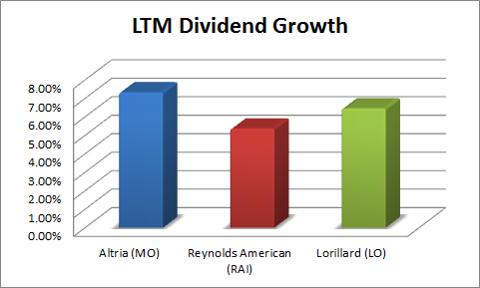 Source: Morningstar Direct
Working Capital: Altria Group's basic working capital ratio of 76.5% is less than that of RAI (128%) and LO (173.5%). However, RAI's working capital ratio (and LO's) is so high because of the high level of cash holdings on each firm's balance sheet. When we adjust our working capital ratios to exclude financial related assets such as cash and marketable securities as well as financial related liabilities such as short-term debt, current portion of long-term debt and dividends payable, we find that this gives us a better picture on how a company is managing its working capital position. All three companies are able to managing its working capital position so that non-financial current assets are two-thirds or less of its non-financial current liabilities and Altria Group's "non-financial working capital ratio" of 57.8% is slightly better than RAI (62.3%) and LO (66%).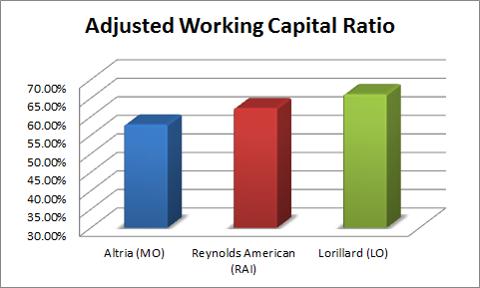 Source: Morningstar Direct
Debt/Leverage Levels: Altria Group's outstanding debt of $13.9B is greater than RAI's ($5.1B) and LO's ($3.1B) combined debt levels. However, Altria had no net debt outstanding as of the end of 2008, just before its acquisition of UST, Inc. We felt that was a timely acquisition considering that it enabled Altria to add UST's strong portfolio of smokeless snuff tobacco products such as Skoal and Copenhagen. One factoid that is of note is that Lorillard's CEO Murray Kessler was the UST CEO who sold UST to Altria Group in 2008. Anyway, we analyzed Altria Group's debt as a percentage of tangible assets and could see that Altria's debt was less than 77% of its tangible asset base, versus 83.65% for RAI and 95% for LO. All three companies also have underfunded pension/post-retirement benefit plans that account for 11.4%-12% of its total asset base.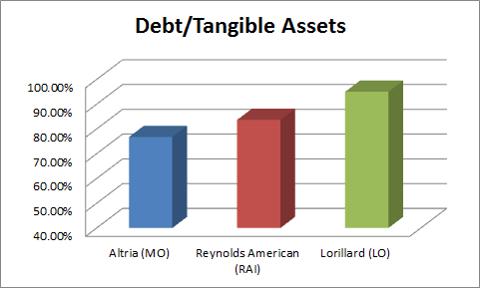 Source: Morningstar Direct
Adjusted PE Ratio: Altria Group has a higher adjusted 2013 Forward PE Ratio (14.8) versus Reynolds American (13.8) and Lorillard (13.3). However, we believe that is justified because Altria is the industry leader in the U.S. tobacco market with regards to market share and adjusted operating margin. We don't expect Altria's market share dominance and superior operating margin to dissipate anytime soon due to the regulated nature of the U.S. tobacco market. As the 1998 Tobacco Master Settlement Agreement limited the ability of tobacco makers to engage in certain competitive marketing practices, we don't see much competitive threat to Altria's competitive position.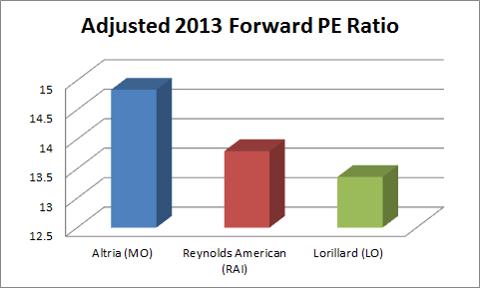 Source: Morningstar Direct
In conclusion we have reinforced our thesis about Altria Group relative to its peers. We like that all the major tobacco firms can generate high levels of net income well in excess of its tangible capital base. We were considering switching out our position in Altria Group for Lorillard because Lorillard is 13% below its all-time high while Altria Group is only 4.5% off its all-time high. We like that Lorillard has jumped into the high growth-potential segment of electronic cigarettes through its acquisition of the privately held electronic cigarette maker Blu Ecig. However, Lorillard's dependence on its menthol flavored cigarette products makes us pause on making that move because of the potential for special regulation of that product line.
Disclosure: I am long MO. I wrote this article myself, and it expresses my own opinions. I am not receiving compensation for it (other than from Seeking Alpha). I have no business relationship with any company whose stock is mentioned in this article.
Additional disclosure: This article was written by an analyst at Saibus Research. Saibus Research has not received compensation directly or indirectly for expressing the recommendation in this article. We have no business relationship with any company whose stock is mentioned in this article. Under no circumstances must this report be considered an offer to buy, sell, subscribe for or trade securities or other instruments.