Information contained in the Pfizer Inc. (NYSE:PFE) 2012 10K that was made available Friday offers heightened signals that the company is preparing to initiate a shareholder distribution or move forward with an acquisition.
As initially indicated in my earlier piece, 'Pfizer's Increasing Cash May Signify More Repurchases Or A One-Time Dividend,' the accumulation of cash on Pfizer's balance sheet raises a number of questions. At the time of my initial note, Pfizer was carrying $4.5 billion in cash and equivalents on its balance sheet which also represented an approximate liquid asset mix of 19.5% / 80.5% short-term investments (see table below).
In its annual filing, Pfizer reported that its cash position had expanded to nearly $10.4 billion. The total represents a 131% sequential and 236% year-over-year increase in cash and equivalents. The total also reflects a heightened willingness to carry cash with the ratio of cash to equivalents increasing to nearly 32% cash and equivalents versus 68% in short-term investments (see table below).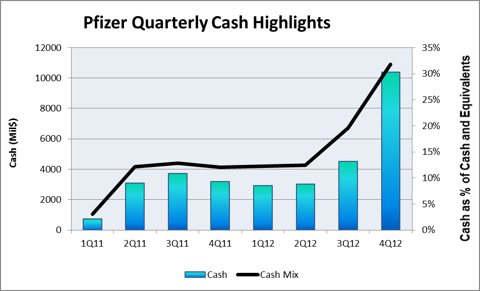 The increase was partially funded by operating cash flows that totaled $5.3 billion in the period and $17.1 billion for the year coupled with $6.8 billion in investing cash flows for the period or $6.2 billion for FY12, being partially offset by cash flows related to financing activities that totaled -$6.2 billion in 4Q12 and -$16.0 billion for the year respectively.
The company also offered some additional detail related to the Zoetis (NYSE:ZTS) transactions. Pfizer indicated that it had received approximately $6.1 billion in cash from related transactions, of which $2.5 billion is restricted to debt repayment, dividends and/or stock buybacks, in all cases to be completed by mid-2014 (pg 116).
The idea of an acquisition cannot be excluded from the list of potential capital outlays. CEO Ian Read was more engaging toward the topic during the Q&A session of Pfizer's fiscal 4Q12 earnings release, suggesting the King model for an approximate example of a 'bolt-on' acquisition.
In reviewing Pfizer's last 25 historical filings, the company never carried more than the $4.5 billion in cash and equivalents reported in fiscal 3Q12. Further, the last time that cash, equivalents and short-term investments exceeded $30.0 billion (4Q12 was $32.8 billion) was in fiscal 3Q09, the period just prior to the Wyeth acquisition being announced.
Pfizer has been linked to Protalix Biotherapeutics (NYSEMKT:PLX) and Strides Arcolab's (BO: 532531) Agila Specialties unit in recent weeks though other possibilities exist.
Disclosure: I have no positions in any stocks mentioned, and no plans to initiate any positions within the next 72 hours. I wrote this article myself, and it expresses my own opinions. I am not receiving compensation for it (other than from Seeking Alpha). I have no business relationship with any company whose stock is mentioned in this article.