Anadarko Petroleum Corporation (NYSE:APC) engages in the exploration, production, and marketing of natural gas, crude oil and natural gas liquids in the US and internationally. The company operates in three segments: Oil and Gas Exploration and Production; Midstream; and Marketing. As of December 31, 2012, the company had approximately 2.6 billion barrels of oil equivalent of proved reserves.
Key numbers (in millions, except per/share figures)...
| | | | |
| --- | --- | --- | --- |
| Market cap | $39,335 | Enterprise value | $52,574 |
| Shares out. | 500.6 | LTM Revenue | $13,307 |
| Closing price per share 2/25/13 | $78.58 | LTM EBITDA | $7,689 |
| Dividend yield | 0.5% | LTM Net profit | $2,391 |
| 3M Dly Vol. | 3.16 | Cash | $2,471 |
| Share sold short / Days to cover | 5.6 / 2 | Debt | $14,463 |
| Beta | 1.49 | Assets | $52,589 |
The potential for Anadarko lies in its long list of domestic and international off-shore projects that are the real potential game changers going forward. These projects are high margin and high resource plays that along with APC's historical success rate for exploratory wells of 70% could translate into major additions to reserves and APC's valuation.
Catalysts For Anadarko
Fortunately, for investors, Anadarko has a track record of consistent growth and superior management. As a result, Anadarko always maintains a great mix of reliable and predictable onshore assets along with their huge potential off-shore plays (GOM and Int'l). Here are some of the reliable and predictable assets and development plans:
Track record - 2007 to 2011
144 Mboe/d production growth (6% CAGR)
1.5 Bboe reserves added for ~$15/boe
70% deep water exploration/appraisal success rate
$15B+ of monetized assets
$2B+ of free cash flow
The Future Is Bright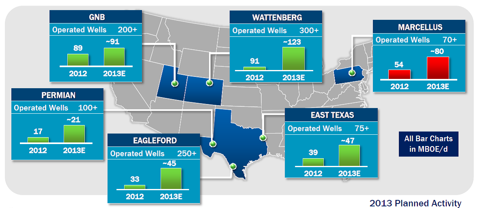 Source: Anadarko
Wattenberg - Wattenberg is a key growth asset for APC. Management touts that wells are currently producing IRRs over 100% with pre-tax NPV per well coming in at about $7M. A major reason why returns are off the charts is due to APC's land grant status for all of its acreage…basically, Anadarko is paying itself royalties on its Wattenberg acreage. With another 4,000 or so horizontal drill sites located, there is plenty of room for consistent growth going forward in this asset.
Eagle Ford - With over 200,000 net acres in the Eagle Ford shale, APC has over 2,500 drill sites identified with potential net resources of 600 MMboe. Wells are currently projecting around 600 Mboe with a 65% liquids composition. APC is also making some large infrastructure additions to capitalize on its production by sending resources to premium markets. Their Brasada gas processing plant is expected to be in service in 2Q13 with additional gas lines being put in place.
Texas, Uinta, Salt Creek - These assets have shown dependable growth that shows no signs of changing going forward. APC's Salt Creek CO2 flood has been a tremendous source of cash flow for the company and it also allowed them to monetize $400M by selling a 23% interest through a JV agreement with Linn Energy.
Midstream - The midstream business of APC is critical as it enables them to maintain asset operational control, ensures timely well connection, and it improves price realizations as they can capitalize on NGL production and sending gas/liquids to the best available market.
Anadarko has also managed to continued snatching up reserves while lowering finding and development costs: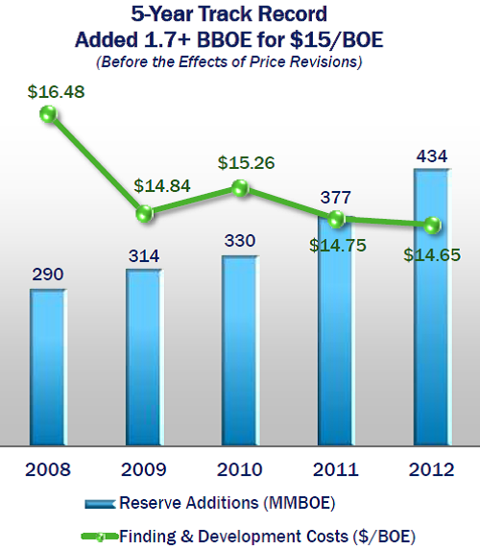 Source: Anadarko
Valuation
We believe that Anadarko is a BUY with a price target of $95. A peer comparison and implied value calculation points towards Anadarko being able to achieve an $88 per share price, but we are increasing that to $95 in order to account for the expected/potential upside from some of Anadarko's off-shore exploratory wells. If APC is able to hit the upper range of their production guidance (279-285 MMboe), you can definitely expect to see APC get great support in the low to mid-$90's.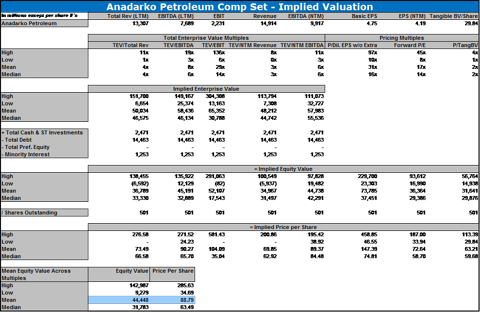 Variant View
There are a couple of tax settlement issues that should be cleared up this year, but, until they are, remain risks for an investor. The Tronox (NYSE:TROX) spin-off could produce a near-term headwind if the settlement is larger than expected, but APC has sufficient liquidity to weather most any type of hit this case could create. APC also still owes ~$700M from an Algerian tax settlement.
Disclosure: I have no positions in any stocks mentioned, and no plans to initiate any positions within the next 72 hours. I wrote this article myself, and it expresses my own opinions. I am not receiving compensation for it (other than from Seeking Alpha). I have no business relationship with any company whose stock is mentioned in this article.