By Adam Fleck
Farmers' spending habits tend to rely on the weather. A growing season that is too hot and arid -- as seen in 2012 -- can wreak havoc on corn and soybean yields, ruining a farm's crop production, whereas favorable conditions can lead to a bumper harvest. Crop prices add a further wrinkle; extreme drought typically leads to sharply rising per-bushel prices, while oversupply can push down values substantially. Because farmers' cash receipts (a product of harvested tonnage and crop prices) tend to drive machinery purchases in any given year, it is therefore very difficult to estimate the industry's short-run performance.
We've previously opined that the medium-term outlook for crop prices is downward, leading to our forecast of slowing growth rates and lower profitability for farm equipment manufacturers such as AGCO (NYSE:AGCO), CNH Global (NYSE:CNH), and Deere (NYSE:DE). Now, we've become increasingly concerned that several other shorter-term factors may be boosting the annual sales rate of tractors and combines above their long-run potential. In particular, we think recently renewed tax credits, lofty used equipment prices, extremely low interest rates, and favorable crop insurance payments could negatively affect the new equipment market if reversed.
Following solid price appreciation over the past several months, the farm machinery manufacturers' stocks appear slightly overvalued to us. While we view the long-term secular story for these companies as very positive, we would seek a more substantial margin of safety before investing given the immense amount of cyclicality that can grip the industry. Still, we recommend keeping an especially close eye on Deere, given its solid balance sheet, narrow economic moat, positive moat trend, and exemplary stewardship.
Low Interest Rates Benefit Farmers' Spending Ability and Land Values
The past several years have brought tremendous returns for farm land investments. The U.S. Department of Agriculture estimates that total real estate assets have climbed at a 6.9% compound annual rate since 2000 versus 0.8% for the S&P 500 and 5.2% for farmland value in the 40 years prior (since records were kept beginning in 1960).
We're concerned that this growth could dry up over the near term. We've found that the average price of farm land in the United States is strongly correlated with the associated net cash income, much as the price of a stock corresponds to the company's underlying earnings. However, the multiple between the average price of land in the U.S. and farmers' cash income has risen dramatically since the early 1990s.
Farm Real Estate Value/Five-Year Rolling Net Cash Income Average, 1964-2012E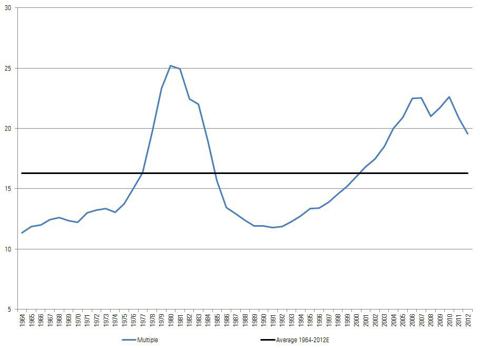 Sources: USDA, Morningstar Equity Research.
This analysis ignores regional discrepancies, the difference between crop and livestock valuations, and other critical issues that could help to pinpoint the value of a particular acre of farmland. Nonetheless, we believe it reflects the outsize worth that farmers and investors have placed on agricultural real estate, as the multiple of trailing-five-year average net cash income has reached levels not seen since the late 1970s. The fall-off in the early 1980s led to a crisis in the farm complex because of the high amount of leverage used to purchase the land originally. While the low amount of debt currently on farmers' balance sheets is likely to prevent monumental issues (debt/equity is just 11.4%, the lowest on record since the 1960s), there appears to be more room for downside than upside.
Another way to look at these data is to examine what underlying income growth is needed to justify current valuations. We estimate that net cash income over the next five years would have to grow at roughly 9% per year to achieve a continued 7% annual growth rate in land values from the current value, while also getting back to the long-run value/earnings multiple of 16.3 times. Since 2007, net cash income has growth at a 12.5% compound annual rate, but with a 15% drop in one of those years (2009); before 2011 and 2012, the only five-year periods to see greater than 9% growth were in the late 1970s, which drove up farm values to the prior bubble.
If we instead see cash income grow through 2017 at the long-term historical annual average of roughly 5%, combined with a return to a value/income multiple of 16.3 times, we estimate farmland values could grow at about 4.5% -- again, markedly slower than recent levels. Moreover, if the multiple were to fall below the long-run average, as it did in the 1980s following the strong period in the late 1970s, we anticipate land values could actually fall over the coming five-year period.
The potential for rising interest rates could also put pressure on farmland valuations. In its February 2012 study "Trends in U.S. Farmland Values and Ownership," the USDA wrote, "Historically low interest rates are likely a significant contributor to farming's current ability to support higher land values. Increases in interest rates would likely put downward pressure on farmland values."
The fact that farmers, rather than outside investors, seem to be behind most of the purchases provides some comfort, as does a recent DTN/The Progressive Farmer report suggesting that 97% of borrowers have at least 65% equity in their properties, but we nonetheless caution that rising interest rates, lower income growth, or a substantial shift in sentiment could put a lid on continued climbing farmland value. With lower borrowing capability and probably less willingness by farmers to heavily invest under this circumstance, we believe machinery manufacturers like AGCO, CNH, and Deere could face sizable headwinds.
Used Tractor Prices Remain Red-Hot
Farmers' preference for pre-Tier 4 engine technology, rising prices for new equipment, and low interest rates have bolstered used tractor prices. While these lofty prices provide solid trade collateral for farmers looking to purchase new equipment, we've already seen weakness in the used combine market due to oversupply. Given the strong tractor market the U.S. has seen in recent years, weakness in underlying farm fundamentals could lead to similar results in this used market.
Greg Peterson, aka Machinery Pete, an industry consultant who has tracked used equipment prices at farm auctions since 1989, indicates that used tractor values in the U.S. remain well above historical averages by several measures. In particular, the ratio of average used prices at auction to comparable dealer retail prices has risen to the mid-80s versus a historical average closer to the mid-60s. Conversely, combine harvesters have seen a weaker market; the prevailing ratio for this product sits near 67%, down from the mid-80s in 2009.
We think lower used tractor prices could lead to difficulty in new markets, as they are synergistic; higher new prices lead to boosted used prices, and then the ability of OEMs to raise new equipment prices. In addition, higher used values support increased sales volume, as a result of farmers' ability to trade-in machinery at elevated levels.
We see two potential catalysts for declining used tractor values that are similar to issues seen in the combine harvester market. The first is the high number of new tractors that have been sold per acre of farmland; reduced acreage in an environment of lower commodity prices could drive farmers to shed excess assets. This potential for increased sales leads to the second possible issue: an increased number of auctions. Peterson notes that the tight supply of tractors is contributing to the lofty used prices, but that much of the combine weakness stems from oversupply; for instance, the number of Deere 9870 STS combines at auction in 2012 increased 68% from 2011. Conversely, the number of high-quality used tractors available at auction has declined sharply for several years.
Favorable Tax Deductions Have Buoyed Strong Equipment Sales
Farmers enjoy substantial tax benefits from capital improvements, including equipment purchases, under Section 179 of the Internal Revenue Service tax code. This rule allows deductions for machinery purchases up to a certain amount each year plus bonus depreciation for equipment beyond this limit, and it has proved to be a boost for both new and used equipment sales since a massive increase in maximum allowable write-offs in 2003. In fact, a push to capture the full amount each year has led to a sequential improvement in used tractor and combine prices in the fourth quarter of each year for the past 10 years, according to Machinery Pete.
The deductible originally was set to decline sharply in 2013, but was reinstated at an even higher level on Jan. 2. While this continuation will benefit farmers' net income this year, we caution that equipment manufacturers enjoyed a strong prebuy of new equipment in 2012's fourth quarter. The percentage of full-year deliveries to end users garnered in the fourth quarter of 2012 was higher than any in the past eight years for both row crop tractors and combine harvesters. AGCO, Deere, and CNH Global have all outlined relatively flat year-over-year growth expectations for North American volume in 2013.
Percentage of Full-Year Deliveries in the Fourth Quarter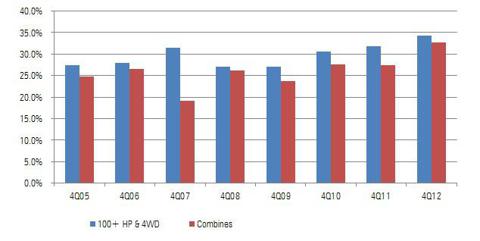 Source: AEM, Morningstar Equity Research.
We're concerned that an expiration of this tax break could lead to a period of further difficulty. The government hasn't made any announcements regarding 2014 and beyond, but we believe some farmers may be taking delivery of machinery solely for this deduction rather than for true economic reasons. A requirement that the equipment be used in business purposes at least 50% of the time helps to mitigate this somewhat, but the number of tractors sold per acre of farmed land has greatly increased, even as precision agricultural techniques and increased engine power have helped these machines become more efficient. This metric now sits at its highest level in at least the past 15 years, and is double that of 10 years ago.
Crop Insurance Is Doing its Job, but Farmers May Face Increased Premiums
Farmers will garner a massive amount of crop insurance payments this marketing year because of the extreme U.S. drought; indeed, that's what insurance is meant to do. However, as Congress debates the upcoming farm bill and potential insurance subsidies, we think farmers may have to pay a larger share of premiums going forward, which could eat into net income.
Both premiums and indemnities have increased markedly since 2001, as corn and soybean farmers have insured a greater portion of their acreage. However, the government subsidizes a large portion of these premiums, and this benefit has increased to 63% of total premiums in 2012 from 60% 10 years ago.
Summary of Farm Insurance Premiums, Subsidies, and Payouts, 2001-12

Sources: USDA Risk Management Agency, Crop Insurance Today, DTN/The Progressive Farmer, Kansas State University.
Given the government's continued push for expense savings, combined with the relative success of the farm economy over the past three years, several presenters at the recent AG Connect expo (which included farm operators, an industry trade organization president, and several journalists) are budgeting for reduced subsidies going forward. If farmers' premiums rise to offset falling government subsidies, we again expect a less favorable selling environment for farm machinery manufacturers. Similarly, farmers could face increased premiums simply because the gross indemnities have increased rapidly over the past several years. The total farmers' premium is similar in scope to the fixed direct payments (each roughly 2.5% of crop cash receipts), and while both are operating under the extended farm bill that stemmed from the fiscal cliff deal, a reversal in these items would eat into farmers' spending cash for 2014 and beyond.
Outlook Particularly Positive for Deere and AGCO, but Valuations Not Palatable
We think North America offers low growth opportunities for farm equipment manufacturers. All three major companies we cover are planning further price increases, which should boost their top lines slightly, but several years of strong results (leading to difficult comparisons) and potential reversals of low interest rates, high land values, lofty used equipment prices, and favorable tax allowances could lead to sizable headwinds.
We expect European sales to face challenges as well, given similarly tough comps for combines and difficult credit conditions across most of the continent. South America should offer better growth prospects as a result of increased planting (following the North American drought), but here again the Brazilian government is heavily subsidizing purchases by sponsoring low interest rates.
The very short term in the farming industry is nearly impossible to predict. If South America indeed produces a bumper crop and yields rebound in North America, corn, soybean, and wheat farmers could face substantially lower soft commodity prices. However, the Western U.S. still faces drought conditions, and Brazil has infrastructure issues that could delay getting some of its soybean product to market, likely leading to further near-term volatility.
With AGCO, CNH, and Deere trading above our fair value estimates, we don't see a suitable margin of safety for new investment. We believe Deere's solid global market share stems from its high-quality dealer network, and we assign the firm a narrow economic moat; we think both this firm and no-moat AGCO have positive moat trends. Deere has taken share from AGCO and CNH in Brazil over recent quarters, but AGCO has completed capacity additions in recent quarters for its high-margin Fendt European tractor line, which could afford some market share gains in that region. Nonetheless, pricing remains relatively solid, which we think speaks to the industry's oligopolistic nature. Barring substantial missteps by the manufacturers in the upcoming Tier 4 final engine emission standards, we don't anticipate major long-term share shifts, given relatively sticky customers.
Overall, however, we think the market is already pricing in a good portion of this upside and may not be fully anticipating the effect of another farming downturn. Our projections already include a dip in the firms' long-run profitability to capture a more appropriate midcycle margin rather than the recent strong results, but worse conditions than we project for farmers' cash receipts could lead to roughly 35%-50% declines in our fair value estimates.
Finally, we caution that CNH has agreed to merge with parent company Fiat Industrial in a deal that will garner CNH shareholders 3.828 shares of the newly formed company per CNH share. Because Fiat's market capitalization contribution to the new entity will dominate CNH's, the final value for CNH shareholders depends heavily on Fiat's share price at the time of completion (currently estimated for the third quarter). Our discounted cash flow analysis still suggests a value of roughly $37 per share; our $41 fair value estimate for CNH is based on our calculation of this value combined with Fiat Industrial's price.