Asian shares were hit hard over the night as China announced plans to once again enact proposals to attempt to stifle rising property prices in various cities where they believe speculators are pushing up prices too quickly. The government will force the banks to require larger down payments for those purchasing second homes and also charge higher borrowing rates for access to credit in order to purchase these properties. We have been here before and although it does stifle growth upfront generally China pulls through, however there is added risk this go around as the world economy faces headwinds and we have the US and EU in political tussles. Today will probably be a tough day for US markets, however traders should look to see if the market puts in a bottom as Europe closes and the news of a possible new election in Italy quiets, for that is what used to happen and trends have a way of reappearing.
Charts of the Day:
For all of the talk of the damage that 'Big Ben' and the Fed are doing to our balance sheet and the strength of the US dollar, take a look at the past three months among these currencies. If there is a currency war and we are all fighting to the bottom, it appears that the US is not being proactive enough.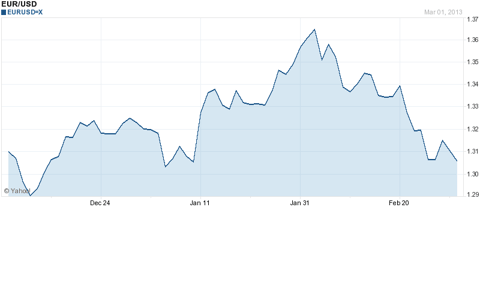 Chart courtesy of Yahoo Finance.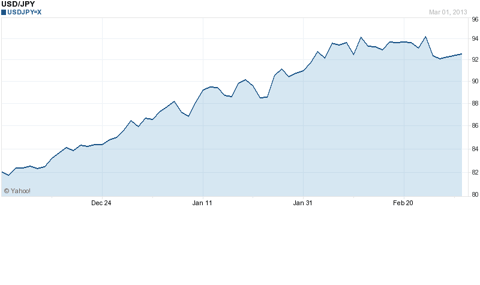 Chart courtesy of Yahoo Finance.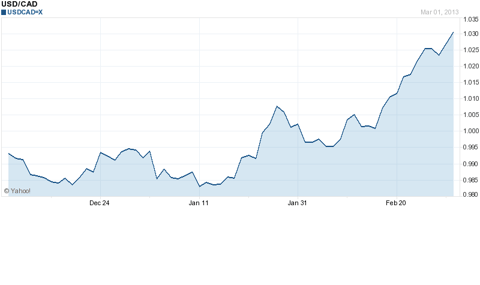 Chart courtesy of Yahoo Finance.
Just further proof that one cannot believe all the talking heads on the TV. The US dollar is strong for a reason and its strength will lead to strength in US dollar denominated assets (i.e., US equities, bonds, real estate and so on).
We have no economic news due out today, but will have the ISM Services tomorrow.
Asian markets finished lower today:
All Ordinaries - down 1.42%
Shanghai Composite - down 3.65%
Nikkei 225 - up 0.40%
NZSE 50 - down 1.49%
Seoul Composite - down 0.66%
In Europe markets are trading lower this morning:
CAC 40 - down 0.32%
DAX - down 0.68%
FTSE 100 - down 0.55%
OSE - up 0.03%
Engineering/Construction
Friday was a tough day for the sector as McDermott International (NYSE:MDR) saw shares fall $2.02 (15.88%) to close at $10.70/share after reporting fourth quarter results which fell below analysts' expectations along with 2013 revenue guidance which also lagged previous estimates (a link to the company's conference call transcript is located here). Regarding the company's Q4 results, their revenues came in above estimates but the EPS figures missed as the company experienced delays and project losses while also seeing a slowdown in their business in two important geographical regions; the Middle East and the Atlantic. Profit margins are compressing and although there is a ton of work out there it sure appears that rising costs and unforeseen events are behind this but this is generally something which takes time to correct and by that we mean a few quarters, thus no need to rush in for an investment at this time.
Foster Wheeler (FWLT) also was lower on Friday as shares were clobbered, down almost 16% on the session, after a miss on their end. The company reported disappointing EPS and revenue figures for their latest quarter which was a surprise to say the least (see press release here). The company's backlog continues to increase and they did in fact state that they are pretty close to record levels in some measurements of that category but the key is working through that and actually delivering results.
The good news from this disappointing quarter is that although the EPS figures and revenues were lower, the company appears to have set the stage for a solid next few years with their backlog growth this quarter and the other gains seen in previous quarters but one has to wonder exactly how much of this miss can be attributable to the recent world GDP growth concerns and whether we see a pick-up in the Global Power Group segment when these fears are finally resolved. Growth leads to higher energy demand and higher energy demand leads to the need for either newer or more plants. We will be reading the conference call tonight to see if we can find any nuggets relating to the Global Power Group or E&C segments (which can be found here for anyone who may also be interested).
Technology
Talk about a volatile week! Groupon (NASDAQ:GRPN) investors sure saw one of the strangest weeks as they missed on the quarter only to have their Chief Executive Officer fired the next day and to see shares rebound somewhat. It was one of the classier farewell notes we have seen from a CEO to their employees and for that we tip our hat to Andrew Mason. The shares rose over 12.5% on news that he was let go by the company but we are still left to wonder exactly what shareholders believe is accomplishable with this asset. One could argue that Mr. Mason's leadership and decision making tactics were flawed and that he missed a number of opportunities, but when you look at the assets as they are now assembled where is the value and where does one find the growth and high margins? These are the questions we want answered because in our view this is nothing more than a poor man's Amazon until someone figures out how to begin to maximize value here, or at the very least create some.
Speaking of value, one has to wonder what the heck is going on over at Apple (NASDAQ:AAPL), which has seen its stock price crater since crossing the $800 threshold. Talk about death crosses! With the stock now at 52-week lows and a huge war chest of cash which is being replenished quarterly as consumers continue to gobble up the company's goods one has to wonder how long CEO Tim Cook will allow the narrative to escape his control. That is one thing which Steve Jobs tried to never let happen, but once someone allows the product introductions to fall behind and lets the world begin to view your tech company as a slow moving behemoth more interested in stifling innovation rather than being at the forefront of it, that is when control begins to slip away. Right now the media controls the story and unfortunately for Apple investors until there is a new successful product launch we are all left to wonder whether innovation at Apple died along with Steve Jobs.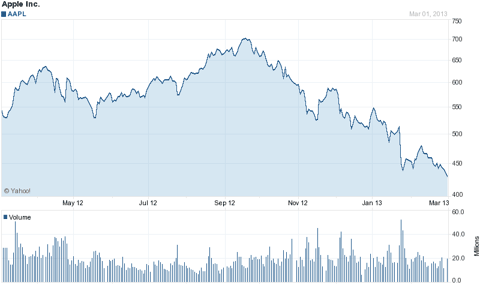 Chart courtesy of Yahoo Finance.
Biotechnology
Shares in Keryx Biopharmaceuticals (NASDAQ:KERX) rose on Friday as takeover rumors began to swirl. The shares finished the day at $7.19/share after having risen $0.76 (11.82%) on volume of 13.8 million shares. The close was near the highs of the day and Adam Feuerstein of thestreet.com said that the rumor originated from "Sierra World Equity Review" which is a blog. For those who did not catch the news on Friday, the blog reported that GlaxoSmithKline could possibly be interested in the Keryx.
Disclosure: I have no positions in any stocks mentioned, and no plans to initiate any positions within the next 72 hours. I wrote this article myself, and it expresses my own opinions. I am not receiving compensation for it (other than from Seeking Alpha). I have no business relationship with any company whose stock is mentioned in this article.