Last week, both Palo Alto Networks (NYSE:PANW) and Splunk (NASDAQ:SPLK) released earnings for the quarter ending January that saw massive revenue growth. While both stocks had hot IPOs in 2012 and trade at what are generally considered expensive multiples, they had different reactions after their respective earnings reports.
Palo Alto is a leading network security provider that competes against the likes of Cisco Systems (NASDAQ:CSCO) and Juniper Networks (NYSE:JNPR), while Splunk is a provider of real-time data analysis commonly referred to as "Big Data." Palo Alto is more focused on taking market share, while Splunk is creating a whole new market.
Ironically, the arguably cheaper stock and the one with the fastest reported growth dropped 4%, while the more expensive stock jumped 7%. This further highlights the momentum nature of the market to be analyzed in the sections below.
January Quarter Operations Highlights
Palo Alto reported the following highlights for Q2 2013:
Fiscal second quarter revenue grew 70% year over year and 12% sequentially to reach a record $96.5 million.
Added over 1,000 new end-customers in fiscal second quarter, reaching over 11,000 total end-customers.
Deferred revenue grew 92% year over year and 17% sequentially to reach $188.2 million.
Fiscal second-quarter non-GAAP net income of $3.9 million, or $0.05 per diluted share, compared with non-GAAP net income of $2.5 million, or $0.04 per diluted share, in the fiscal second quarter of 2012.
Though the company had a phenomenal 92% gain in deferred revenues, investors were concerned about guidance that was in line with previous views.
Splunk reported the following highlights for Q4 2013:
Total revenue was $65.2 million, up 51% year over year.
License revenue was $46.8 million, up 43% year over year.
Non-GAAP operating income was $3.2 million; non-GAAP operating margin was 5.0%.
Non-GAAP income per share was $0.03.
Operating cash flow was $24.8 million, with free cash flow of $21.4 million.
Splunk generally increased guidance, explaining the jump in the stock. The unexplainable part is that Palo Alto expects to be profitable in the April quarter while Splunk expects a considerable loss. The slight uptick in revenue growth shouldn't have made the stock any more attractive.
Valuation Comparison
While relative valuation doesn't always play so well in the short term, over time it inevitably drives the stock price. Investors should be cautioned that valuations could stay at what are perceived high levels for years. In the case of Palo Alto and Splunk, the market presents two extremely fast growing technology stocks with revenue growth rates in out years expected to exceed 30%. Naturally, investors want access to those stocks and are willing to pay up for them.
The table below highlights the forward multiples combined with the expected top-line growth:
Click to enlarge images.

The very odd part of these results is that Palo Alto has the higher expected growth and higher earnings, yet it has the lower multiples. Investors also need to be careful as both stocks have over 10% additional shares outstanding when using fully diluted shares that are only counted when GAAP income is positive. Note the companies utilized these share amounts for the non-GAAP income calculations, but data service providers don't pick up the numbers when providing market caps.
Stock Chart
As highlighted in previous articles (see the one on Palo Alto here and the one on Splunk here) regarding the expensive IPO valuations of both stocks, it was going to be a struggle to see after-market gains. However, Splunk is on the verge of a breakout to new highs after the latest report. Since Palo Alto went public back in July, both stocks have managed to outperform the Nasdaq Composite. At the time, Splunk was trading around its lows, so the big gain is a little misleading and only gets investors back to the initial trading levels.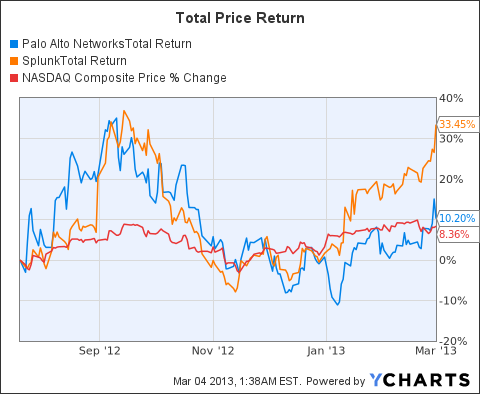 Conclusion
Anyone interested in these stocks needs to tread lightly. Both have extremely high valuations, but appear set for positive gains after a tepid period following strong IPOs. As noted from this research, Palo Alto Networks provides the better valuation, yet investors taking the opposite approach have 12% larger accounts after trading on Friday following the earnings reports. Based on the results and even guidance, the trading action wasn't logical -- but that's how the market works.
The one stock perceived to have provided weak guidance didn't fare as well no matter the valuation discrepancy. In the end, the value issues will be resolved toward a mean -- though possibly not anytime soon. If investors must own one, Palo Alto provides the better value now.
Disclosure: I have no positions in any stocks mentioned, and no plans to initiate any positions within the next 72 hours. I wrote this article myself, and it expresses my own opinions. I am not receiving compensation for it (other than from Seeking Alpha). I have no business relationship with any company whose stock is mentioned in this article.
Disclaimer: The information contained herein is for informational purposes only. Nothing in this article should be taken as a solicitation to purchase or sell securities. Before buying or selling any stock you should do your own research and reach your own conclusion or consult a financial advisor. Investing includes risks, including loss of principal.