Hess (NYSE:HES) is one of the core holdings in my portfolio. I took a small position in the shares early in 2012 when the shares were trading in the low-60s just before a series of management missteps knocked the stock down to the mid-40s. I consistently added shares over the summer as the shares were incredibly undervalued at those levels. In addition, analysts and insiders were lining up behind the stock at this point. HES became one of the top ten holdings in my portfolio during that time and one that has been on the upswing since the end of summer. The cheap shares drew attention and ire from activists, especially Elliott Management, and they have forced management to make better strategic and capital allocation decisions culminating in today's major announcement.
The announcement contained several positive catalysts:
The company will divest its assets in Indonesia and Thailand.
It will sell or spin off its retail operations, which consist of over 1300 gas stations in North America. It will also exit its energy trading and marketing businesses.
It will also initiate a $4B stock repurchase plan and is raising its dividend 150% to $1/share annually.
Finally, it will pursue monetization of its oil and gas gathering and transportation assets in North Dakota's Bakken shale field.
Result: These initiatives will transform HES to a pure play E&P and allow it to better focus on growing its production in North America, primarily in the Bakken. It will unlock value for shareholders as the sum of the parts of Hess is worth more than the current stock price. The E&P part of the company should also be rewarded with higher multiples in the market, once these transformative steps are completed.
4 reasons investors will be interested in the E&P assets that remain after these steps:
The company has averaged just under 150% reserve replacement rate over the past five years.
Over 70% of Hess's production is in oil & liquids versus less than 30% for natural gas. Given low natural gas prices, this is an important figure.
Its average proved acquisition costs per Barrel of Oil Equivalent (BOE) is lower than its peers.
It is one of the biggest players in the Bakken with over 3,000 well locations and proven reserves of more than 30 years based on current production.
Final Note: Obviously details for these moves need to be worked out. These divestitures in this space can be quite lucrative for investors. One of the best gains I had in 2012 was from the spinoff of the refining assets Phillips 66 (NYSE:PSX) had from ConocoPhillips (NYSE:COP). PSX has approximately doubled since being spun out in May (see chart). It also was a key step for ConocoPhillips to become a pure play E&P concern. The company still has several divestitures to make to become more of a North American energy concern, but I like the progress the company is making along with its over four percent dividend.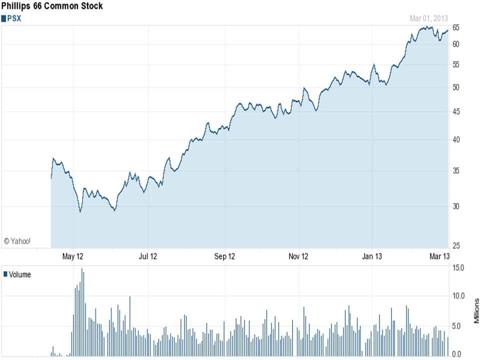 As an investor, I will be looking forward to seeing how Hess monetizes its gathering facilities in the Bakken. I would be very interested if it spins this off in some sort of energy MLP structure. I would not be as interested in the retail operations unless it sports a significant valuation discount to competitors. Overall, this is one of the most ambitious transformations I have seen in a while in the energy space. It bodes well for shareholders and gives the stock further upside. A big shout out to Elliott Management for being the bee who bit the bull to get the bull to start bucking. Well done.
Disclosure: I am long COP, HES, PSX. I wrote this article myself, and it expresses my own opinions. I am not receiving compensation for it (other than from Seeking Alpha). I have no business relationship with any company whose stock is mentioned in this article.