Apple (NASDAQ:AAPL) made an interesting move a couple of weeks ago when the company announced that it would be cutting prices on a number of its MacBook models. In particular, Apple reduced the price on the 13" Retina MacBook Pro from $1699 to $1499, and cut the price of the 13" MacBook Air from $1499 to $1399. At first, I thought nothing of it, but then I started wondering if this represented the death knell for the 13" MacBook Pro. So, will Apple get rid of the 13" MacBook Pro?
What's The Difference?
For those of you living under a rock, Apple has two lines of notebook computers. The first, the MacBook Pro, is targeted as a higher end, fully-featured general purpose notebook. The second is the MacBook Air which is billed as a state of the art, ultra-thin notebook that is also a fully-featured general purpose notebook. The Pro comes in 13" and 15" flavors while the Air comes in 11" and 13" flavors. Do you see the problem here? The overlap between the 13" Air and the 13" Pro.
The 11" Air obviously fits the niche for solid performance in an extremely portable form factor. The 15" can be configured with a lot of storage, comes with a quad core Intel (NASDAQ:INTC) Core i7, Nvidia (NASDAQ:NVDA) discrete graphics, up to 16GB of RAM, and up to 768GB of flash storage. The difference between them is absolutely gigantic and each fits a specific workload.
Then, of course, there's the 13" MacBook Air and 13" MacBook Pro overlap. Take a look at this screencapture from my trip to the Apple online store: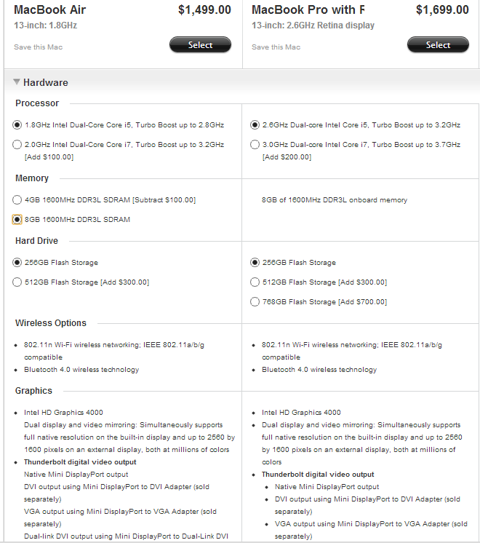 The only real differences here are form factor (the MacBook Air is thinner and lighter) and clock frequency on the CPU. Now, this difference shouldn't be brushed aside lightly; the difference between models is anywhere from 44% to 50% and CPU performance scales almost linearly with clock speed. The MacBook Pro is markedly faster, but it comes at a financial and form factor cost. However, that distinction has been getting blurrier and blurrier in each generation, and I believe with Intel's "Haswell", Apple will be able to finally consolidate its 13" models to simply the Air.
Haswell Will Bring About A Dramatic Battery Life Increase
Computer technology is dictated primarily by advances in semiconductors. RAM, flash, and processors all get cheaper, faster, smaller, and more power efficient to enable fundamentally new form factors and performance characteristics. Intel's "Haswell" has been architected from the ground up with an obsessive focus on power management above all else, as Intel is trying to dramatically improve battery life in ultra-thin form factors.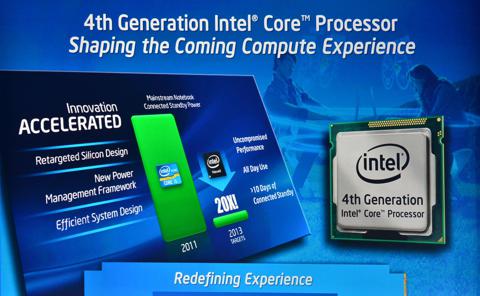 Apple is an obvious beneficiary of these advances as it uses Intel's processors exclusively in its Mac products. So as the power envelopes come down and performance goes up, the MacBook Air will likely become powerful enough to satisfy the performance needs of the MacBook Pro 13" users while at the same time offering significantly better battery life/portability characteristics.
The Counterargument
MacBook Airs are generally within the same price range as the 13" MacBook Pro, but there's more of an opportunity for upsell. Apple makes quite a bit of money going from, say, 8GB of RAM to 16GB or from 256GB of flash to 512GB of flash in the MacBook Pro. Since the MBP is more highly integrated, the old consumer trick of buying the lowest end model and upgrading it his/herself no longer works, and the buyers are pretty much captive should they have bigger space or RAM requirements.
This would be the biggest counterargument to the Air-replacing-Pro thesis, unless the power savings with the new "Haswell" chips would allow for more flash and/or RAM since the power budget would be freed up (although this says nothing about physical space budgets, although RAM and Flash are getting denser). Of course, the counter-counterargument would be that users who need all of that should really be buying an even higher ASP MacBook Pro 15".
Ultimately, I expect Apple to maximize revenues/gross margins, so Apple shareholders shouldn't worry about Apple making a move to unnecessarily hurt margins/sales.
Conclusion
The 13" MacBook Pro and the 13" MacBook Air have been on a collision course for quite a while, and I believe that with "Haswell" and if not, its 2014 successor, "Broadwell", the 13" MacBook Pro and the MacBook Air could become one. Now, the other pressing question is whether Apple will also throw on a touch screen to compete with the Windows 8 convertibles or not?
Disclosure: I am long INTC, NVDA. I wrote this article myself, and it expresses my own opinions. I am not receiving compensation for it (other than from Seeking Alpha). I have no business relationship with any company whose stock is mentioned in this article.