Copper has had a rough month. The commodity is down over 10% in the month of February and is not off to a good start in March. Freeport McMoRan (FCX) itself has had a bad year as well, down 7% when the overall market is up over 6%. This severe drop is about to present a good buying opportunity for investors who want exposure to the global growth theme.
The chart below (from CME), shows the performance of May copper futures over the past several months. In February, the contract fell roughly 10% on strong volume, which is a negative technical sign. The biggest reason for copper's weakness is growing global growth concerns. An increasing amount of data suggests the situation in Europe is worse than previously thought and data from Asia continues to be weaker than expected. Another factor in the drop in commodity prices is the strengthening dollar. The dollar index (DXY) is up 3% this year.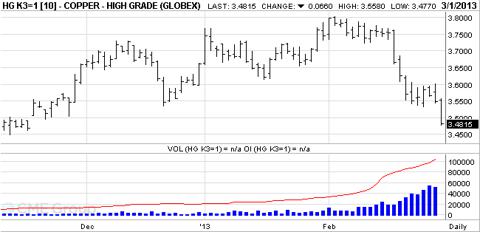 From a short-term prospective, copper looks very weak. A longer-term view shows the commodity approaching support levels. The chart below (from marketwatch), of (JJC), a copper ETN, shows the commodity is reaching levels where it has bottomed at various times over the last 3 years.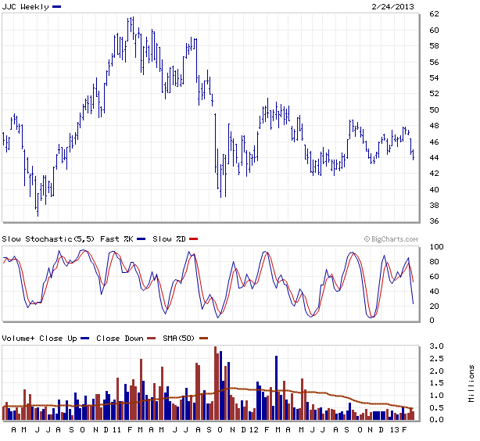 The drop in copper and commodity prices does hurt the investment thesis for Freeport. When the company gave guidance for CY 2013, it based its estimates on an average price of $3.65 per pound for copper (currently at $3.50) and $1,700 per ounce of gold (currently around $1,575). On the positive side, the current price of molybdenum, $11.40 per pound, is higher than the company's estimates of $11 per pound. Since Freeport only generates 7% of earnings from moly, that strength won't outweigh the drag of the other two commodities if they stay around current levels all year.
In addition to the headwinds outlined above, Freeport's stock has suffered over the past several months because of its acquisition of Plains Exploration and Production (PXP) and McMoRan Exploration (MMR). This acquisition diversifies the company away from a pure mining company and introduces a new set of operational risks and commodity exposures. The market didn't take news of the acquisition well. As I discuss in a previous article though, the company is still mostly a copper and mining company. While this acquisition does complicate the investment thesis, these concerns are priced in at current levels.
Given all of these negatives, Freeport's stock is approaching a long-term support area, where the stock yields 4%. The chart below (from marketwatch) shows a three-year chart of price and yield.
Every time FCX has yielded 4% in the past three years, the stock has bottomed. I see no reason why this trend should not continue this year. The company has repeatedly said it expects to continue to pay the annual dividend of $1.25 per share as it works through the new acquisitions. Over these past three years, there have been a number of global growth scares that shook markets. Relative to the concerns in the summer of 2010 or 2011, the current global conditions seem much less acute.
For that reason, I think FCX presents a compelling risk/reward around the $30 level, where it yields just over 4%.
Disclosure: I am long FCX. I wrote this article myself, and it expresses my own opinions. I am not receiving compensation for it (other than from Seeking Alpha). I have no business relationship with any company whose stock is mentioned in this article.