Crown Castle International Corp (NYSE:CCI), is a tower communication company owning, leasing or managing approximately 31,500 tower cites with 29,800 of them located in the US, including Puerto Rico, while just 1,700 based in Australia. The company focuses site locations on densely populated areas, which in total has access to 74% of the U.S. population: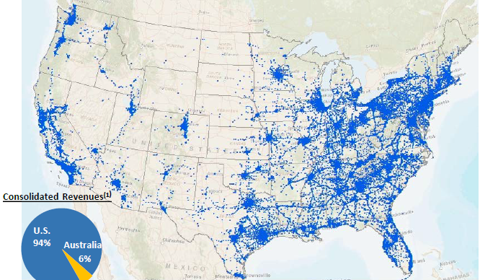 Demand for Towers:
The demand for mobile towers should continue to grow, especially as customers continue to adopt embedded devices and thirst for faster mobile internet speeds. In fact, the company forecasts U.S. mobile data traffic in 2017 to be equivalent to 700x that of the traffic in 2007, with tablet devices and smartphones leading the way.
With this efficient portfolio of sites, the company is set to harness immense U.S. growth in 4G connections and the associated increased data usage for these high speed connections the company has forecast through 2017:

To support CCI's U.S.-based assets, the wireless market in the US has arguably the most attractive market pricing for carriers in terms of its users. According to CCI, the average revenue per user or "APRU," is highest in the U.S. wireless market, coming in at over $50/month. This offers attractive opportunity for carriers to profit and thus invest in the infrastructure CCI provides and manages.
Key Customers:
CCI has important and valuable relationships with many of the country's largest wireless carriers, including Sprint (NYSE:S), AT&T (NYSE:T), T-Mobile USA, Inc., and Verizon Wireless (NYSE:VZ), which combined for a total of 72% of consolidated revenues in 2012: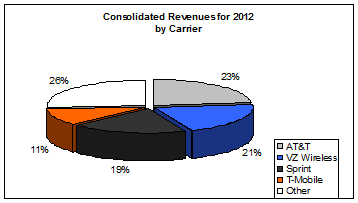 It is clear these wireless carriers need CCI to access their customers just as much as CCI needs them to stay in business, so these relationships are very strong. Site revenues typically result from long-term contracts with initial terms of 5-15 years, with multiple renewable periods, limited termination rights, as well as escalations of pricing. As of 2012 year end, excluding likely contract extensions, the weighted average remaining contract life is about eight years and represents $20 B of future cash inflows.
These carriers have over $62B in wireless infrastructure build-out investments in their pipelines over the next two years, and CCI is well positioned to benefit due to these long-standing agreements. Specifically:
AT&T: LTE to cover 300 M people by 2015, and has its target set on car connections, in which there are estimates proclaiming roughly 53% of cars are expected to have wireless connectivity by 2016.[1]
Verizon: Replacing 3G with LTE by mid year 2013, which covers 89% of U.S. population.
Sprint: Nationwide rollout of 4G LTE, which is currently deployed in 58 U.S. markets but will expand to 200 by 2014
T-Mobile: Deploying 4G LTE in 200 markets by 2014.
Summary:
Crown Castle clearly has a solid business model, which seeks to capitalize on the $62 B wireless build-out initiative of the country's largest carriers. With impressive growth in the industry forecast to continue through at least the next few years and most likely longer, the wireless industry seems very strong. As wireless carriers invest to meet the demands of their customers, CCI is in the sweet spot of this spending in one of the world's strongest wireless communication markets.
Although this article seeks to summarize CCI's business model and basic summary, a more detailed analysis of the financial health of the company should be performed, as well as future catalysts, which may further justify an investment thesis. Stay tuned for part 2, which will analyze the company in this regard.
Sources:
1Car connectivity comments made by Ralph de la Vega, Pres and CEO of AT&T Mobility at UBS Global Media conference, 12/5/12.
Other information sources from 2012 10 K, and 2/'13 Investor Presentation (pdf)
Disclosure: I have no positions in any stocks mentioned, and no plans to initiate any positions within the next 72 hours. I wrote this article myself, and it expresses my own opinions. I am not receiving compensation for it (other than from Seeking Alpha). I have no business relationship with any company whose stock is mentioned in this article.