In Brief
Despite a challenging year for ethane and propane prices, Targa Resources Partners LP (NYSE: NGLS) still managed to meet its target for double-digit distribution growth. With the price of these natural gas liquids (NGL) bottoming out and an impressive slate of expansion projects on the horizon, the MLP should deliver distribution growth of 10 percent to 12 percent in 2013. We remain particularly bullish on the near-term prospects for Targa Resources Partners' logistics and marketing division, which boasts the second-largest installed fractionation capacity at the hub in Mont Belvieu, Texas, and one of the nation's two propane export facilities.
Looking to 2014, we expect the MLP recently acquired midstream assets in the Bakken Shale to drive distribution growth. Beyond the next two years, the coming expansion of the domestic petrochemical complex should furnish the partnership with ample opportunity for expansion.
Offering a current return of 6.5 percent, units of Targa Resources Partners would yield about 7.2 percent if the firm meets the low end of its guidance for distribution growth. Investors should add to their position aggressively if the unit price dips to less than $40.
In Depth
Targa Resources Partners faced a number of headwinds in 2012: NGL prices that fell 25 percent short of the conservative assumptions underpinning the company's guidance; Hurricane Isaac, which cost the firm $8 million in earnings before interest, taxes, depreciation and amortization (EBITDA); and $6 million worth of acquisition-related expenses.
Nevertheless, the MLP in 2012 generated record distributable cash flow of $354 million and increased its quarterly payout by 12.7 percent - more than double the annual growth rate of the Alerian MLP Index's aggregate distributions. More important, the partnership posted a comfortable distribution coverage ratio of 1.14, though this metric deteriorated in the back half of the year.
This impressive resilience in a challenging business environment is a testament to Targa Resources Partners' balanced asset base. Although the gathering and processing division's operating margin plummeted by 25 percent because of weak commodity prices, the complementary assets in the MLP's logistics and marketing arm posted a record operating margin of $304.3 million - up 29 percent from year-ago levels.
To better understand our bullish outlook for Targa Resources Partners, let's examine the underlying assets and drivers for the MLP's midstream and downstream divisions.
Gathering and Processing
Natural-gas gathering systems consist of small-diameter pipelines that transport field production to processing plants, where NGLs are removed from the raw stream by condensation or absorption. This procedure ensures that the natural gas conforms to the pipeline network and end markets' standards.
The profitability of gathering and processing assets depends on a number of factors, though geographic location and contract mix have an outsized influence on margins.
As we explained in Breaking down the Onshore Rig Count, development activity can vary significantly from basin to basin depending on wellhead economics. Gathering systems that service plays where producers are drilling in earnest tend to enjoy superior profit margins; more well completions translate into demand for new connections and higher throughput volumes. In contrast, drilling activity in out-of-favor fields may be insufficient to overcome the natural decline rate on existing wells, resulting in lower volumes.
In addition to geographic risks, the gas-processing business entails some direct exposure to fluctuations in commodity prices, though operators usually gird themselves against the market's vagaries through hedging strategies and their contract mix.
Demand for processing tends to hinge on the frac spread, or the price of natural gas relative to the value of NGLs. When NGL prices are high relative to the price of natural gas, demand for processing increases because producers want to remove every possible barrel of NGLs from the raw gas stream to take advantage of higher liquids prices.
Conversely, ethane rejection tends to occur when the margins from the NGL turn negative; in this environment, processors may opt to leave ethane - the lightest, most abundant NGL - in the vapor stream without running afoul of pipeline requirements. In addition to the relative gap between energy-equivalent ethane and natural-gas prices, processors also factor in the transportation costs associated with shipping the NGLs downstream. For this reason, ethane rejection has occurred with far greater frequency in the Rockies and Mid-continent regions than in the Eagle Ford Shale and other plays that are located closer to the fractionation complex at Mont Belvieu.
Processors are compensated for their services in a number of different ways, including simple fees based on the volume of gas processed and percent-of-proceeds (POP) arrangements, where they receive the value of a portion of the gas and NGLs sold. The latter contract would bolster the processor's margins when NGL prices are elevated. In keep-whole arrangements, the processor takes possession of the extracted NGLs and reimburses the producer for this energy content, usually via a cash payment that's based on the market value of natural gas.
These two factors - geographic location and contract mix - explain why Targa Resources Partners' gathering and processing division suffered a 25 percent decline in operating margin over the course of 2012.
Although many MLPs that own gas-processing assets shifted their contract mix toward fee-based arrangements after energy prices cratered in late 2008 and early 2009, Targa Resources Partners retains significant exposure to commodity prices.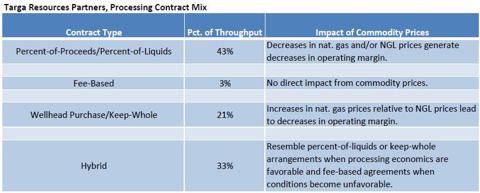 Source: Targa Resources Partners LP Filings
This positioning paid off handsomely in 2010 and 2011, when the price of a mixed barrel of NGLs remained elevated. However, with ethane and propane prices tumbling precipitously in the back half of the year, this contract mix has weighed heavily on results in Targa Natural Resources' gathering and processing division.
According to the MLP's annual report, the field gathering and processing segment (39 percent of total operating margin) suffered a 29 percent decline in its average NGL price realizations and a 32 percent drop in its average natural-gas price realizations. These headwinds afflicted Targa Resources Partners' coastal gathering and processing segment (17 percent of total operating margin) to the same degree, with the average NGL prices realizations falling by 27 percent and average natural-gas price realizations declining by 31 percent.
Although commodity prices affected both segments equally, trends in throughput volumes differed considerably - a product of geographic location.
The field gathering and processing unit consists of almost 10,600 miles of natural-gas pipelines and nine processing plants that make up three systems in the Permian Basin of West Texas and one that serves the oily portion of the Barnett Shale.
All four of these gathering and processing networks grew their throughput on a year-over-year business, leading to a 12 percent uptick in overall volumes. With drilling activity likely to remain robust in these oil-rich basins and Targa Resources Partners planning a number of processing capacity expansions, throughput should increase significantly on three of the MLP's four field systems next year.
In contrast, the coastal field gathering and processing unit experienced a 9 percent decline in intake volumes last year, largely because of downtime related to Hurricane Isaac. Within this segment, management expects the Coastal Straddles and VESCO systems to benefit in 2014-15 from rising output of associated gas in the Gulf of Mexico. Meanwhile, the Louisiana Operating Unit provides an option on the eventual development of the Austin Chalk and the Tuscaloosa Marine Shale, two emerging resource plays in the region.
In the near term, we expect capacity additions and robust drilling activity in the oil-rich Permian Basin to drive volume growth.
More important, NGL prices - albeit a far cry from the elevated levels of 2010-11 - appear to have stabilized after a year in freefall. Ethane prices will likely remain depressed next year, but the price of natural gas should put a floor under any further decline. At the same time, propane prices should stage a bit of a recovery in the back half of 2013, aided by additional export capacity. (See Rejected! and Another Leg Lower for NGL Prices.) The Permian Basin's relative proximity to the fractionation complex at Mont Belvieu also means that Targa Resources Partners has yet to reject ethane at its processing plants.
Beyond 2013, the gathering and processing segment will benefit from Targa Resources Partners' $950 million acquisition of Saddle Butte Pipeline LLC's oil-gathering pipeline and terminal system and gas-gathering pipeline and processing network in the Bakken Shale.
Not only does this purchase diversify the MLP's geographic footprint and commodity exposure - the Bakken Shale produces primarily crude oil - but the capacity reservation agreements covering these assets are also expected to increase fee-based operating margin to between 55 and 65 percent of the company's total.
Although management expects this acquisition to be dilutive to operating margin in 2013 because of a planned $250 million worth of expansions to meet customer demand, the assets will be accretive to distributable cash flow in 2014. In addition to the planned expansions, we expect Targa Resources Partners to announce a number of organic growth projects in the region - a major upside driver in 2014.
Logistics and Marketing
Targa Resources Partners can afford to maintain some upside exposure to commodity prices in its processing contract mix because of the logistics and marketing division's exposure to durable growth trends.
The undisputed crown jewel of the MLP's "downstream" asset base is its extensive fractionation capacity at the refinery complex in Mont Belvieu, Texas. Within the energy value chain, fractionation occurs after the processing plant has separated the field stream into NGLs and natural gas. Whereas the natural gas flows into the intrastate and interstate pipeline network after the processing stage, the remaining mix of NGLs must undergo fractionation - a process that separates the stream into discrete components based on their unique boiling points.
An early entrant in this business line, Targa Resources Partners began to build its extensive portfolio of fractionation capacity with the $2.35 billion acquisition of Dynegy's (NYSE: DYN) midstream energy business in 2005. This prescient acquisition netted the MLP three stand-alone fractionation units on the Gulf coast: a 38.8 percent equity stake in the Gulf Coast Fractionators joint venture at Mont Belvieu; full ownership of the Lake Charles Fractionator in Louisiana; and full ownership of the Cedar Bayou Fractionator at Mont Belvieu.
Over the past several years, limited fractionation capacity and rising NGL production from shale oil and gas plays have enabled Targa Resources Partners and other MLPs to secure lucrative agreements that guarantee a minimum fee regardless of whether the customer uses its allotted capacity. In the intervening years, Targa Resources Partners has invested heavily to expand this asset base, building the second-largest portfolio of fractionation capacity at Mont Belvieu.
The outlook for this business appears sanguine. Although ethane prices will likely remain depressed until new petrochemical plants come onstream beginning in 2015, expanding export opportunities for propane and solid profit margins on the heavier side of the NGL barrel continue to incentivize drilling activity in liquids-rich plays. Even with processing plants rejecting an estimated 175,000 barrels of ethane per day, the four major operators that dominate the fractionation complex at Mont Belvieu, Texas, expect their facilities to run at full capacity in 2013.
By the second quarter of 2013, the MLP will bring online another 100,000 barrels per day of fractionation capacity in Mont Belvieu, an expansion that will drive growth in operating margins and help to offset pricing-related weakness in the gathering and processing division.
Going forward, we expect the proximity of Targa Resources Partners' fractionation assets to the petrochemical industry's existing ethylene production facilities to support additional capacity expansions. Whereas the profitability of the MLP's gathering and processing assets hinge on local field economics, its fractionation assets offer exposure to rising NGL production from shale oil and gas plays throughout the US. Demand for these services remains so robust that management is already weighing the construction of a fifth fractionation train at its Cedar Bayou Complex.
In addition to Targa Resources Partners' well-positioned portfolio of fractionation assets, management has also been ahead of the pack in anticipating international demand for low-priced North American propane. The MLP's Galena Park marine terminal on the Houston Ship Channel - one of two propane export facilities on the US Gulf Coast - is fully integrated with its NGL fractionation infrastructure and exports about 1 million barrels per month.
Management plans two expansions to Galena Park, the first of which will come onstream in the third quarter and increase the export capacity to 3 million barrels per month. The second project will enable the MLP to export up to 5 million barrels of propane per month.
Although Targa Resources Partners hasn't officially announced its next round of growth projects, management has hinted that upgrades and connections to a recently acquired Sound Terminal in Pierce, Wash., could be used to deliver Bakken crude oil to refineries in California - a lucrative trade given current price differentials. Meanwhile, the Patriot Terminal in the Gulf Coast could also be outfitted for propane exports.
The Verdict
With an integrated suite of midstream solutions to gather, process, and export NGLs, Targa Resources Partners boasts a balanced portfolio that provides upside exposure to any improvement in NGL prices and ample downside protection when commodity prices tumble.
The MLP has $1.7 billion worth of growth projects slated to come onstream over the next two years, providing sufficient support for its growing distribution.
Offering a current return of 6.5 percent, units of Targa Resources Partners would yield about 7.2 percent if the firm meets the low end of its guidance for distribution growth. Investors should add to their position aggressively if the unit price dips to less than $40.
Disclosure: I am long NGLS. I wrote this article myself, and it expresses my own opinions. I am not receiving compensation for it (other than from Seeking Alpha). I have no business relationship with any company whose stock is mentioned in this article.