Global emerging market (NYSEARCA:GEM) local currency debt ETFs enable investors to capture income and potential currency appreciation relative to the USD. While yields are a major reason to invest in debt funds, currency exposures are also an important consideration.
This article outlines the four major GEM local currency debt ETFs and a targeted Asia-only debt fund investors can consider.
GEM Local Currency Debt ETFs

GEM local currency debt ETFs invest primarily in local currency denominated sovereign debt that is typically shorter in duration than emerging market USD denominated debt.
The WisdomTree Emerging Markets Local Debt (NYSEARCA:ELD) is an actively managed ETF holding mostly investment grade sovereign debt. The fund has over 100 holdings and is geographically diversified between 15 countries. Currently ELD's top country exposure is in Mexico, Indonesia, Malaysia and Brazil. The fund seeks to manage risk by taking a top-down country selection approach based on political and credit risks and weights issuers across three tiers.
Market Vectors Emerging Markets Local Currency Bond (NYSEARCA:EMLC) tracks the JP Morgan GBI-EMG index and holds mostly sovereign debt and a small amount of quasi-sovereign corporate debt. The fund is deep with over 200 holdings. EMLC has larger exposure to Poland, South Africa and Russia compared to ELD, and holds Hungarian debt which is excluded in ELD's portfolio. EMLC is the only fund of the group that excludes South Korea.
iShares Emerging Market Local Currency Bond (NYSEARCA:LEMB) follows the Barclays EM Broad Local Currency Bond index. The fund has heavier exposure to South Korea (22% of the portfolio) than ELD or EMLC, and has the largest exposure to Brazilian debt (12%) of this group. Because of its large exposure to South Korea LEMB offers a lower yield compared to EMLC.
SPDR Barclays Emerging Markets Local Bond (NYSEARCA:EBND) follows the Barclays EM Local Currency Government Diversified index. The fund is a deep with over 200 holdings and its largest exposures are in South Korea and Brazil like LEMB. EBND, however, has lower exposure to South Korea (13%) than LEMB. The fund also holds Israeli debt like LEMB.
Finally, WisdomTree Asia Local Debt (NYSEARCA:ALD) is an Asia-only debt fund. Since it focuses on Asia it has lower yields than broad GEM funds and includes Australia and New Zealand in its portfolio.
Liquidity is generally good
All the funds are reasonably liquid. Both ELD and EMLC trade over $10m/day, LEMB trades around $5m/day, ALD around $2.5m/day and EBND around $1.5m/day.
Performance shows some minor variations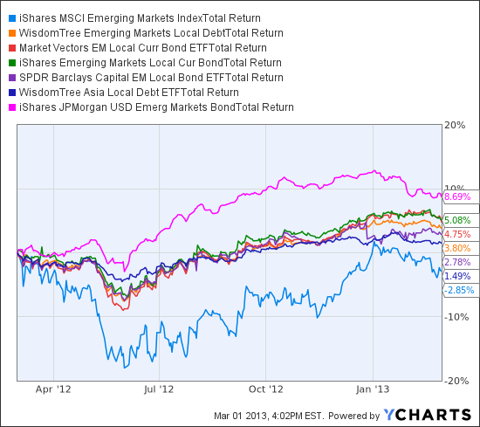 The best performing funds over the past 12 months were LEMB and EMLC. Despite offering lower yields, LEMB performed relatively well, partly thanks to its exposure to the Korean Won, which appreciated slightly over the period relative to the USD. Local currency debt funds have underperformed the USD funds recently, but have still outperformed emerging market equities.
Currency exposure matters too
In terms of fund selection, there are modest differences. EMLC offers the highest yields and highest volatility of the group as well as the lowest expense fee. LEMB offers high South Korea exposure which should theoretically be defensive yet it has been a top performer in the category supported by underlying currency strength.. Liquidity may also be a consideration and this favors the large funds ELD and EMLC.
Disclosure: I am long ELD. I wrote this article myself, and it expresses my own opinions. I am not receiving compensation for it (other than from Seeking Alpha). I have no business relationship with any company whose stock is mentioned in this article.