Telecom stocks are popular among dividend investors. However, the question is always whether or not a stock is a good fundamental value. One valuation approach is to apply multiples. There is a veritable alphabet soup of valuation multiples ranging from P/E ratios to EBIT (earnings before interest and taxes) multiples and EBITDA (earnings before interest, taxes, depreciation & amortization) multiples. The primary reason for using a multiple valuation approach is that it is easy to understand and offers quick comparisons. This article to take a more in depth look at EBIT and EBITDA multiples for range of popular telecom stocks.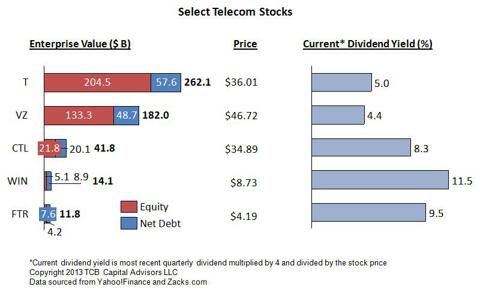 The first observation from this data is the that there is an inverse relationship between company size and dividend yield. The two larger companies AT&T Inc. (NYSE:T) and Verizon Communications Inc. (NYSE:VZ) are also focused on wireless services while the three smaller companies, CenturyLink, Inc. (NYSE:CTL), Windstream Corporation (NASDAQ:WIN), and Frontier Communications Company (NYSE:FTR) are more focused on wireline services and other services that leverage the older access line services. For example, T has about 30% of its segment income from wireline and the remaining 70% from wireless; however, the revenue split is much closer. In contrast, FTR, CTL and WIN are essentially 100% wireline services.
Comparing EBIT and EBITDA
Both items are potential metrics and each brings their own pros and cons. EBIT is very close to EBITDA with the difference being the reduction in depreciation and amortization. Since both metrics are not reduced for interest (the return for debt), it is only appropriate to consider multiples focused on enterprise value. Looking at the market capitalization to EBIT or EBITDA multiple will be misleading if the companies have different amounts of leverage and cost of debt. Hence, I will focus on the enterprise value.
EBIT is often used as a proxy for cash flow with the assumption that depreciation and amortization, while non-cash items, are very close in value to capital expenditures. However, EBIT should usually run low in comparison to free cash flow since depreciation reflects historical cost while capital expenditures reflect current day price levels.
Making a comparison
The following table shows the EBIT and EBITDA multiples for the Enterprise Value of these five companies. One can clearly see that T carries the largest multiples, while the other four companies all have similar multiples. FTR has the lowest multiples.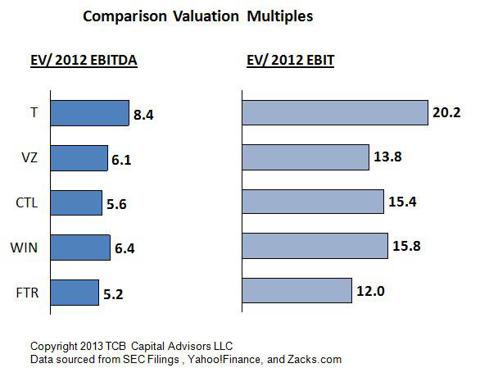 However, different multiples may be due to several factors ranging from cost of capital to perceived growth to overall quality of earnings. FTR's having the lowest multiple does not make it a great buy. In fact, I probably consider FTR to be least the attractive stock. For the record, VZ, T and CTL have posted dividend increases over the past couple year and WIN has remained constant at $0.25 per share per quarter. In contrast, FTR has cut its dividend twice. However, CTL has also just recently cut its dividend by 26% from $0.725 to just $0.54. On a forward basis, this would put its dividend yield at just 6.2%
The following graphic compares growth in EBIT and EBITDA from 2011 to 2012. While it is important to think of growth on a forward basis, this graphic is nevertheless insightful.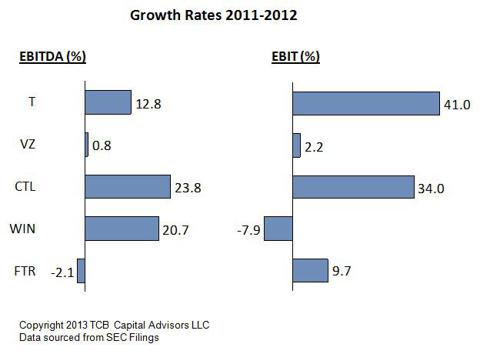 At a high level, it appears that higher growth rates correspond to higher multiples as one would expect, especially for EBITDA multiples. However, the pattern is neither consistent within a financial metric nor is there consistency between metrics. WIN has negative EBIT growth and positive EBITDA growth due to a substantial increase in depreciation from 2011 to 2012.
Concluding thoughts on EBITDA multiples
For investment conclusions based upon this analysis, I would consider T over VZ due to its substantially higher recent growth and more attractive dividend yield. The downside is that T has seen a contraction of EBIT and EBITDA from 2010. Among the other companies, it seems like CTL offers the best combination of low multiple and higher growth, despite providing the lowest dividend yield.
It should be noted that this is a very preliminary analysis. An investment decision should be based upon more than just a basic multiple analysis. There are numerous considerations in why the financial metrics have changed. Furthermore, it is critical to consider expectations for future performance, rather than the historical look that I used. Furthermore, in reviewing telecom stocks, I would also suggest a much wider sample of companies, including foreign options as well. Furthermore, quite possibly, there are better hunting grounds for dividend stocks than in this sector.
While multiple valuation approaches have the benefit of being simple and easy to compare, they betray the true complexity of valuation analysis. I would suggest these approaches to be only used as an initial screen. A final investment decision should reflect a more thoughtful discounted cash flow analysis.
Disclosure: I have no positions in any stocks mentioned, and no plans to initiate any positions within the next 72 hours. I wrote this article myself, and it expresses my own opinions. I am not receiving compensation for it (other than from Seeking Alpha). I have no business relationship with any company whose stock is mentioned in this article.
Additional disclosure: Disclaimer: This article is for informational and educational purposes only and shall not be construed to constitute investment advice. Nothing contained herein shall constitute a solicitation, recommendation or endorsement to buy or sell any security.