About Benjamin Graham and his Criteria for the Defensive Investor
For those unfamiliar, Benjamin Graham is best known for being the mentor to the second wealthiest individual in the U.S., Warren Buffett. Considered by many to be the "father of value investing", Graham wrote the book, "The Intelligent Investor" (you can find it on Amazon here), which he describes the investment philosophy that his firm used to achieve annualized returns of about 20% from 1936 to 1956.
For more information on his criteria, see my article from last month, I describe the seven criteria in full detail there.
Review of Last Month's Picks
In the February 2013 article, a total of six companies were recommended: Baker Hughes (BHI), Cash America International (NYSE:CSH), Holly Frontier Corporation (NYSE:HFC), Alamo Group (NYSE:ALG), Reliance Steel & Aluminum (NYSE:RS), and Sasol Ltd. (NYSE:SSL). Below summarizes the price of each equity on Feb. 1, 2013 when the article was published, the target price based on the Graham Number, the highest the stock could have been sold for in the last month, the closing price on Mar. 1, 2013, and the percentage change in price.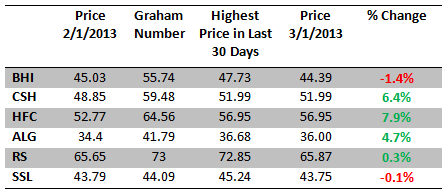 [Note: The Graham Number for SSL was revised from 131.14 to 44.09. This is due to an error in calculating earnings. The corrected number is above 44.09.]
A portfolio giving equal weight to these stocks would have returned 2.9% over the last month. A higher average return of 4.7% could have been realized if the investor sold RS when came within just a few cents of the Graham number in the middle of the month.
As comparison, over the same period, the S&P500 Spider ETF (NYSEARCA:SPY) was only up 0.58%, the Dow Jones Spider ETF (NYSEARCA:DIA) was only up 0.72%, and the Nasdaq Powershares ETF (NASDAQ:QQQ) was down 0.41%.
7 Picks for March
March's Benjamin Graham Defensive Investor quick picks did not change much. The list includes the six from February plus one new addition: Weis Markets (NYSE:WMK).
Symbol

Current

Share

Price1

Net Sales2

Current Ratio2

Ratio Current Assets to Long Term Debt3

Positive 10 Year Earnings4

Dividends Paid Since5

Earnings Growth6

Graham Number7

BHI

44.39

21.4B

2.5

2.5

1987

198%

51.00

CSH

51.99

1.8B

5.5

1.6

1988

297%

58.39

HFC

56.95

15.4B

2.2

3.8

1991

607%

64.56

ALG

36.00

626M

4.0

32.0

1993

214%

39.53

RS

65.87

8.4B

4.5

1.8

1994

200%

75.34

SSL

43.75

19.3B

2.1

5.1

1994

270%

46.44

WMK

40.96

2.75B

2.1

N/A

1990

122%

44.04

1 Data from Google Finance

2 Data from Yahoo Finance

3 Calculated based on data from http://www.gurufocus.com/

4 Data from MSN Finance

5 Data comes from: http://www.dividendinvestor.com/

6 Calculated based on data from http://www.gurufocus.com/ by averaging the first three years of the decade and the last three years of the decade.

7 Calculated based on data from Yahoo Finance
Two companies were put on the watch list this month. One is a former pick, Helmerich & Payne (NYSE:HP), which saw it's stock price retreat in February and is currently 4% under its Graham number. The other company on is Teck Resources Lt (TCK), which currently meets all the criteria but is priced in line with its Graham number.
Conclusion
Overall, stocks selected using the criteria Benjamin Graham created for the defensive investor have performed well during the first two months of 2013. With January, the picks returning an average 15.5% and the February picks returning another 2.9%, investors who implemented this strategy could have been up almost 19.4%.
As always, look forward to comments below and make sure to follow so you get next month's update.
Disclosure: I have no positions in any stocks mentioned, but may initiate a long position in RS, CSH, BHI, HFC, SSL, ALG, WMK over the next 72 hours. I wrote this article myself, and it expresses my own opinions. I am not receiving compensation for it (other than from Seeking Alpha). I have no business relationship with any company whose stock is mentioned in this article.