Brookfield Infrastructure Partners LP (NYSE:BIP) offers investors a unique exposure to infrastructure assets on a global basis. Some parts could be duplicated with other investment choices, such as timber holdings and U.K. power distribution, while others like South American toll roads and railroad transport in Australia are significantly different investment opportunities.
Before I dig into the topic covered by the title of this article, I want to state that I currently think that Brookfield Infrastructure Partners is a good investment choice and provides an attractive combination of asset diversification, current yield and distribution growth. You can find several of what I call "cheerleader" articles on BIP here on Seeking Alpha discussing the positive aspects of this LP company, of which there are many.
It is easy to find plenty of positive reasons to like a stock, especially one you already own. When I start looking at a potential investment, my primary question is what could go wrong with this business and are there any clues that could give an answer to that question. As I looked through the 2012 results from Brookfield Infrastructure Partners, a couple of items caught my eye.
Less Than Positive Financial Notes
Here are the financial items that I found of interest from the year-end results:
Total net debt increased by $2.56 billion to $7.66 billion, while partnership capital grew by $818 million to $5.02 billion. As a result the debt to capital ratio increased to 1.52 to 1 from 1.21 to 1. During the Q4 conference call, management discussed its desire to do take-out financing's from the UK utility assets, which could further increase the leverage ratio.
2012 Funds from operations per unit of $2.41 was the same amount as for 2011. Available funds for distribution in 2012 was $1.81 per unit, down slightly from $1.84 for 2011.
Watching For Trends
The explanation for the two items highlighted above are that a significant amount of investment was made in the latter part of 2012 and those investments did not reach their full levels of cash flow contribution by the end of the year. I completely buy that explanation. The higher leverage ratio will produce a higher return on investments, but too much leverage could be a danger signal.
Want I want to watch for going forward is a FFO per unit that does start to increase. Limited partnership companies like Brookfield Infrastructure Partners grow their business by a combination of borrowing and the issue of more equity units. An investor wants to see some FFO per unit growth along with all of the new investments. Sometimes an LP company can get so wrapped up in its growth projects, it does not make sure the increases in cash flow reach down to the per unit level. It does investors now good if total FFO increases by say 20% and the number of units outstanding increased by the same percentage.
Conclusions
Throughout its short life to date, Brookfield Infrastructure Partners has done a tremendous job of producing both distribution and unit price growth for investors. The distribution rate was again increased by 15% to 42 cents quarterly to start out 2013, indicating a board and management belief the growth will continue. The company's website declares a "target annualized total returns of 12% to 15%". I think the company will meet those goals, but will continue to follow the President Reagan doctrine of "trust but verify".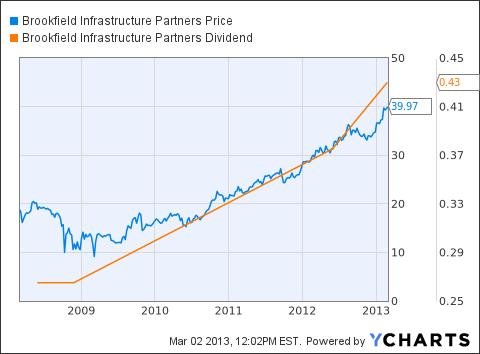 Disclosure: I have no positions in any stocks mentioned, and no plans to initiate any positions within the next 72 hours. I wrote this article myself, and it expresses my own opinions. I am not receiving compensation for it (other than from Seeking Alpha). I have no business relationship with any company whose stock is mentioned in this article.