The title above is a direct quote of the disparaging, condescending, supercilious, contemptuous, pretentious, patronizing - and inaccurate - headline snootily placed as the lead story of a major financial site's home page a couple weeks back.
The author never mentions who "mom and pop" are but since he speaks solely about "individual investors" from the beginning of the article to the end, I presume all individual investors are the mom and pop he refers to so dismissively: "Individual investors at long last have begun pouring money back into U.S. stocks as indexes hit five-year highs. ...the recent participation by retail investors may be marking a market top."
I am stunned by the arrogance of the institutions and their well-trained shills in the financial press. If we are to believe that all those moms and pops who held their positions through thick and thin and are at least now whole are somehow less savvy than the institutions, we'll need convincing facts rather than snide opinion. I'd like to provide some facts that counter such arrogance.
When the institutions refer to themselves as savvy, are they talking about the supposedly most sophisticated of all, the hedge funds? Let's see…
"The S&P 500 has now outperformed its hedge-fund rival for ten straight years, with the exception of 2008 when both fell sharply. A simple-minded investment portfolio-60% of it in shares and the rest in sovereign bonds-has delivered returns of more than 90% over the past decade, compared with a meager 17% after fees for hedge funds. As a group, the supposed sorcerers of the financial world have returned less than inflation. Gallingly, the profits passed on to their investors are almost certainly lower than the fees creamed off by the managers themselves." (Source: The Economist, December 22, 2012.)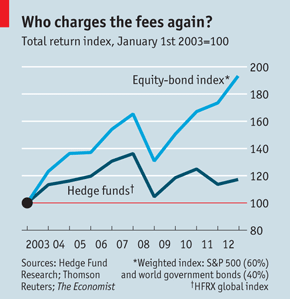 That's right - these self-anointed masters of the universe haven't even beaten a portfolio of 60% index funds and 40% bonds. You know - the kind of thing mom and pop might invest in.
Well, maybe they mean state and county pension funds then. This analysis is from Reuters, August 12, 2012: "Faced with growing obligations and shrinking returns...Public pension fund managers have poured billions of dollars into alternative investments, ranging from Polish energy facilities to catastrophe bonds… he increase carries risks of unstable performance and high fees amid a funding shortfall of $1.38 trillion as of 2010, according to Pew Center on the States data. Already, the vast majority of states have cut pension benefits or increased contributions from workers, or are trying to."
Here's a further bit of an understatement from the Reuters article: "South Carolina's former chief investment officer made alternative bets that resulted in manager fees of $344 million in 2011. At the same time, the fund had a deficit of about $14.4 billion, raising doubts that the returns were worth the risk and fees. In recent years, market volatility and historically low interest rates have persuaded public pension funds to consider other options, especially because many are underfunded and unlikely to get large cash contributions in the current economy."
So this is what pension fund managers do when it's Other People's Money they are losing versus keeping their own bonus flowing: can't make enough money to satisfy your stakeholders? Just roll the dice and hope for a 7 or 11 on the come-out roll.
This final note on pension funds from money-losing CalPERS: "There is a premium that goes with investing in alternative investments because they typically are a little bit riskier, but higher return," said CalPERS spokesman Brad Pacheco. "He added that the risk is 'measured risk that we're willing to accept within the portfolio.' " Who's the "we" he is referring to? Oh, yes, the managers all agree. Let's see what the pension recipients now being asked to reduce their incomes say…
I could go on but you get the idea. Let your bank handle your portfolio? Oh, yes, they did so well in their lap-dog purchases of subprime mortgages from the likes of Goldman and Morgan. Mutual funds? Best take a look at the Standard & Poor's study reported in US News on October 12, 2012. "The mid-year S&P Indices Versus Active Funds Scorecard (SPIVA) shows that, with few exceptions, index funds have dominated their actively managed counterparts. As one example, over the past year, the S&P Composite 1500 beat 89.84 percent of all actively managed domestic stock funds. This holds true for both stock and bond funds. Indeed, for bond funds, the 'five-year data is unequivocal.' Take, for instance, actively managed long government bond funds. Over the past five years, 93.62 percent of them trailed the Barclays Long Government index."
That's not to say, of course, that all hedge funds are weak, or that all pension funds are poorly managed, or that no advisors, mutual fund managers, or investment letter writers consistently beat the market. In the paragraph above, we note that the S&P 1500 Composite beat all but 10.16% of all actively managed domestic stock funds. But Morningstar tracks 15,000 open-end mutual funds (6,000 once we get rid of all the "share classes" within each fund.) That means there are still 600 or so mutual funds out there that do a bang-up job.
The problem is that it isn't always the same 600. Culling a universe of 6000 to find the real gems for this year or this cycle takes serious research and analysis. Backward-looking performance alone in either of those periods is not a worthwhile indicator but character, clarity, transparency, honesty, communication, flexibility and performance over a long period do stand out. The mutual funds we select for our model portfolios pass all those tests with flying colors - and still we monitor them daily for any untoward changes.
To those who would disparage or denigrate the individual investor, I'll take the common sense our Stanford Wealth Management clients exhibit, along with their own qualities of character, clarity, transparency, honesty, communication, flexibility, and long-term view over most hedgies, pension guys and fund managers out there.
Indeed, with hedge funds averaging 17% over the past 10 years (not a compounded annual return, 17% for the whole 10 years!) we will take a certain pride in vanquishing them convincingly. Our returns in 10 years are about 15 times better than the averages of all hedge funds. But they shouldn't feel bad - we do it by taking about 1/15th the risk, as well! So can you.
To that end, we expect a mini-pullback in the too-short-term to worry about. We have trailing stop orders on a number of current holdings to take some good profits and will be buying or placing buy-stop orders on some top-quality U.S. and global firms like Starwood Property Trust (NYSE:STWD), Kayne Anderson Energy (NYSE:KYE), Schlumberger (NYSE:SLB), National Oilwell Varco (NYSE:NOV), Teva (NYSE:TEVA), Royal Dutch Shell (NYSE:RDS.A) and Jardine Matheson (OTCPK:JMHLY).
Individual investors, unencumbered by quarter-to-quarter performance comparisons, have the ability to look beyond the occasional valley and amend their strategies as needed. We don't have to stay fully invested for fear of missing an up day. You and I can make steady steps toward our goals without doubling down on risky alternative investments. I hope our research and analysis assists you in that endeavor.
THE FINE PRINT: As Registered Investment Advisors, we see it as our responsibility to advise the following: we do not know your personal financial situation, so the information contained in this communiqué represents the opinions of the staff of Stanford Wealth Management, and should not be construed as personalized investment advice. Past performance is no guarantee of future results, rather an obvious statement but clearly too often unheeded judging by the number of investors who buy the current #1 mutual fund only to watch it plummet next month. We encourage you to do your own research on individual issues we recommend for your analysis to see if they might be of value in your own investing. We take our responsibility to proffer intelligent commentary seriously, but it should not be assumed that investing in any securities we are investing in will always be profitable. We do our best to get it right, and we "eat our own cooking," but we could be wrong, hence our full disclosure as to whether we own or are buying the investments we write about.
Disclosure: I am long STWD, KYE, TEVA, RDS.A. I wrote this article myself, and it expresses my own opinions. I am not receiving compensation for it (other than from Seeking Alpha). I have no business relationship with any company whose stock is mentioned in this article.