During a meeting with analysts this week, Yahoo (YHOO) CEO Carol Bartz made a reference to something Larry Dignan wrote in a post on this blog earlier in the week - Yahoo Mail is becoming increasingly critical to the company.
Struck by the comment, Heather Hopkins, a senior online analyst from Hitwise, dug up some numbers on Yahoo's Mail traffic and analyzed it against traffic for other Yahoo sites, as well as the growth of competing Web mail services from Microsoft (NASDAQ:MSFT) and Google (NASDAQ:GOOG).
What she found was that Yahoo Mail is the company's most-trafficked property, receiving more than one-third (36.71 percent) of visits in February. The next two most popular domains are the main Yahoo portal page (www.yahoo.com) and Yahoo Search. (Image credits: Hitwise)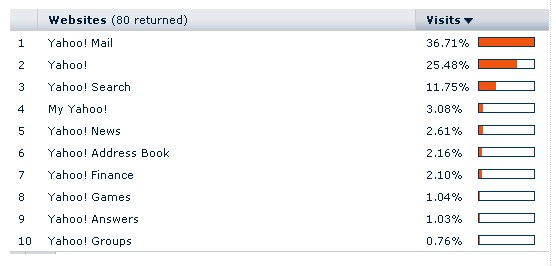 As for competitors, Hopkins writes:
Among web based mail providers, Yahoo! leads the pack. As illustrated below, in February, Yahoo! held 56.46% market share of US visits among Email Services websites. MSN's Windows Live Mail was #2 with 19.14% and Gmail was #3 with 10.82%. Despite having such a strong hold on the market, Yahoo! continues to grow its share. Visits to Yahoo! mail were up 3% year over year in February. Windows Live Mail visits were down 25% and Gmail nearly doubled visits, up 88% year over year.