Not all is well in the world of chocolate. For large manufacturers of confectionery brands, the industry is beginning to see a divergent trend between supply and demand of a primary input found in cocoa beans. According the world's largest maker of bulk chocolate found in Barry Callebaut, cocoa supplies have lagged demand in 10 of the past 20 years. Even as the chocolate market expands 2% - 3% a year (partly as a result of developing markets), this year the International Cocoa Organization forecasts a shortfall of about 50,000 tons for the annual season. By the end of the decade, private chocolatier Mars, Inc. expects that this problem will grow as demand will outpace production by 1 million tons. Manufacturers of chocolates can expect increased input costs as the problem continues to accelerate.
The Volatile World Of Cocoa
Part of the growing problem is that cocoa bean production remains highly dependent upon production in West Africa, which accounts for 70% of the world crop. The amount of land capable of supporting cocoa production is limited and the alternatives to growing it are simply more attractive. This issue is seen in the core problems faced by the local farmer who sees more opportunity in rubber production than in cocoa production. While farmers face the same price for rubber as they do in cocoa, an additional benefit is that a well-maintained rubber plantation will typically outlast a cocoa field. More importantly, rubber produces a crop for 10 months of the year compared to cocoa's 6 months of productivity. Likewise, the labor involved is more intensive for cocoa production than it is for rubber.
The highly centralized production of cocoa in politically unstable West Africa further prompts a problem of supply for cocoa-dependent manufacturers such as Nestle S.A. (NSRGY.pk), Mondelez (MDLZ) and The Hershey Company (HSY). Due to shortages, cocoa prices have experienced annual swings of more than 20% in 10 of the past 20 years. Cocoa climbed to a 32-year high in 2011 but then fell 74%.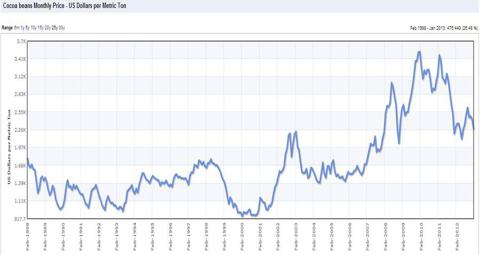 Further complicating the issue is the fluctuation of the "butter ratio," which is the cost of cocoa butter relative to the price of cocoa beans. As a major ingredient in the production of white and milk chocolate, the ratio serves as an additional factor in input price volatility. In January 2013, the butter ratio was 2.05 to 2.10 according the article found here. Yet in May 2012, the butter ratio was 1.06 according to another Bloomberg article found here. At its worse, this represented a price fluctuation of 98% in less than a year.
Finding A Way Around The Problem
Such extreme volatility in the input costs of cocoa and the growing difficulty in sourcing materials is likely to lead to higher prices for consumers and inefficient margins for producers. It therefore falls into the hands of exporters such as Cargill, Barry Callebaut and Archer-Daniels-Midland Company (ADM) to come up with solutions to help curb the price swings.
Yet even this task is complicated by intervention on a political scale. Last year, cocoa's top-exporting country found in the Ivory Coast abolished a 20-year old tax break given to local grinders. This brought the exporters into negotiation talks with the government after threatening to move their grinding operations out of the country. Such a back-and-forth exchange has done little to ease the volatility and political tensions factored into these prices.
However, one breakthrough in innovation appears to be right around the corner. In November 2012, ADM partnered with renewable oils manufacturer Solazyme (SZYM) and signed a market development agreement for the company's tailored algal oils. As the developer of the world's first carbohydrate-to-oil platform capable of oil profile customization, Solazyme is leading the way to cost-effectively change the way oils are derived. The company can create oil replicates and even enhance their yields through standardized fermentation equipment.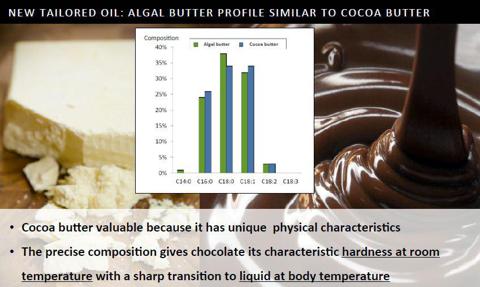 Since announcing the partnership with ADM, Solazyme has noted with particular interest the development of a cocoa butter replicate that it plans to introduce to the market. ADM allowed for Solazyme to use its facility in Clinton, Iowa, for an initial 20,000 metric tons of capacity with the right to expand up to 100,000 metric tons. This equates to nearly 30 million gallons of oil per year. The product is expected to be introduced shortly when its first large-scale commercial production facilities come online by the end of 2013. According to the company's filed S-1 at its IPO back in 2011, Solazyme believes that it's able to produce oils at a cost below $1,000 per metric ton.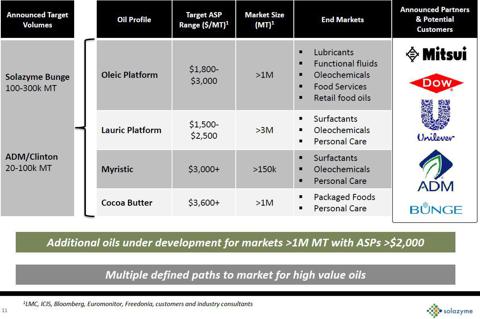 With such a high gross margin found in the production of a cocoa butter replicate, this value could ultimately prove to be beneficial for the industry as a whole. Not only is Solazyme able to provide a cheaper alternative to cocoa butter, but the process also comes with additional benefits as found in my other article here. By introducing a stable supply of domestically-produced cocoa butter replicate, Solazyme's process is also capable of reducing the volatility found in chocolate's input costs.
Conclusion
With a growing problem in cocoa bean production, chocolate manufacturers are bound to feel the pinch with rising input costs. These are costs that will ultimately have to be absorbed or passed onto consumers. The lack of stable logistics and sustainable production is already raising concern for companies like Mars Chocolate.
Yet to address the growing demand in chocolate and supply woes in cocoa beans, innovative solutions appear to be making a timely appearance. A company like Solazyme and its ability to de-regionalize a large portion of the inputs could prove to be significantly beneficial to the industry. With a sustainable solution for a lower-cost alternative, the company could make a meaningful impact both to the cost of cocoa butter and its related price volatility. Investors with a focus on the long-term horizon might do well to place this company on their investment radars going forward. It is technology like this that can introduce innovative change to a well-established industry.
Disclosure: I am long SZYM. I wrote this article myself, and it expresses my own opinions. I am not receiving compensation for it (other than from Seeking Alpha). I have no business relationship with any company whose stock is mentioned in this article.