With overweight and obesity problems plaguing over 60% of Americans, why is it that the shares of diet food companies are falling? After decades of increasing share prices and strong growth, sales and profits are now rolling over and beginning to decline along with share prices. Is this a temporary blip, a short-term cyclical problem, or is there something more serious that threatens the entire industry?
Key Factor Influencing Diet Food Sales
Several factors influence diet food sales but none is bigger than the shift in the kinds of foods dieters are looking for. Within the last two years, millions of dieters have been heavily influenced by popular health and weight loss experts like Dr. Oz and Dr. Joel Fuhrman who are teaching them which foods to avoid and which foods to eat that will promote weight loss and good health. Popular films that are compelling and difficult to dispute like "Forks Over Knives" are also influencing the foods people eat. "The China Study" by Dr. T. Colin Campbell, considered the world's leading nutritionist, is the largest study ever undertaken to show how the food we eat promotes obesity, heart disease, cancer and other diseases and has become a popular book educating millions of people. And there are hundreds of health experts and doctors spreading the same message. The result of all this is that dieters are becoming more educated and demanding about the foods they eat.
So far, all the large diet food companies like Nutrisystem, Jenny Craig, MediFast and Weightwatchers offer only traditional foods from the Standard American Diet that are known to be the root cause of obesity and other common diseases. The portions may be smaller in size and in the number of calories but their nutrition is negligible and too low as confirmed by the Aggregate Nutrition Density Index. In fact, the nutrition from these foods is so low that they promote hunger cravings because the body is not getting enough nutrients so the brain says "I am still hungry". This condition is called "toxic hunger" and it actually increases hunger cravings.
In an attempt to offset the low nutrition of their foods, the diet food companies fortify their foods with synthetic vitamins that have questionable value compared to the actual real foods they come from. A glance at the required nutritional disclosures reveal high levels of sodium and cholesterol. There are very few nutrient dense plant foods in their diet offerings and heavily processed foods make up an unacceptably large portion of the menu.
Another factor for declining sales is that the menus of the large diet food companies are not as appealing as the menus being offered by the dozens of smaller but still large new diet food companies offering a healthier choice. Take a look at this relatively unappetizing menu from Nutrisystem and compare it to the smaller but fast growing smaller diet food companies like Zone Healthy. These smaller companies are growing fast because they are offering better presentations and slightly healthier foods.
Major Advancements in Nutritional Science
Nutritional science has made major advancements in the past decade and now it is known that natural plant foods are the only foods that provide all the micronutrients we need to stay healthy. Animal based foods like meat, milk, cheese, butter and other processed foods do not contain any of the micronutrients we require for good health and on top of that they are rich in cholesterol and calories. An example of the power of plant foods is offered in the Aggregate Nutrition Density Index. Meat, chicken, fish, milk, butter or cheese all rank with less than 40 points while kale and other greens score a perfect 1,000 points. This video from the well-known health expert, Dr. Joel Fuhrman, demonstrates why plant based foods are optimum for weight loss and absolutely essential for good health. They also help extinguish hunger cravings.
How Diet Food Companies Can Offer More Nutrient Dense Foods To Attract More Customers
Since many consumers are unwilling to change their Standard American Diet it will be difficult to drastically change the menu to a plant based diet. One easy solution though is to slowly introduce more plant based foods by introducing new super food snacks that are easy to sell and are well known for weight loss. This will allow the large diet food companies to offer products the consumer is looking for but it won't require changing the primary menu very much and it will provide much higher levels of nutrition with weight loss benefits.
Examples of some of these super food snacks for weight loss are Chia Seeds, Kale snacks and Sacha Inchi. They are all in big demand because they diminish hunger cravings and promote weight loss and at the same time provide extraordinary nutrition. Dr. Oz says, "Just a few of these seeds can stop your food cravings." "They absorb 9 times their weight and expand in your stomach telling your brain you are full and no longer hungry." "Chia seeds are extraordinarily rich in protein, minerals, fiber, omega 3s, antioxidants and calcium." "Be sure to add chia seeds to your daily diet."
Krispy Kale is understandably one of the hottest selling healthy snack foods nationally because it tastes amazing and because it is a super food that is super high in nutrients and yet is very low in calories. Kale ranks as the perfect food with a maximum score of 1,000 points on the Aggregate Nutrition density Index. To give you an idea of how powerful this is, meat, chicken, milk, fish and cheese all rank less than 40 points.
Sacha Inchi is a great tasting nut from South America that is Dr. Oz's number one pick for a diet food snack. Sacha inchi promotes weight loss and at the same time is one of the richest foods in protein, omega 3s, 6s and 9s and antioxidants.
There are dozens of new super food products entering the market every day. The choices will continue to expand and the consumer will continue to ask for them.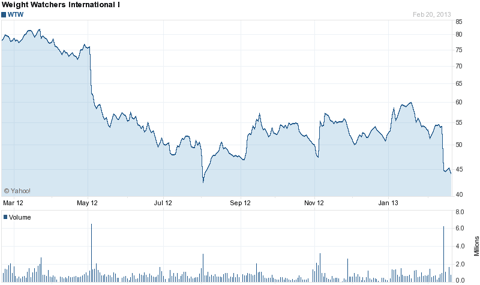 WeightWatchers (NYSE:WTW) is the 800 pound gorilla of the diet food industry, but after trading at over $80 per share less than 12 months ago, shares recently plummeted 18% in one day and are now trading at close to $42. Their most recent 10Q filing indicates that sales fell from $771,898 in the 9 months ended September 2011 to $724,215 in the same period for 2012.
Weight Watchers' fourth-quarter results [see transcript] -- adjusted EPS of $0.96 on revenue of $407.9 million -- managed to top estimates, but downbeat guidance for 2013 reinforced concerns over rapidly declining demand. Management cited thinning attendance at its diet meetings, poor recruitment numbers, and higher expenses for the gloomy outlook, giving investors plenty of negative vibes over its competitive position going forward.
A recent article, "Weight Watchers Needs To Tighten Its Belt Despite Fat Online Growth" says,
On Feb 13, Weight Watchers said that it was disappointed in its recruitment trends so far in 2013 despite the new year being the big time for New Years resolutions about weight loss and healthy eating. It blamed current marketing as not being effective in the tough economic environment.

Weight Watchers provided disappointing 2013 guidance of $3.50 to $4.00. This was well under the Zacks Consensus Estimate of $4.75.

Not surprisingly, in response, the analysts slashed their estimates for 2013. The Zacks Consensus fell to $3.58 which is at the low end of the company's guidance range.
Judging by consumer response, WeightWatchers does not seem to be offering consumers what they are looking for. One could argue that cost is a factor, but how does one explain the success of the fast growing smaller diet food companies that charge even higher prices?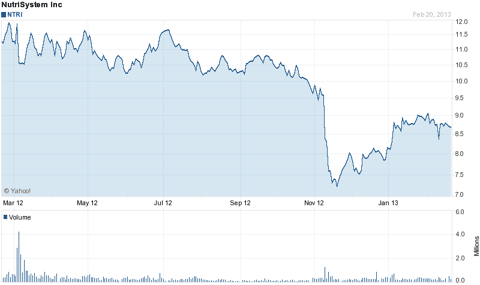 Sales and shares of NutriSystem (NASDAQ:NTRI) have been in a steady decline for at least two years with the company reporting sales of $524 million for the year ended 2009, $509 million for the year ended 2010 and $401 million for the year ended 2011.
A look at their sales trend indicates that sales have been in a protracted decline with no turnaround in sight. NutriSystem uses high profile entertainers to market their products, but based on actual sales, that method does not appear to be working very well. NutriSystem clearly needs a revised business model to survive in this fast changing industry.
NutriSystem advertises, "With easy-to-follow weight loss plans and meals backed by the Glycemic Index," indicating their focus is outdated and on providing low sugar foods instead of offering consumers the nutrient-dense, low calorie weight loss foods that work best.
Jenny Craig does not publish their sales figures but is owned by Nestle (OTCPK:NSRGY) who admits that sales are slowing.
Jenny Craig's menu and model of using high profile entertainers to market their products is very much the same as the other large diet food companies and appears to be faltering too.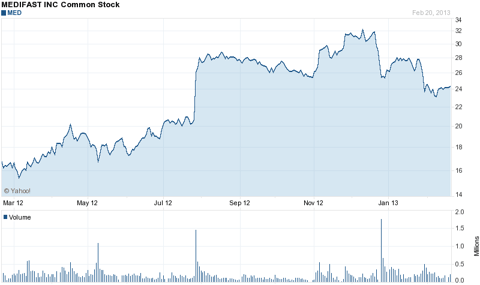 MediFast (NYSE:MED) has been bucking the sales trend but shares are still down sharply from their high and the company was fined $3.7 million for making false claims.
MediFast has the perception of offering healthier foods because its products have been sold by doctors since the 1980s. The menu appears slightly better than the competition but still does not offer adequate nutrition from the super foods being promoted by the leading experts.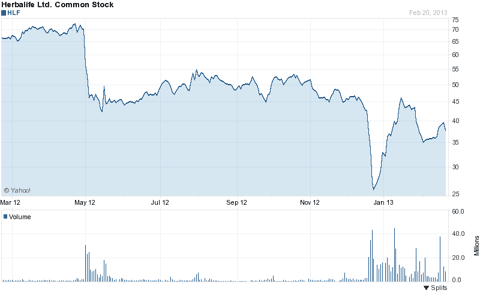 Herbalife (NYSE:HLF) sales and earnings are holding up so far, but the price of their shares is down almost in half from the year's high. Their product line is broader than the other three companies and they are appear to be better positioned to take advantage of nutrient dense super foods with their Multi Level Marketing. HerbaLife may be able to capitalize on the super foods before the other diet companies beat them to it.
The Health Crisis Is Changing the Diet Food Industry Fast
The runaway pandemic of heart disease, cancer, diabetes and obesity is driving a major shift in consumer food-buying habits because most of our health experts including our doctors are now are telling us that the foods we are eating are the root cause of our health problems and are also the solution. For this reason, healthy foods are now the fastest growing sector of the food industry but unfortunately the large diet food companies have failed to see the opportunity and exploit it. I believe that the first company to take advantage of today's diet customers needs is the first company that will begin growing at very high rates again.
Also, consider that social media instantly enables people to communicate what they are learning to their friends and family. It doesn't take long for the word to get out from an excited health food advocate about what foods to avoid and what foods we should be eating. If you look on the internet, there is a lot of chatter about the big diet food companies on social media sites like twitter and most of it is negative and discouraging to potential buyers.
Smaller Diet Food Companies Are More Attractive
Dozens and dozens of smaller but still good sized diet food companies are springing up all over the country and are focusing on regional markets. Many of these companies are doing over $25 million a year and growing fast. These smaller companies like Diet To Go, Tru Meals, Zen Foods, BistroMD, L.A. Weight Loss and many, many more are eating into the sales of the big 3 diet food companies because they are able to offer better tasting and somewhat more nutritional foods but they too are still not offering the new super foods dieters are looking for.
Conclusion
Based on consumer interest and needs, I believe the first diet food companies that offer the super foods being promoted by diet and health experts are the companies that will reverse their decline and begin growing again. Offering just claims without offering the actual nutrient dense foods will not work. The average consumer is getting too smart. We hear the same message from many successful companies that tell us how important it is to simply listen to your customers and give them what they want.
Disclosure: I have no positions in any stocks mentioned, and no plans to initiate any positions within the next 72 hours. I wrote this article myself, and it expresses my own opinions. I am not receiving compensation for it. I have no business relationship with any company whose stock is mentioned in this article.