I will make a bullish case for investing in First Solar (NASDAQ:FSLR) by pointing out some key points for the industry and for the company in particular.
Solar energy industry
Investing in solar energy is a renewable energy and subsidies play. Solar energy is not cheap but it is clean and safe. Most of the business being made in the sector is highly subsidized by government or municipalities. It is safe to say that continued or increased subsidies is key for the industry. In 2011 global subsidies for renewable energy, including wind, wave, geothermal and solar power was 66 billion (up 10%) while subsidies for fossil fuels were 409 billion (up 36%).
A number of countries have started to phase out fossil fuel subsidies. While it may take many years to come, there is no doubt that a shift to renewable energies subsidies has started. Unfortunately for the renewable energy business, the worsened economic climate is slowing the pace of the expected shift in subsidies money. On the other side, higher oil prices and increased awareness of risks in conventional energy sources (BP spill, Fukushima disaster) could turn public opinion and politicians towards renewable energy options. In a study by the International Energy Agency (IEA) from 2011 they offer the following outlook: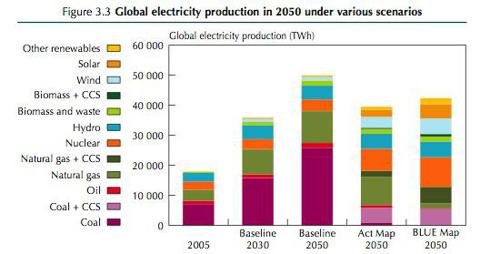 Comparing the baseline 2050 and the BLUE Map, which is the IEA's most optimistic view, there is a big discrepancy. Basically, the bullish case for renewable energies is that coal dependency is sharply reduced. In the same study, the IEA did a breakdown of the renewable energies and expected division in the BLUE map scenario.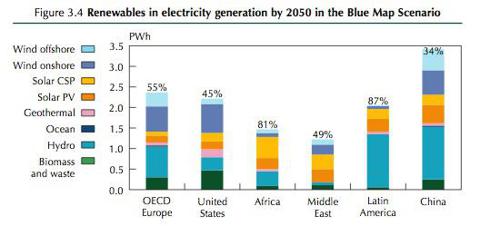 Solar power is likely to have a larger share of markets which are geographically better suited to absorb sun (most of the high-growth markets). Internally the solar market is divided into SCP (Solar concentrating power including STP) and PV (photovoltaic). The IEA does not consider them competitors and rather sees them as complementary, which is why I will not evaluate the subject on a more detailed level.
It's not all sunshine though; there are many competitors in the PV industry. From a First Solar point of view the market is extremely competitive with pressure on price positioning. There is also a dynamic of weak competitors being pumped up by local governments and also up and coming competitors in the form of crystal silicon developers.
First Solar
First Solar is a market leader which derives its income from photovoltaic (PV) solar energy solutions. The company uses CdTe as a semiconductor to produce panels which are less expensive than competitors using crystalline silicon. First Solar has finished several projects and is currently constructing the world's largest PV power plant (Agua Caliente Solar Project). In 2012 the company started a transition from traditional subsidized markets to high growth markets. Most of its current income streams are directly derived from contracts awarded in just traditional subsidized markets. In the Q4 conference call [see transcript], First Solar disclosed that they have about 8 billion of expected revenue in the future, which was 1.4 billion lower than what they expected at the start of the year, explaining the sharp drop in share price after the report. However looking at the last five years the company has increased sales steadily (all graphs in thousands):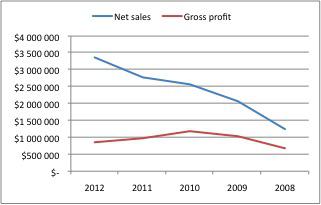 Gross profit has declined when margins have dropped and First Solar expects margins to drop to the teens as the market evolves (from margins of around 27.3 % in Q4 2012).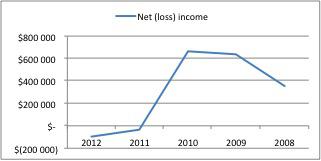 Net income has been negative the last two years due to a large goodwill impairment in 2011 and a large restructuring post in 2012. This is normally something that an investor should be wary of but looking at the next graph I still have confidence in the financials of the company.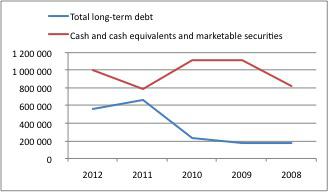 Cash and cash equivalents together with marketable securities are about 1 billion and total long-term debt is down under 600 million. Some other key ratios using 2012 numbers are:
P/B: 0.6
B/S: 0.64
P/CF: 2.86
Quick ratio: 1.41
Acid test ratio: 2.18
All ratios indicate that First Solar is well positioned financially for an aggressive approach to growth.
Outlook
The bold plan to transition to high growth markets is risky but necessary in my opinion as the company has decided that they can not rely only on the business from subsidized markets. First Solar has already in 2013 acquired a Chilean solar development company and while the conference call did not give any clues as to future acquisitions, I expect this is a strategy for the future both for gaining local presence in interesting markets but also talent and research portfolios.
The company stated their objective of at least 1-1 book-to-bill for 2013 and gave a guidance for Q1 in which EPS per fully diluted share would be around 0.70-0.90 and cash flow by operations between 0-100 million. They also disclosed that Q2 would be better than Q1 but that the second half of the year would be weaker than the first half of the year. The reason Q3 and Q4 might be weaker is that two major projects will be finished and thus cash flows decrease.
So there is some uncertainty about future cash flows. First Solar will provide a better guidance on analyst day in April. So what are the key drivers?
Short-term
Sales - Can the company continue to win projects?
Margins - Are margins sacrificed when bidding on new projects?
Acquisitions - Will the company continue with acquisitions to gain local presence and talent?
Beating EPS - After two years of negative EPS 2013 looks to be the first year with positive earnings
Long-term
Global presence - Increase its presence in high growth economies
Subsidies - Will it pick up as the IEA forecasts?
Technology upside - Can First Solar continue to develop its product?
Competition - Can First Solar keep its position as a market leader?
Cost reduction - Can cost reduction mitigate declining profit margins?
Investment thesis
In the long run I like the solar energy industry because of the subsidies and high-growth possibilities. Even though market conditions are depressed at the moment, I expect the subsidies to pick up in the future and as a result more solar projects will be initiated. In the meantime, First Solar is using its financial strength to reallocate resources to high growth markets. Not surprisingly, these investments have led to negative earnings the last two years which has sent the stock tumbling down. Looking at the limited guidance given for 2013 I expect the company to post positive earnings for the year, increase its sales y/y but probably with lower margins. I also expect the company to achieve at least a 1-1 book to bill, something it failed to do in 2012 (0.8). The financials of this company are terrific; great liquidity ratios, low long-term debt and 1 billion in cash and marketable securities. The stock currently trades below book value (0.6).
There are some who might argue that crystal silicon developers are better or more effective but there is currently no competitor who has the same type of proven ability to deliver. The fact that First Solar currently has around $8 billion in future revenues and already has made a transition to high growth markets makes me believe that this stock has great upside potential.
In 2013 I expect the company will post earnings per share of around 4-5 dollars per share (based on Q1 guidance), which would mean that the stock is currently trading between 5-6 times future earnings. Considering First Solar's market leadership, proven ability and low debt, I see very limited downside. I have initiated a position and will keep on buying on dips.
Disclosure: I am long FSLR. I wrote this article myself, and it expresses my own opinions. I am not receiving compensation for it. I have no business relationship with any company whose stock is mentioned in this article.