With Google (NASDAQ:GOOG) seemingly hitting new all-time highs on a daily basis, investors are naturally starting to wonder how much upside could be left in the stock price. However, based upon historic multiples, the stock still looks fairly inexpensive.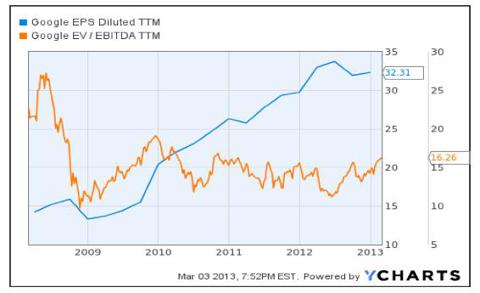 The above chart shows that while earnings have continued to increase handsomely over the past five years the EV/EBITDA ratio has stayed fairly consistent. So, by that measure at least, the stock does not seem to be currently overvalued.
Conventional Wisdom
Of course the "smart money" focus is not so much where the stock has been, but rather where it's going and the concern from that perspective is that the growth of Google's Search business, specifically within the desktop realm, is slowing. Furthermore, the conventional wisdom says that while Mobile search is still growing, its revenues, as measured by Cost Per Click (CPC) are lower than that of desktop CPCs. Therefore, Search revenue, which is the core of Google's business is declining.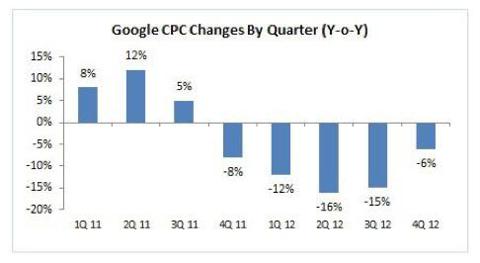 Indeed the chart above shows that the company has reported declines in CPC on a Q/Q basis for the last five quarters, although lately the rate of decline has mitigated.
So What's Really Going On?
If we lift the hood on CPC metrics and understand some of the underlying reasons for the recent declines, we might see how a few of the contributing factors actually play to the longer-term strength of Google's competitive condition. Below I list three reasons for the recent declines in CPC and why they are not systemic, but rather a temporary phenomenon as Google continues to manage its business in a dynamic global environment.
Increased PLA Usage
Product Listing Ads (PLAs) advertise a specific product that is also in many instances, a specific brand. Such ads are a growing presence and by some accounts represent almost 30% of search clicks, up from only 10-12% a year ago. Because the use of PLAs is currently in its early stages it is not as robust as the non-PLA search market, which means that PLA CPCs will sell at a discount to non-PLAs. In fact, PLAs currently command up to 26% lower CPC than standard Search CPC pricing. However, Google has strategically increased its emphasis on PLAs and is promoting the use of them over more traditional Search ads. The reason for this is simple. Because PLAs are specific to the product and/or brand, consumers are much more likely to click-through and purchase the products using a PLA, thus delivering a higher ROI to advertisers. As advertisers migrate toward the use of PLAs, the marketplace for "branded keywords" will be become more competitive and increase pricing pressure of Product Listed Ad CPC.
Increased use of Mobile Search
Mobile Search is growing and is almost on par with Desktop in terms of volume. Due to size constraints however, most smartphone CPC pricing is as much as 50% lower than comparable desktop CPC pricing. However, tablet CPCs are somewhere in between desktop and smartphones and, in fact, are pricing closer to the desktop. Further, tablet search volume is comparable to that of search volume from smartphone users and when combined, the blended "mobile" CPCs are higher than most give it credit for. In fact, during the Q4 2012 conference call (read here) CEO Larry Page seemed to indicate that not only has management anticipated the migration to mobile search from desktop, but the company is well positioned to take advantage of the trend. During the call he offered the following:
I mean, we have built a lot of great products that people use for the desktops like Maps which was transferred very well. And I think that one thing I was amazed by Chrome on my Android phone, Chrome is just an amazing experience. So, using my Nexus phone or other more smartphones from the latest generation, those phones are almost like using a desktop of last year or something like that.

So I think the experiences are improving a lot and very, very quickly. So I think we have hit some uncharted territory, because of the rapid rate of change in these things but I am very, very optimistic about it. I think that CPCs will improve as these devices are improving as well.
It's likely that this improvement that Mr. Page speaks of is already well under way as some estimates have mobile revenue at over $5 billion for the FY 2012 that just ended, double the amount of the previous year. This ability to monetize and keep mobile CPCs comparable to desktop is a key factor in the continuing strength of Google's stock price.
Increased Exposure in Emerging Markets
Emerging market revenue has been growing significantly faster than developed market revenue even while advertisers pay much lower CPCs than what would be expected in developed markets. The reasons of course, are varied, from less developed e-commerce infrastructure and lower per capita incomes in these regions to less competition for key word "ownership." However, the revenues as a whole are growing much faster than those in more developed markets. As a consequence, management seems to be willing to absorb these lower CPCs in order to expand its market share in these regions.
With multiple market shifts at play, Google is positioning itself to remain viable in that evolving marketplace.
In Summary
In the not-too-distant future, PLAs will be the dominant and preferred Search method for advertisers because of a higher success rate and ROI. As a result CPCs for product specific ads will command higher rates.
The company has shown that it can successfully monetize its mobile user base and is willing to accept lower smartphone CPC while tablet CPC, which are supplanting desktop Search in popularity, remain at or near the levels of the traditional desktop CPC. Therefore, smartphone Search is more additive and incremental to Desktop/Tablet than cannibalistic.
In addition, Google's emerging markets exposure will provide incremental growth in Search opportunity in these markets because it will ensure that the company will continue to grow its revenues going forward
The bottom line is that declines in Cost Per Click appear to be temporary and in fact are mitigating. Furthermore, it seems that the reasons for these declines actually position the company in a more advantageous long-term competitive position. Therefore concerns of stagnating growth seem premature at best and there is a lot more upside left in the stock.
Disclosure: I have no positions in any stocks mentioned, and no plans to initiate any positions within the next 72 hours. I wrote this article myself, and it expresses my own opinions. I am not receiving compensation for it (other than from Seeking Alpha). I have no business relationship with any company whose stock is mentioned in this article.