I have been investigating some large cap tech stocks and I am going to discuss those that offer a good return on investment for a value investor. My analysis here is based on the ratios in the financial statements of the Hewlett-Packard Company (NYSE:HPQ) over the last 5 years.
The HP earnings report came out less than two weeks ago in what was a big week for large cap tech earnings releases with an earnings report announcement from Dell Inc. (NASDAQ:DELL) as well.
These are the two long time darlings of the PC business and they went at it for as long as 12 years. Sadly, they both caught up late to the wave of the future - tablets and smart phones. And this has affected bottom lines. Nonetheless, HP has won the battle for now with Meg Whitman coming out on top during the earnings call as opposed to the lackluster performance by Dell management during their earnings call.
The truth was that Whitman had the numbers to back her up as opposed to the declining revenues (down 8% year over year) and 19% drop in non-GAAP earnings over the year that Dell had. For HP, its revenues of $28.4B and diluted per share earnings of $0.82 (non-GAAP) beat analyst expectations and HP stock soared 12%.
Price Action: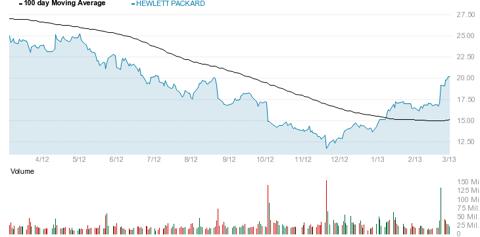 Source: DailyFinance
HP stock is on a rebound now after it underperformed the S&P 500 in 2012; as you can see from the chart above it is well over the 100-day MA (moving average) of $15ish. The stock was hovering at a 9-year low after Whitman's speech at the firm's analyst day in October. The stock price declined from $17.13 to $15.94 and at this point I rightly picked it as a bargain stock despite the fact that HP has been on a long-term down trend.
Ratios:
Price Ratios

Year

Book Value

Growth

Tangible Book Value

Growth

P/B

P/E

2012 Q4

$11.95

0.25%

-$6.11

8.67%

1.39

N/A

2012 Q3

$11.61

-28.47%

-$6.69

-1.36%

1.06

N/A

2012 Q2

$16.23

-23.04%

-$6.60

16.98%

0.96

7.67

2012 Q1

$21.09

5.71%

-$7.95

5.92%

1.27

8.29

2011

$19.95

5.17%

-$8.45

-351.87%

1.31

8.02

2010

$18.97

7.05%

-$1.87

-206.56%

2.41

11.58

2009

$17.72

7.79%

-$0.61

-6000%

3.05

16.70

2008

$16.44

6.93%

-$0.01

99.5%

2.32

11.33
Source: HP Annual Reports and Quarterly Reports
The price ratio that is extremely good for this analysis is the book value per share. The tangible book value is much lower as HP has some large intangible assets. The current share price of $20.15 means that we get a Price to Book (P/B) value of 11.95. This is below other firms in the industry like Dell - 2.28, Microsoft (NASDAQ:MSFT) -3.24 and International Business Machines (NYSE:IBM) - 12.08.
The down trend in book value will be interesting to note and we see it declining at about 6.9% year on year since 2008. We see a similar story with the tangible book value that has been falling and falling. One thing to remember is that low P/B values do not necessarily mean that the financials are bad; they could also indicate that the firm is undervalued.
The P/E ratio has generally been good over the last 5 years even though there has been some volatility. The P/E for HP has not been reported for the most recent two quarters and this is cause for concern. Still, the last reported P/E of 7.67 has been around the same as the other rivals albeit lower (DELL, MSFT, IBM).
Efficiency Ratios

Year

Net Profit Margin

ROE

Current Ratio

Receivables Turnover

2012

-10.51%

-56.38%

1.09

7.34

2011

5.56%

18.31%

1.01

6.98

2010

6.95%

21.66%

1.10

6.82

2009

6.69%

18.91%

1.22

6.93

2008

7.04%

21.39%

0.98

6.99
Source: HP Annual Reports and Quarterly Reports
Now we have take into consideration the financial efficiency of HP with these efficiency ratios. Net profit margins are important because they show how well a company controls costs and sets prices. The net profit margin has been good for HP until the recent year where it slid to -10.51%; the shift to mobile is a major reason.
The ROE has suffered as a result after being excellent for the last five years. Investors are concerned about profitability now and Whitman has been vocal about workforce downsizing and closing up business lines to boost profit margins.
We look at the current ratio to determine HP's near term financial health which appears to be fine. A number slightly above 1 shows extreme efficiency at managing its cash and short-term debt. However, HP must be careful that it doesn't drop below 1 like what happened in 2008.
The one nice thing about the HP efficiency ratios is the receivables turnover that has been growing over the last two years. Yet, HP shows significant weakness all in all and managements in previous years have to be blamed for the debacle in 2012. Still, I believe in the turnaround that is already taking place.
Conclusion: HP is still a bargain stock
HP is currently trading at half the price that it was trading at in 2008 and this is reflected in the numbers that have steadily declined.
Just looking at the efficiency ratios will be enough to make speculators run away from HP. Nevertheless, they don't tell the whole story. It is true that the ratios are lower than industry averages, but everything points to the PC maker giant trading at dirt cheap levels.
A close examination of the fundamentals and some technical analysis shows that Hewlett-Packard might offer some margin of safety to value investors. Traders are definitely buying into the HP turnaround notion like myself. Intra-day traders and options traders might want to cash in on a bullish trend on the stock right now.
Disclosure: I am long HPQ. I wrote this article myself, and it expresses my own opinions. I am not receiving compensation for it (other than from Seeking Alpha). I have no business relationship with any company whose stock is mentioned in this article.