The mining sector is pivotal to the economic performance of Zambia - copper accounts for over 70% of export earnings in Africa's top producer. A phenomenal rise in global copper prices has seen more than $6bn pumped into the country's mines over the last decade. Zambia's copper output has risen by over 145% in the same period. 2012 had a chaotic start for the sector, with striking at many major mines which normalized soon after wages were hiked. Copper output declined by 6.4% in 2012 - analysts cited softer global prices and a slowdown in demand from China as the chief factors. However, the Zambian government did collect 33% more revenues from the sector as a result of doubling royalty rates the previous year.
As the global outlook for copper remains bright, Zambia's annual copper output is expected to reach 1.5 million tonnes by 2017 on the back of major expansion projects being undertaken by mining firms as they look to cash in on high copper prices:
** ZCCM investment holdings is the Zambian governments investment arm which has a minority ownership in most mines and trades on the Lusaka Stock exchange as well as the NYSE Euronext.
First Quantum (OTCPK:FQVLF) Minerals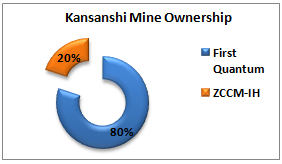 Toronto-listed First Quantum Minerals owns the majority of Kansanshi mine which is the biggest copper mine in Africa. The mine generated 79% of First Quantum's 2011 consolidated revenues ($2.05b). Strong production figures for 2012 were recorded at Kansanshi for copper, which increased by 13% from 230.2k tonnes in 2011 to 261.4k tonnes in 2012, and for gold, which increased by 21% from 112.3k ounces in 2011 to 136.1k ounces in 2012.
The firm plans to increase its current copper production capacity by 60% to 400k tonnes by 2015. It has a number of projects in the pipeline:
A copper smelter to be completed by mid 2014 (300k tonnes copper production) is estimated to significantly reduce costs by between $350m to $500m annually (First Quantum currently holding on to 60k tonnes of copper ore worth $100m because all of Zambia's smelters are being utilized).

The "Sentinel"

mining project is set to boost operations by 150k to 300k tonnes of copper.

The "Enterprise"

nickel mining project is a new venture which recorded an enormous increase of 549% in nickel output from 5.7k tonnes to 36.8k tonnes.
Glencore International Plc (OTCPK:GLCNF)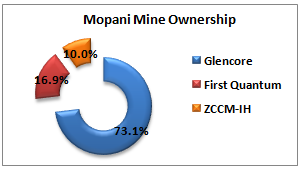 London-listed Glencore owns the majority of Mopani Copper mine, one of the older mines operating in Zambia. It has a production capacity of 250k tonnes of copper and 2.4k tonnes of cobalt. Mopani produced 187.1k tonnes of copper, down 8.5% from 2011 due to a planned smelter shutdown and temporary suspension of the heap leach process. Mopani generated $1.2bn of revenues for Glencore in 2011.
Mopani is currently implementing the $323m Synclinorium project which is scheduled to come on line at the end of 2015. The project should provide access to 115 million tonnes of copper ore and is expected to yield 4 million tonnes of ore per annum by 2018. Mopani will also more than double its cobalt production after completing a $27m upgrade project at its plant which is expected to come on line in 2014.
Vedanta Resources PLC (OTCPK:VDNRF)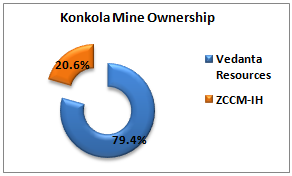 London-listed Vedanta has owned the majority stake of Konkola copper mine since 2004. Konkola has one of the largest high grade copper mines in the world at its flagship "Konkola Deep mine" with average grades of 3.6%. The firm also has a copper smelter capable of producing more than 300k tonnes of copper per annum. KCM generated 12% (15.6% in 2011) of Vedanta's 2012 revenues ($1.7b). 2012 copper production is expected to come in at around 200k tonnes.
KCM plans to pump $200m into Mimbula mine - an open pit mine which last produced copper in the 1970s, pending environmental approval, which should then start mining operations in April 2014.The firm is also looking to build a couple of tunnels which should give it access to more copper ore, resulting in an output increment of 13k tonnes.
China Nonferrous Mining Corp. Ltd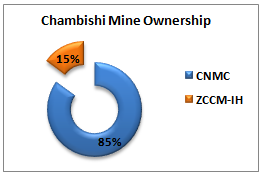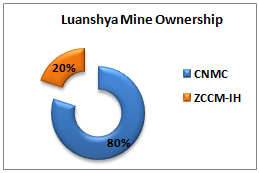 Hong Kong-listed China Nonferrous Mining Corporation (CNMC) currently owns two of the oldest mines in Zambia in Chambishi and Luanshya. In 2011, CNMC produced a little less than 200k tonnes of copper. Last year, the Zambian government approved CNMCs $832m mining project which should add a further 60k tonnes to their copper production. CNMC will also spend $100m to construct a new cobalt treatment plant as well as setting up a crushing and milling plant.
Barrick Gold (NYSE:ABX)

Barrick Gold owns 100% of Lumwana mine which it picked up after acquiring Equinox Minerals for $7.3bn in 2011. The mine is expected to produce 69k to 73k tonnes of copper in 2012 but also recently announced that its "life-of-mine" costs will be higher than anticipated. Higher copper grades are expected at Lumwana in 2013, with production anticipated to be about 111k tonnes. Lumwana has also been stockpiling Uranium and is planning to set up a processing plant to recover 1,000 tonnes of Uranium oxide a year. The firm has also been working on an expansion project which is set to enhance its operations.
Vale (NYSE:VALE) has also recently ventured into Zambia with a 40% ownership of Lubambe mine (40% held by African Rainbow Minerals) which commenced production in November 2012.
Gemstones
Gemfields (OTC:GFLDF)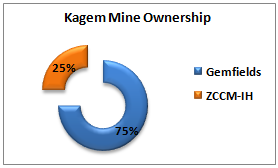 London-listed Gemfields Plc, the biggest player in this segment, has majority interest in Kagem Mine, the world's single-largest emerald mine. The firm also has 50% interest in as Kariba mine (the other 50% owned by ZCCM-IH) which specializes in Amethyst. Kagem produced 21.1m carats (33m in 2011) of emerald and beryl in 2012. Gemfields generated 69% of its 2012 revenues ($57.8m) from its Kagem operations - up 122% from 2011.
It's not only the copper mines that have been opening their cheque books, Gemfields is set to invest $100m over the next five years to ramp up its operations. The company's recent acquisition of Faberge should also help propel Zambian ethically-sourced gemstones to the next level as they catch up with their Colombian counterparts.
A further boost
Road and rail, two crucial cogs (with rail being a rather significant cost in Zambia) in the wheel of mining operations have started to receive the much-needed investment that they have lacked over the years. In addition, the country has implemented 'one-stop' border posts at major crossings which will cut down red tape and avoid delays. This will help alleviate the cost of transporting copper and other bulky minerals to market.
The mining industry has been plagued with erratic power supply which has not kept up with industry growth, especially in new areas where mines have to rely on a combination of grid power and costly standby diesel generators. The country's power deficit of 240mw has been reduced to 70mw as of January 2013. Utility firm ZESCO has plans to build a new 330kV power transmission line to provide electricity to new mines - First Quantum's Kalumbila project and Barrick Gold's Lumwana mine will be the main beneficiaries. ZESCO has also been actively seeking capital and implementing a number of power projects, with the most highly anticipated being the 720mw Kafue Gorge Lower Hydro project which comes online in 2017. Zambia will, at this point (assuming implementation goes as planned), have a power surplus which will provide a much needed boost to the mining sector and take the economy to the next level.
Judging from the new governments rhetoric and the latest changes in mining policy, it seems as though (for the time being) they want to earn more in revenue without shocking the sector like Australia did in 2012, despite having campaigned on that very promise. Last year's eagerly watched 2013 national budget presentation saw the Capex deduction rate reduced from 100% to 25% and the introduction of a property transfer tax of 10% on a mining right. However, the government has said that it will be amending the current Mining Act which "will be favorable to the industry".
Mining is an industry with high upfront costs and long pay-back periods - success and competitiveness hinges even more so on how a firm manages its costs. Labor costs in Zambian mines have risen tremendously over the last few years and make up a large percentage of miners cost base but productivity has stayed below international standards. As the firms already know, this is an area that needs a lot of improvement for their respective projects to remain profitable.
As of December 31st 2012, AFK had 3.8% of holdings invested in First Quantum. COPX, as of 6th February 2013, had 4.1% and 5.2% of its holdings invested in First Quantum and Vedanta, respectively.
Disclosure: I have no positions in any stocks mentioned, and no plans to initiate any positions within the next 72 hours. I wrote this article myself, and it expresses my own opinions. I am not receiving compensation for it. I have no business relationship with any company whose stock is mentioned in this article.