AbbVie Inc. (NYSE:ABBV) is a global, research-based biopharmaceutical company with strong exposure to immunology and cardiovascular diseases. AbbVie was formed in 2013 following separation from Abbott Laboratories (NYSE:ABT). ABBV was up 2.41% and closed at $37.81 on March 1, 2013. ABBV had been trading in the range of $32.51-$39.13 in the past 52 weeks. ABBV had been outperforming ABT (+2.60%) and the S&P 500 index (+6.45%) YTD with 10.68% gain.

Source: Google Finance
Share Repurchase
On February 15, 2013, AbbVie had authorized a share repurchase program of up to $1.5B of the company's outstanding common stock. At the current price of $37.81, up to 39-40 million of common shares will be repurchased. ABBV currently has a total outstanding share in the amount of 1.58B with a market cap of $59.77B.
Clinical Trials Suspension
In February, 2012, AbbVie and its partner in the trials, Roche (OTCQX:RHHBY), have cancelled five studies on an experimental leukemia and lymphoma medicine after two patient deaths. The patients died from tumor lysis syndrome. As reported by Bloomberg, "The complication stems from the rapid destruction of malignant cells after treatment that can trigger acute kidney failure. It occurs most often with large tumors such as those found in leukemia and lymphoma patients, according to the National Institutes of Health." However, AbbVie believes that the risk stems from the drug's potency and can be managed if the dose is carefully controlled.
ABT-199 and Humira
While AbbVie is looking for new products to diversify its portfolio, ABT-199, a highly- potent agent which can result in the tumors reducing really quickly, is one of the company's most-promising new compounds. ABT-199 was slated to start the final round of testing usually required for U.S. regulatory approval this year. So far, Humira, also known as Adalimumab, is ABBV's best-selling arthritis drug and world's second-best selling medicine, which is projected to have an 11% five-year compound annual growth rate. Sales of Humira increased 23 percent in the Q4, 2012 to $2.68B. Sales last year of the arthritis medicine trailed only the world's best-selling drug, Pfizer Inc. (NYSE:PFE)'s cholesterol treatment Lipitor, which has been losing sales after generic copies came on the market last year. Nonetheless, Humira's sales trajectory following the drug patent losses in 2017-18 represents the biggest unknown facing ABBV.
A Strong Pipeline for AbbVie
ABBV also has a strong pipeline, which is targeting 15 regulatory approvals between 2013 and 2017. There are 11 compounds or indications in phase III development, targeting hepatitis C, immunology, multiple sclerosis, endometriosis and Parkinson's disease, where around 30% of pipeline is focusing on biologics. Among its leading experimental therapies is a hepatitis C treatment targeted for the market in early 2015 that will eliminate shots of interferon, the standard yearlong treatment that has flu-like side-effects. There are also 9 new molecules from external sources in pipeline since 2010. Between 2012-2017, 15 major regulatory submissions are planned. Below is the list of ABBV's pipeline.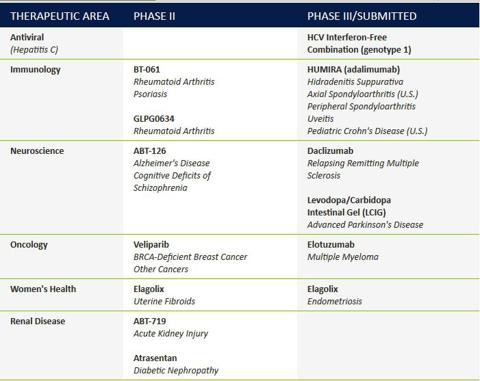 Source: AbbView.com
While there are numerous medicines with possible breakthrough, ABBV's existing pipeline provides a great upside potential with 10 phase III programs and more than 10 phase II program, including the ones shown above.
Core Strategies for Long-term Growth
AbbVie continues to focus on the following key strategies to drive long-term growth:
1) Achieve Humira's full potential, driving sustainable growth through new indications, increased penetrations, geographic expansion and share gains, as well as leveraging growth of the anti-TNF market
2) Maximize specialty product portfolio, maximizing opportunities in growth markets and leveraging leadership positions
3) Advance AbbVie's pipeline, building and advancing pipeline both internally and externally
4) Leverage AbbVie's global footprint, targeting nearly $1B in incremental sales from developing markets over the next several years
Concerns
2013 and 2014 will be the transition period for the company as ABBV faces generic competition for its lipid franchise, including TriCor, TriLipix and Niaspan.
Analysts' Target and Earnings Forecast
On February 7, 2013, Credit Suisse initiated coverage on ABBV with a Neutral rating and a price target of $37.00. Analysts have a mean price target of $38.90 and a media price target of $37.50 for ABBV. ABBV is projecting earnings excluding one-time items of $3.03-$3.13 per share for 2013, where the top end of the range is beating analysts' estimates of $3.08 as compiled by Bloomberg. Humira, which posted sales of $9.3B in 2012, up 16.7%, is expected to deliver low double-digit growth in 2013. According to Zacks' report,
"Humira should continue driving sales thanks to factors like additional indications, increasing penetration, geographic expansion, and share gains. New indications could boost peak sales potential for Humira by another $1.5 billion."
Fundamentally, by using Morning star's data, ABBV's key stats will be compared to its competitors in the industry of major drug manufacturers, including Johnson & Johnson (NYSE:JNJ), Pfizer Inc., Novartis AG (NYSE:NVS), and Merck & Co Inc. (NYSE:MRK). ABBV has higher operating margin of 29.8% and net margin of 27.1% (vs. the industry averages of 22.3% and 16.4%). ABBV has a stronger ROE of 31.2 (vs. the average of 17.2). ABBV's Forward P/E of 11.8 is lower than the S&P 500's average of 14.0. ABBV has a total cash of $4.59B and generates an operating cash flow of $6.45B. ABBV currently offers an annual dividend yield of 4.23%.
Technically, the MACD (12, 26, 9) indicator is showing a bearish trend, but the MACD difference is converging. The momentum indicator, RSI (14), is picking up and indicating a bullish lean at 56.89. ABBV is currently trading above its 50-day MA of $36.07 and 200-day MA of $35.10, as seen from the chart below.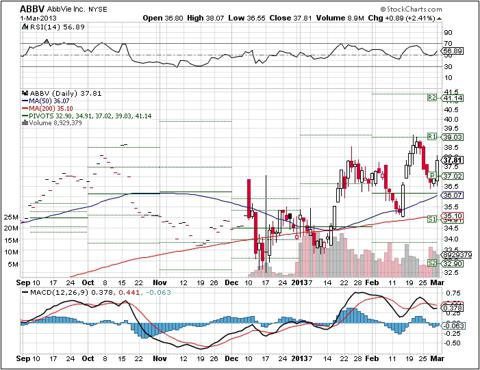 Source: StockCharts.com
How to Invest
With solid Humira sales, estimated with 11% 5-year CAGR, and a strong pipeline, ABBV has much upside potential until 2017-18. Our last reviewed credit put spread option play of May 18, 2013 $30/$35 is currently yielding 44.26% return on margin. For bullish investors, a new credit put spread of August 17, 2013 $30/$35 put can be reviewed, which will allow investors to gain upside credit premium or to acquire ABBV stock at a price below $35. Investors can also review the following ETFs to gain exposure to ABBV:
Health Care Select Sector SPDR (NYSEARCA:XLV), 3.55% weighting
Dow Jones U.S. Health Care Index Fund (NYSEARCA:IYH), 3.31% weighting
SPDR S&P Dividend ETF (NYSEARCA:SDY), 2.59% weighting
Note: All prices are quoted from the closing of March 1, 2013. Investors and traders are recommended to do their own due diligence and research before making any trading/investing decisions.
Disclosure: I have no positions in any stocks mentioned, but may initiate a long position in ABBV, PFE, NVS over the next 72 hours. I wrote this article myself, and it expresses my own opinions. I am not receiving compensation for it (other than from Seeking Alpha). I have no business relationship with any company whose stock is mentioned in this article.
Additional disclosure: Long MRK