By Sumit Roy
Here we examine the supply and demand balances for natural gas in 2012. Natural gas prices have rallied in recent sessions amid forecasts for colder-than-normal temperatures across the important Midwest and Northeast regions of the United States. However, prices received an additional boost last week from the latest supply and demand data from the Energy Information Administration.
The EIA said natural gas production in the U.S. unexpectedly fell by 0.8 bcf/d to 72.7 bcf/d in December. Additionally, November's output was revised down from 73.88 bcf/d to 73.53 bcf/d, though that's still a record high.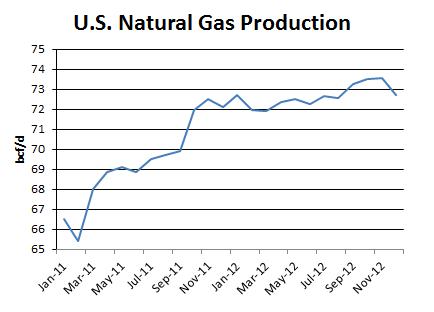 Periodic declines in production during the winter months are not unusual. Well freeze-offs (which, according to the EIA, are gas-flow blockages resulting from water vapor freezing in the gas stream) can lead to significant disruptions in output. But, as temperatures warm, output quickly bounces back.
Thus, until there is more evidence to the contrary, the trend of gradually rising natural gas output is still in place. Preliminary figures show gas production averaged 72.6 bcf/d in 2012, up 3.3 bcf/d, or 4.8%, from 2011.
Meanwhile, natural gas demand enjoyed a big boost in 2012 thanks to decade-low prices, but there was a big difference in demand levels depending on where prices were. Natural gas demand for electricity generation was actually down by almost 1 bcf/d in December, in sharp contrast to the huge growth in the summer of 2012, when utilities furiously switched from coal to gas to take advantage of low prices.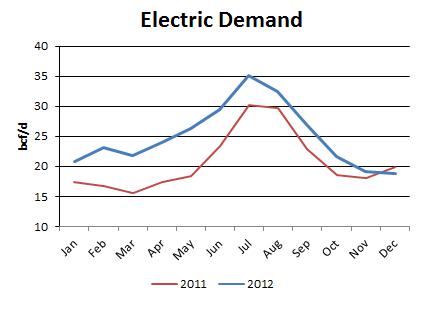 Evidently, there is a major inflection point in coal-to-gas switching that corresponds to the $3/mmbtu price point. Prices below that level spur increased demand, while prices above that level decrease demand. For the year as a whole, electric demand was up by 4.4 bcf/d, or 21%.
Similarly, industrial demand cooled notably in December, registering growth of only 0.2 bcf/d. We expect this segment to be a slow but steady lynchpin of overall demand growth in natural gas. For the year as a whole, industrial demand for gas was up by 0.6 bcf/d, or 3.2%.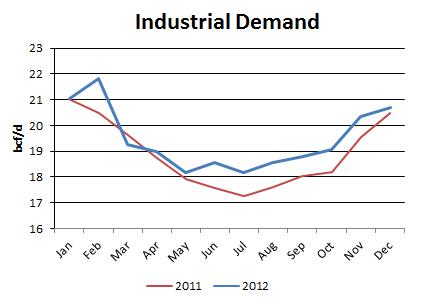 Finally, the import side of the equation was bullish in 2012. Canadian imports were down a substantial 1.7 bcf/d in December, but for the year as a whole, they were down a more modest 0.5 bcf/d, or 8.5%.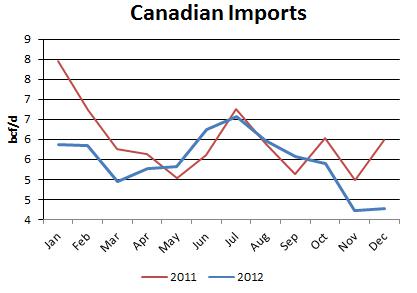 Liquefied natural gas (LNG) imports also fell by 0.5 bcf/d, or 50%. Last but not least, exports to Mexico increased by 0.3 bcf/d, or 25%, which tightened the market as more gas left the U.S.