Accessibility to potable water had been improved compared to 30 years ago; however, long term trends for water scarcity are not too optimistic. According to Food and Agriculture Organization (FAO), "Water use has been growing at more than the rate twice of population increase in the last century. By 2025, 1.8 Billion people will be living in countries or regions with absolute water scarcity, and two-thirds of the world population could be under stress conditions." Population growth and economic development are putting unprecedented pressure on renewable, but finite water resources.
Understand Water Scarcity
The term, "water scarcity", needs to be understood as a relative concept, which is fundamentally dynamic. Water scarcity is defined in relation to needs and livelihoods where climate, geography and, increasingly, technological interventions determine the distribution of water around the world. According to FAO, 3 dimensions of water scarcity can be summarized as follows:
"(1) scarcity in availability of fresh water of acceptable quality with respect to aggregated demand, in the simple case of physical water shortage; (2) scarcity in access to water services, because of the failure of institutions in place to ensure reliable supply of water to users; (3) scarcity due to the lack of adequate infrastructure, irrespective of the level of water resources, due to financial constraints."
Key Stats and Projection
According to UNWater:
About 70% of freshwater is used for irrigation, 22% for industry, and 8% for domestic use. (Source: World Water Assessment Program)
Water withdrawals are predicted to increase by 50 percent by 2025 in developing countries, and 18 per cent in developed countries. (Source: Global Environment Outlook)
Over 1.4 billion people currently live in river basins where the use of water exceeds minimum recharge levels, leading to the desiccation of rivers and depletion of groundwater. (Source: Human Development Report 2006)
In 60 percent of European cities with more than 100,000 people, groundwater is being used at a faster rate than it can be replenished. (Source: World Business Council For Sustainable Development)
According to the consensus, there will be more or less the same aggregate available water resource in 2050 as there was in 2007, but there will be far more people on the planet. To make it worse, the reduced availability of freshwater for all users will not be distributed equally globally, as seen from the chart below.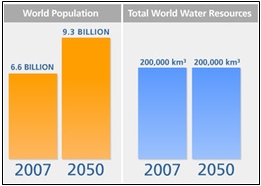 Source: FEW Resources.org
Solutions
As water scarcity grows, GE survey shows most Americans strongly support "Toilet-to-Turf" water reuse solutions. The survey indicates that Americans strongly support reusing water to help the U.S. drive economic competitiveness and protect the environment. According to the report, "Despite the "ick factor" often associated with recycled water, two thirds of Americans (66 percent) feel positive about water reuse, according to the survey of 3,000 consumers in the U.S., China and Singapore. The survey reports that Americans also think that industry and government should play a stronger role in making water reuse a priority." Considering that 36 U.S. states face water shortages in the coming year and by 2025, two-thirds of the world's population (or 5.3 billion people) will be vulnerable to water shortages, water reuse offers a potential solution. On the other hand, while 20% of freshwater resources are used for industrial purpose and around 70% for agriculture, Americans feel that the largest water users are most responsible for contributing to water scarcity. Americans also see the connection between energy and water. Americans expect energy industry leaders to demonstrate water stewardship by using recycled water to produce electricity.
Investing Implications
General Electric Co.
Investors interested in advanced technology, which helps to solve the world's most complex challenges related to water availability and quality, can review GE Power & Water. General Electric Company (NYSE:GE) is expected to emerge as a leader in the power infrastructure market, which will be the backbone for the firm's growth.
GE reported Q4 revenues from its power and water operations rose 2% to $7.65B as compared to the year-ago quarter. The power and water operation results for the 12 months ending December were $28.3B, which is 10% higher than the previous year. For all of 2012, GE posted net income of $13.6 billion, or $1.39 per share, on revenue of $147.4 billion. That's up from net income of $13.1 billion, or $1.24 per share, on revenue of $147.3 billion in 2011.Power and Water operations contributed nearly 19.20% of GE's entire revenue and will contribute even more in the coming years with faster revenue growth while GE continues to shrink its GE Capital operation. With increasing water scarcity, the demand for GE's power and water operations will continue to grow and improve GE's bottom line.
Investors can also review the following ETFs to gain exposure to GE:
Investors can also review PowerShares Global Water (NASDAQ:PIO), PowerShares Water Resources (NASDAQ:PHO), First Trust ISE Water Index ETF (NYSEARCA:FIW), and Guggenheim S&P Global Water Index ETF (NYSEARCA:CGW) to gain exposure to the investment theme of fresh water.
Note: This list of investment targets is only provided as the starting point for interested investors to research further. Investors and traders are recommended to do their own due diligence and research before making any trading/investing decisions.
Disclosure: I have no positions in any stocks mentioned, but may initiate a long position in GE over the next 72 hours. I wrote this article myself, and it expresses my own opinions. I am not receiving compensation for it (other than from Seeking Alpha). I have no business relationship with any company whose stock is mentioned in this article.